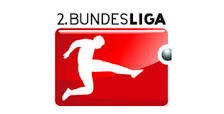 Heute 2 Spiele in der 2. Bundesliga.
Today 2 games in the 2nd Bundesliga.

vs.

Karlsruhe spielt zu hause gegen AUE. Ein Spiel im Mittelfeld der Tabelle. Ich sehe ein Spiel auf Augenhöhe und am Ende ein 1:1 Unentschieden.
Karlsruhe plays AUE at home. A game in mid-table. I see a match at eye level and a 1-1 draw in the end.
---

vs.

Darmstadt spielt zu hause gegen Bochum. Bochum will mit Macht in die 1. Bundesliga und deshalb 1:2 Auswärtssieg.
Darmstadt plays at home against Bochum. Bochum wants to go to the 1st Bundesliga with power and therefore 1: 2 away win.
Funny matches @all
Best regards & Glück auf
sportfrei