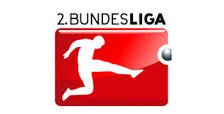 Heute das Hinspiel in der Relegation für die 2. Bundesliga.
Today the first leg in the relegation for the 2nd Bundesliga.

vs.

Nürnberg spielt zu hause gegen Ingolstadt. Nürnberg war währen der kompletten regulären Saison sehr schwach in Heimspielen und ich sehe keinen Grund, warum das heute besser werden soll. Ich tippe 0:1 Auswärtssieg.
Nürnberg plays against Ingolstadt at home. Nürnberg was very weak in home games during the entire regular season and I see no reason why it should get better today. I guess 0-1 away win.
Funny match @all
Best regards & Glück auf
sportfrei