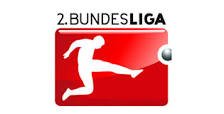 Am Freitag beginnt der 27. Spieltag in der 2. Bundesliga mit 2 interessanten Spielen.
The 27th matchday in the 2nd Bundesliga starts on Friday with 2 interesting games.

vs.

Nürnberg spielt zu hause gegen AUE. Nürnberg befindet sich im Abstiegskampf und spielt eine sehr schlechte Saison. Ich denke AUE sollte das Momentum nbutzen und in Nürnberg Punkte holen. Ich tippe 0:1.
Nürnberg plays against AUE at home. Nürnberg is in a relegation battle and is playing a very bad season. I think AUE should use the momentum and catch points in Nürnberg. I guess 0: 1.
---

vs.

Heidenheim spielt zu hause gegen Wiesbaden. Ich sehe auch in diesem Spiel die Chance auf eine Überraschung und tippe 1:2 Auswärtssieg.
Heidenheim plays against Wiesbaden at home. I also see a chance for a surprise in this game and I predict a 1-2 away win.
Funny matches @all
Best regards & Glück auf
sportfrei