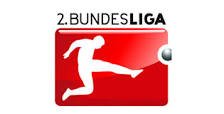 Zum Abschluß des 28. Spieltags das Topspiel zwischen 2 ehemaligen Bundesligamannschaften.
At the end of the 28th match day the top game between 2 former Bundesliga teams.

vs.

Stuttgart spielt zu hause gegen Hamburg oder der 3. gegen den 2. in der Tabelle. Beide Mannschaften haben zu wenige Punkte geholt in den vergangenen Spielen. Ich sehe hier ein Spiel auf Augenhöhe und am Ende ein 2:2 Unentschieden.
Stuttgart are playing at home against Hamburg or 3rd against 2nd in the table. Both teams have scored too few points in previous games. I see a game at eye level and in the end a 2-2 draw.
Funny match @all
Best regards & Glück auf
sportfrei