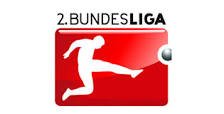 Morgen am Dienstag beginnt der 28. Spieltag in der 2. Bundesliga mit 4 Spielen.
Tomorrow on Tuesday the 28th matchday in the 2nd Bundesliga will start with 4 games.

vs.

AUE spielt zu hause gegen Darmstadt. Ich sehe ein Spiel auf Augenhöhe mit eventuell leichten Vorteilen für AUE. Ich tippe 2:1.
AUE plays against Darmstadt at home. I see a game at eye level with possibly slight advantages for AUE. I bet 2: 1.
---

vs.

Regensburg spielt zu hause gegen Nürnberg. Ich sehe hier ein taktisches Spiel, welches am Ende keinen Sieger haben wird. Ich tippe 1:1.
Regensburg plays against Nürnberg at home. I see a tactical game here that will not have a winner in the end. I guess 1: 1.
---

vs.
Fürth spielt zu hause gegen Osnabrück. Osnabrück zur Zeit sehr schwach und deshalb 2:0 Heimsieg.
Fürth plays at home against Osnabrück. Osnabrück is currently very weak and therefore 2-0 home win.
---

vs.

Wiesbaden spielt zu hause gegen Sandhausen. Wiesbaden mit der Chance bei einem Heimsieg Sandhausen zu überholen in der Tabelle. Ich tippe 2:1 Heimsieg.
Wiesbaden plays against Sandhausen at home. Wiesbaden with the chance to overtake Sandhausen in the table with a home win . I bet 2: 1 home win.
Funny matches @all
Best regards & Glück auf
sportfrei