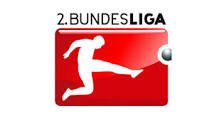 Am Samstag 4 weitere Spiele in der 2. Bundesliga.
On Saturday 4 more games in the 2nd Bundesliga.

vs.

Nürnberg spielt zu hause gegen Fürth. Ich sehe in diesem Spiel keinen Favorit und deshalb 1:1 Remis.
Nürnberg plays against Fürth at home. I don't see a favorite in this game and therefore 1-1 draw.
---

vs.

Heidenheim spielt zu hause gegen Regensburg. Heidenheim im Heimspiel Favorit und deshalb 3:1 Heimsieg.
Heidenheim plays against Regensburg at home. Heidenheim favorite at home and therefore 3: 1 home win.
---

vs.

Kiel spielt zu hause gegen Wiesbaden. Wiesbaden einfach zu schwach in der Abwehr und deshalb 3:1 Heimsieg.
Kiel plays against Wiesbaden at home. Wiesbaden just too weak in defense and therefore 3: 1 home win.
---

vs.

Osnabrück spielt zu hause gegen Bochum. Ich erwarte ein Spiel auf Augenhöhe und am Ende ein 1:1 Remis.
Osnabrück plays against Bochum at home. I expect a game at eye level and in the end a 1-1 draw.
Funny matches @all
Best regards & Glück auf
sportfrei