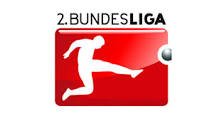 Heute am Dienstag beginnt der 32. Spieltag in der 2. Bundesliga mit 3 interessanten Spielen.
Today on Tuesday the 32nd matchday in the 2nd Bundesliga starts with 3 interesting games.

vs.

Hamburg spielt zu hause gegen Osnabrück. Hamburg wird mit aller Macht versuchen den 2. Platz in der Tabelle zu verteidigen. Ich tippe knappen Heimsieg 2:1.
Hamburg plays against Osnabrück at home. Hamburg will do everything it can to defend 2nd place in the table. I bet a narrow home win 2-1.
---

vs.

Fürth spielt zu hause gegen Heidenheim. Heidenheim nur einen Punkt hinter Stuttgart und mit der Chance in der Tabelle nach oben zu klettern. Ich tippe 1:2 Auswärtssieg.
Fürth plays against Heidenheim at home. Heidenheim just one point behind Stuttgart and with the chance to climb up the table. I bet 1: 2 away win.
---

vs.

Wiesbaden spielt zu hause gegen Nürnberg. Die Chance für Wiesbaden den Club aus Nürnberg in der Tabelle zu überholen. Ich tippe 2:1 Heimsieg.
Wiesbaden plays against Nürnberg at home. The chance for Wiesbaden to overtake the club from Nürnberg in the table. I bet 2: 1 home win.
Funny matches @all
Best regards & Glück auf
sportfrei