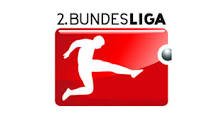 Heute 4 weitere Spiele am 32. Spieltag in der 2. Bundesliga.
Today 4 more games on match day 32 in the 2nd Bundesliga.

vs.

AUE spielt zu hause gegen Bochum. Ein Duell im Mittelfeld der Tabelle und deshalb am Ende ein 1:1 Unentschieden.
AUE plays against Bochum at home. A duel in the middle of the table and therefore in the end a 1-1 draw.
---
vs.

Stuttgart spielt zu hause gegen Sandhausen. Es wird wahrscheinlich ein Spiel der Nerven und deshalb hat Sandhausen auch eine kleine Chance. Ich tippe 1:1.
Stuttgart plays against Sandhausen at home. It will probably be a game of nerves and therefore Sandhausen has a small chance. I guess 1: 1.
---

vs.

Hannover spielt zu hause gegen St. Pauli. Ich sehe leichte Vorteile für Hannover im Heimspiel und deshalb 2:1 Heimsieg.
Hanover plays against St. Pauli at home. I see slight advantages for Hannover in the home game and therefore 2: 1 home win.
---

vs.

Regensburg spielt zu hause gegen Karlsruhe. Ich sehe hier ein Spiel auf Augenhöhe und deshalb 1:1 Remis.
Regensburg plays at home against Karlsruhe. I see a game at eye level and therefore 1: 1 draw.
Funny matches @all
Best regards & Glück auf
sportfrei