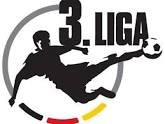 Heute beginnt der 36. Spieltag in der 3. Liga mit dem Freitagsspiel.
Today the 36th matchday in the 3rd division starts with the Friday game.

vs.

Uerdingen spielt zu hause gegen Chemnitz. In Chemnitz ist Alarmstufe Rot, weil die Mannschaft knappp vor den Absteigsplätzen in der Tabelle steht. In Uerdingen muß die Mannschaft aus Chemnitz Punkte holen, aber Uerdingen wird dagegen halten und kämpfen. Ich tippe 2:1 Heimsieg.
Uerdingen plays against Chemnitz at home. In Chemnitz, the alarm level is red because the team is just in front of the relegation places in the table. In Uerdingen the team from Chemnitz must score points, but Uerdingen will hold and fight against it. I bet 2: 1 home win.
Funny match @all
Best regards & Glück auf
sportfrei