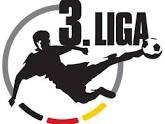 Heute beginnt der 34. Spieltag in der 3. Liga mit dem Freitagsspiel.
The 34th matchday in the 3rd division starts today with the Friday game.

vs.

Würzburg spielt zu hause gegen Chemnitz oder der 5. in der Tabelle gegen den 16. Würzburg kann noch in die 2. Bundesliga aufsteigen und wird mit voller Attacke versuchen das Heimspiel zu gewinnen. Ich tippe 3:1 Heimsieg.
Würzburg plays at home against Chemnitz or the 5th in the table against 16. Würzburg can still advance to the 2nd Bundesliga and will try to win the home game with full attack. I bet 3: 1 home win.
Funny match @all
Best regards & Glück auf
sportfrei