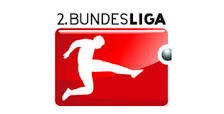 Heute beginnt der 31. Spieltag in der 2. Bundesliga mit 2 Spielen.
Today the 31st matchday begins in the 2nd Bundesliga with 2 games.

vs.

Karlsruhe spielt zu hause gegen Würzburg. Würzburg wird kämpfen, um doch noch eine Chance für den Verbleib in der 2. Bundesliga zu haben. Ich sehe aber den KSC in Heimspiel als Favorit und tippe 2:1 Heimsieg.
Karlsruhe plays at home against Würzburg. Würzburg will fight to have a chance to stay in the 2nd Bundesliga. But I see KSC as a favorite in the home game and I guess a 2-1 home win.
---

vs.

Braunschweig spielz zu hause gegen AUE. AUE nach 2 Heimniederlagen in der Krise, aber meiner Meinung nach nicht ohne Chance. Ich tippe 0:0 Unentschieden.
Braunschweig play at home against AUE. AUE after 2 home defeats in the crisis, but not without a chance in my opinion. My bet is a 0-0 draw.
Funny matches @all
Best regards & Glück auf
sportfrei