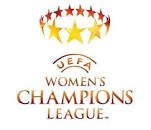 Heute das Finale in der Champions League der Frauen.
Today the final in the women's Champions League.

vs.

Wolfsburg spielt gegen Lyon. Lyon für mich der Favorit, aber auch Wolfsburg hat eine starke Mannschaft. Ich tippe 0:0 nach 90min. und Lyon gewinnt den Titel mit 1:0 in der Verlängerung.
Wolfsburg plays against Lyon. Lyon are my favorites, but Wolfsburg also has a strong team. I'll bet 0-0 after 90 minutes. and Lyon win the title 1-0 in extra time.
Funny match @all
Best regards & Glück auf
sportfrei