When it was announced that the UFC was interested in picking up a fight between Conor McGregor and Dustin Poirer I guess you could say that I was excited because McGregor tends to deliver a good fight all the time. Most of the time he either wins in an exciting fashion or he get's submitted trying to do exactly that. Conor's fights might be a lot of things that aren't necessarily good, but his fights are never boring, that if sore sure. Of course I mean in MMA. Boxing, on the other hand, in my opinion is almost always boring and that includes the ones that the Notorious One is involved in.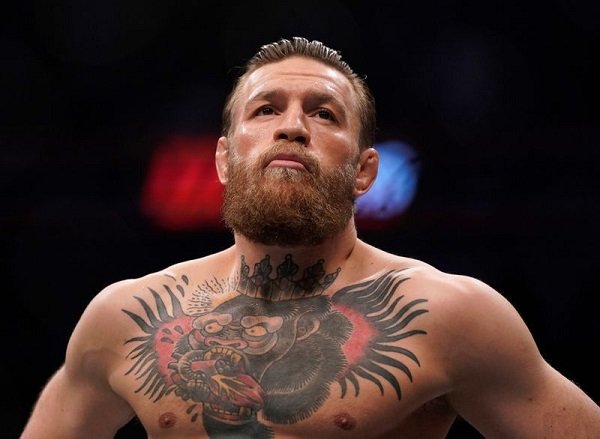 src
I can't actually find how much McGregor is going to be paid for this fight but I can all but guarantee that it is going to be much more than most full-time UFC fighters are paid, which I think I would find a bit upsetting if I was one of the guys who has struggled up through the ranks for years only to have the headline go to someone else that could be considered "inactive" depending on how you look at it.
When Dana White expressed interest in picking up the McGregor v Poirer fight that was originally meant to be a "sparring session for charity" - which is how you are able to full of a fight that isn't sanctioned - I was thinking to myself "well of course Dana White wants that." This was not surprising and I think we all kind of knew that it was always going to happen.
What happened next wasn't terribly surprising either: Although it wasn't through official channels McGregor immediately started to try to take control of the whole thing making demands that the fight had to happen in 2020 and not in 2021 as Dana White and the UFC had indicated.
Now I don't know what happened behind the scenes but McGregor capitulated yesterday and agreed to have the fight in January of 2021, almost exactly a year after he last fought (and dominated) Cowboy Cerrone.
White stated that the fight couldn't happen in 2020 and said
"We didn't have a date this year. We have everything laid out for this year, with world champions fighting for titles, He's (McGregor) been offered Dustin Poirier on Jan. 23. It's a yes or no answer.."
Because Conor is likely one of the most arrogant fighters of all time and it can easily be argued that he doesn't actually need the money, I was kind of surprised that he almost immediately caved and agreed to the UFC's terms.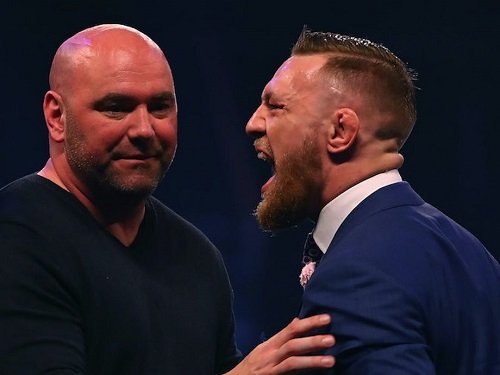 src
He wasn't actually shouting at White in this pic
---
I'm personally happy that this panned out the way that it did because as a long time UFC fan, I have always been a bit irritated when fighters, based on their notoriety or how much hype they can generate, are offered fights that according to their ranking or inactivity, don't necessarily deserve and it kind of screws over the fighters who have been working so hard to rise up in the ranks. Brock Lesnar irritates me in this way for exactly the same reason. He comes and goes from the UFC and bypasses people who have been training for years to be in the position that he gets offered just because he wants it. It isn't fair and it encourages other fighters to focus on their microphone skills first and then worry about being able to back it up in the octagon later.
Dana White did the right thing by not letting McGregor run the show here. But then again, Dana White is worth an estimated half a billion dollars and if there is anyone in the sports world that is going to stand up to the Notorious One, it is him. Well done Dana.