Herb Dean stopped that fight unnecessarily
Herb Dean is probably the best official that the UFC has ever had. There have been a bunch of really bad ones, some average ones, and then the pioneers who as far as I know just decided to move on like Big John McCarthy. Herb has been the guy that presides over the most important matches and I have seen him make very few mistakes.
I think he made a big mistake today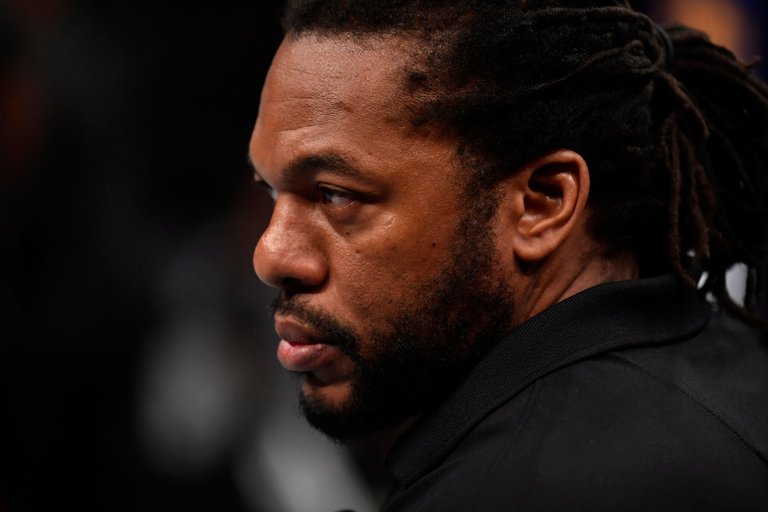 src
Sean O' Malley was without doubt the better technical fighter of the two when he faced off against first-timer Kris Moutinho, who was brought up to the fight on just 11 days notice (I only just found this out myself.) As far as I knwo Moutinho wasn't even signed with UFC before this bout so he was an unusual choice for the first fight on the main card today and a guy I had never even heard of and doesn't even have much of a past as far as the internet is concerned and MMA.
Although he was definitely outclassed in every way by Sean O' Malley in the octagon, the guy can definitely take a beating and has a chin like no one I have seen in recent times and honestly, I can't believe he survived the first round, let alone the 2nd. When the 3rd round began and he actually got a few good hits in on O' Malley I was actually cheering for the guy the way that the Russian crowd starts to cheer for Rocky in Rocky IV.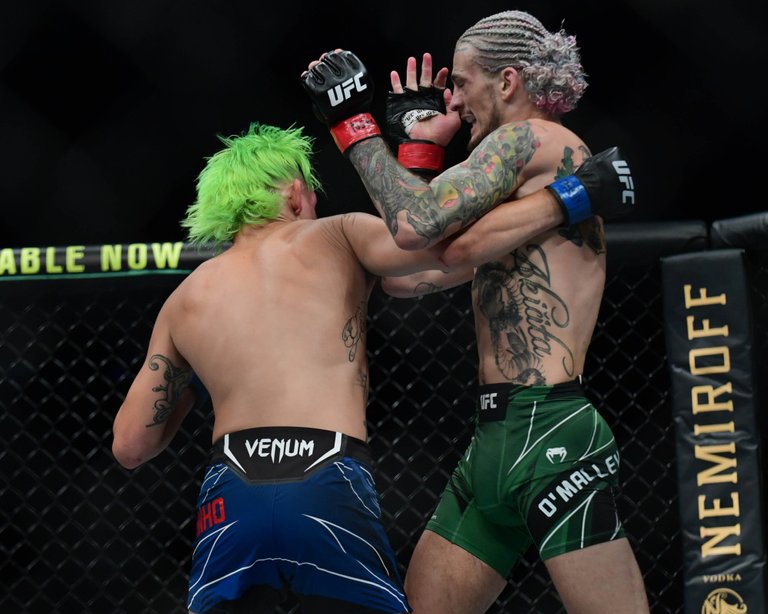 src
I mean, it could have happened, Moutinho could have gotten a lucky strike in and been the upset of the year as he was a +nearly 1000 underdog on the vegas lines and there is no denying that Sean O'Malley is the better fighter of the two. There is just one thing that people aren't considering: Despite the beating that Moutinho took for nearly 15 minutes, the guy never gave up, never gassed out, and never looked like he was rattled. Sure, his face looked like a train-wreck but I've seen worse in UFC fights and if you watch the sport the way that I do, you probably have as well.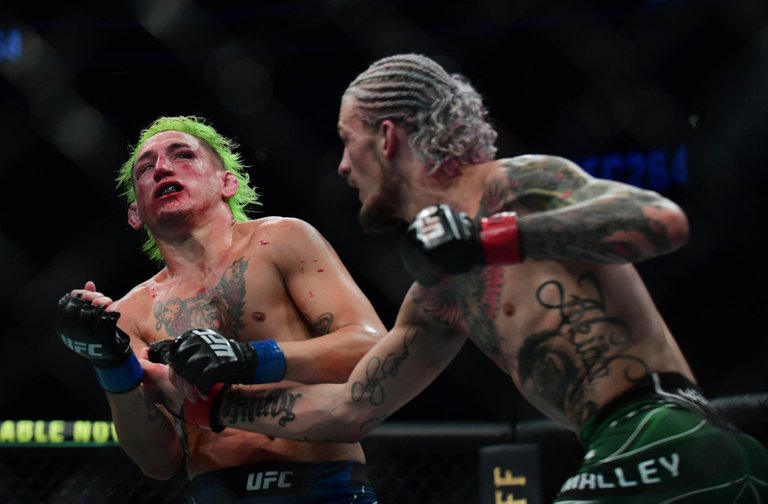 src
The fight was absolutely electric because on the few times that Moutinho made contact, there were times that O'Malley looked like he might be looking a bit shook and perhaps even facing a KO. This is all raw speculation of course because there was only 30 seconds left in the fight when Herb Dean did something I have never seen before.
We had 2 fighters that were both still fighting, both still upright, no one was looking like they were in any serious danger other than Moutinho taking significant strike after significant strike, and the fight was basically carrying on how it had been since the opening bell. Dean all of a sudden steps in and calls the fight off even though nothing had really changed since 14 and half minutes ago.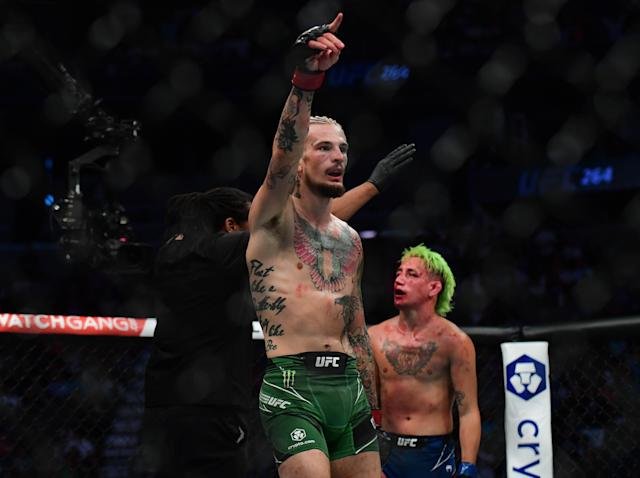 src
There was no doubt that O' Malley was going to win on points by unanimous decision.... none whatsoever, but the fact that Dean didn't allow this fresh fighter to finish the fight, which at that point it was pretty damn clear that he could, was very surprising to me. I mean literally nothing had changed since the opening round: O' Malley was landing a ton of strikes but all but a few of them didn't seem to have much effect on Moutinho and his stupid lime green hair.
Myself and some friends started speculating that perhaps there might be a "Vegas" reason why this is the case and I want you to hear me out on this. There are a TON of ways that you can bet on a fight and one of them is that Moutinho makes it all the way through all 3 rounds and also that O' Malley wins by decision. Obviously, both of these would have MASSIVE payouts because on paper, there is nobody including Moutinho that would expect either of these things to happen.
I think that Herb Dean stopped the fight early to prevent bookmaking losses. I can't really think of any other reason why he would do it because those moments before the stoppage were exactly the same as the rest of the bout.
Because there is so much money riding on these fights it isn't beyond the realm of possibility that Dean was instructed beforehand to make certain that the fight didn't go all the way to the end and that appears to be exactly what happened.
At least both guys got "fight of the night" bonuses for their performances and it was well-deserved. Also, even though he is starting out his UFC career at 0-1 (which would have almost certainly been the end result anyway) I have a tremendous amount of respect for Kris Moutinho now. There are very few fighters that I have ever seen take a beating like that and refuse to give up. I can only hope that Dana White noticed this as well and gives the guy some shots in the future. I think there is a real future for the guy.
Even though he won, I think O' Malley got made look weak in this battle because none of his strikes seemed to have much impact on his opponent's resolve and Sean was backpedaling almost the entire match.
I will be looking for Kris Moutinho in the future and hope he gets the good paychecks and fights that he deserves after his performance tonight.
---
---