Is the Korean Zombie in a must-win situation?
Chan Sung Jung is his real name but everyone refers to him as the "Korean Zombie" and personally I have a soft spot for the dude. A lot of this is because I feel as though Korea and Japan are under-represented in the UFC and I tend to root for the underdogs in a lot of things.
I also enjoy how mild-mannered Jung is in his translated post-fight speeches. He doesn't talk a lot of trash, he is respectful of his opponents and he only disappeared for a few years because South Korea has compulsory military service for all men. Jung didn't try to get a waiver from this responsibility and according to sources he was not shown any sort of special treatment while he was fulfilling his national commitment.
It is understandable why UFC and Dana White would be interested in keeping the "Zombie" around because there aren't many other names in the top flight that are Korean and UFC, understandably, would like to have as much of a global audience as possible. Is The "Korean Zombie" a national treasure? I do not know the answer to that but I do know that most people would like to see at least one person from their home country be a contender, and Jung is definitely that.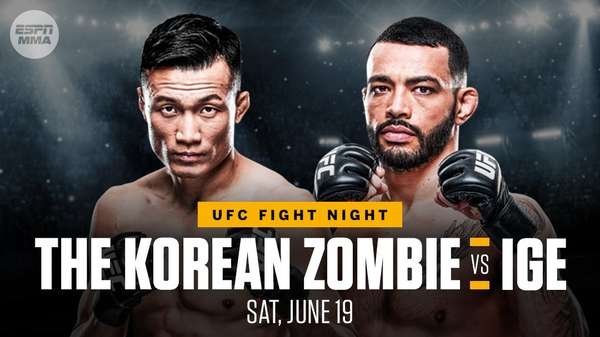 src
Jung is ranked 4 spots ahead of Ige, but he is also reeling from a quite one-sided loss to Brian Ortega that happened back in October of last year where he was outstruck 2 - 1 and was knocked down twice. Prior to that, he KO'd Frankie Edgar in Korea and while even Frankie doesn't try to make excuses about this, he was called up to this fight at extremely short notice and was finished very early on in the fight.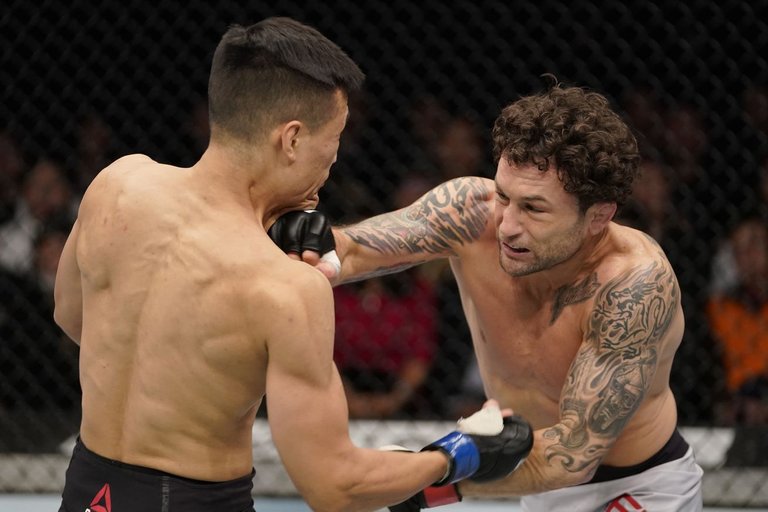 src
I think UFC had high hopes for Jung at this point but these hopes were kind of squashed when Ortega basically manhandled him for 5 rounds and personally I was surprised he didn't get KO'd.
Dan Ige on the other hand fought just 3 months ago and emerged with an impressive KO finish in the first 30 seconds of his fight versus Gavin Tucker. Some could argue this was a lopsided event since Tucker was clearly out of his element but the quick finish was impressive, that is for sure. Ige has never been KO'd in his career and has only ever been knocked down once. The Korean Zombie has been knocked down in 3 of his last 4 losses.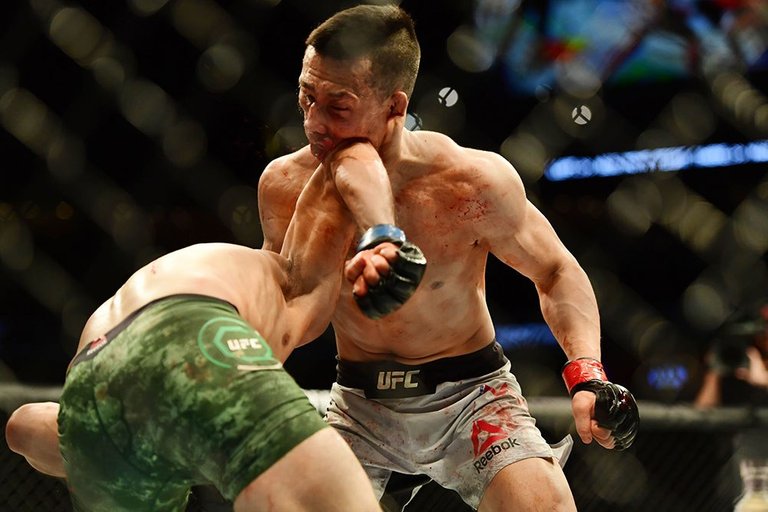 src
It was a long time ago and this unusual strike would have KO'd anyone and it happened in the last 4 seconds of the fight
Personally, I think that Dana White would very much like for Jung to get another "W" and that is why he is facing someone ranked so much further down the line than he is ranked. As I am sure most people know, this business, at the end of the day is about making money and when the Zombie fights, all of Korea watches. Without a hero on "their team" there is significantly less reason for them to tune in.
This is a "Fight Night" after all and these are far less prestigious than pay-per-view events and I feel that unless Jung can get an impressive victory over Ige, he will be relegated to mid card and perhaps fade away altogether. At 34 years of age, he is right on the cusp of getting sent out to pasture based on his age alone. This combined with the fact that he doesn't participate in the trash-talking side of things can work against him in an industry that unfortunately seems to thrive on the drama. He is just too polite to engage in such things.
The rest of the card for tomorrow's fights doesn't really impress me very much and as it stands now with the Vegas odds, something really strange has happened in the main event. Neither guy is favored in the fight. Both fighters currently have a -110 on them (meaning that if you bet $1000 you win 1000-110 = $890) and there are not very many situations that you see this happen in.
Tomorrow, I will be rooting for Jung but to be honest I think he is going to have an uphill battle against an opponent that has explosive power and appears to be impossible to KO.
---
---