Jake Paul gets his first defeat in a snooze-fest of a fight
It was only a matter of time and it was bold and nice to see Jake Paul fight someone that is actually a boxer for once and not just some guy who is 25 years older than him and isn't actually a boxer.
I have a love/hate relationship with Jake because I think he is a loud-mouthed brat that takes advantage of the fact that he has a ton more money than the people he challenges and I feel as though many of his fights have been rigged. No one can prove this of course but I do think it is rather suspicious that all of his victories have either been silly exhibitions or were against people who were so washed up and broke that I am certain they would take dives in order to get a big payout.
This fight against Fury was never going to be like that though since Fury doesn't need the money and would be just fine without fighting Jake Paul at all.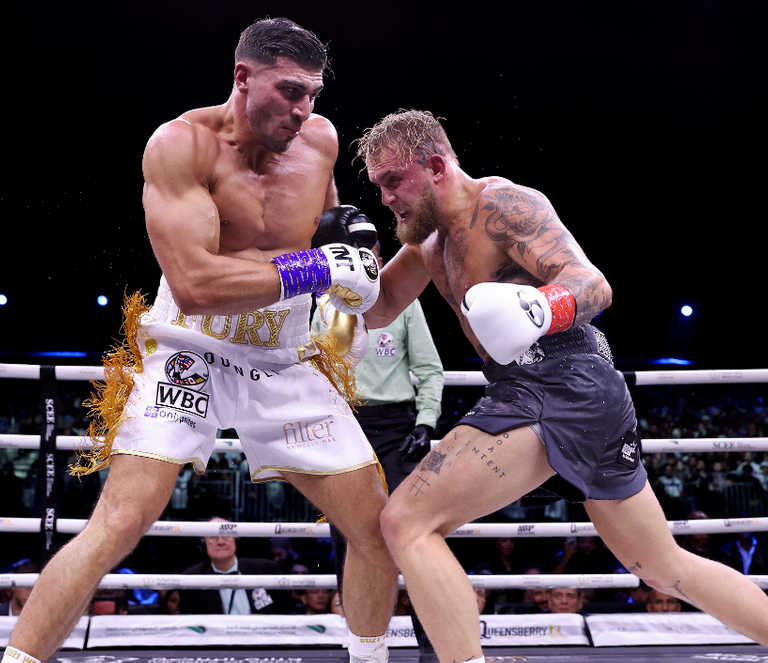 src
I wish I could say that the fight was super exciting but it kind of wasn't. At the start it looked like Fury was really going for it and wanted an early KO. This may have been what lead to the excessive clinch hugs early on and this is something that really annoys me about boxing in general. When fights turn into hugging contests it is difficult for me to stay interested since you aren't really allowed to do much damage in that position unlike in MMA.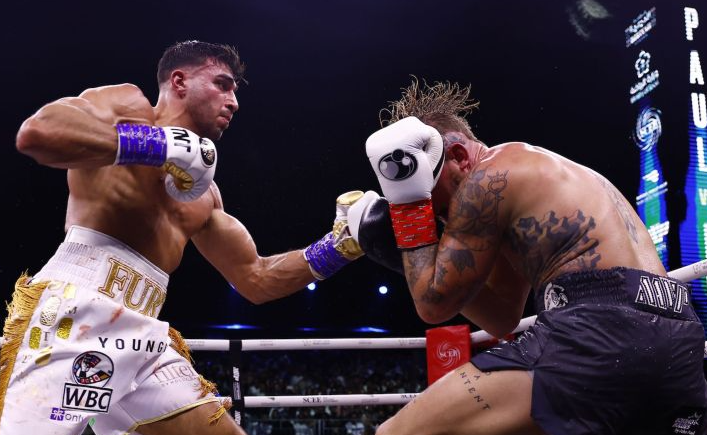 src
When they weren't busy hugging away the rounds the action was pretty 50/50 with neither guy really seeming to have an advantage over the other. The pics you will find in the press mostly feature Paul getting hit but the fact of the matter is that it was pretty even - well, when there was any action going on at all. Fury was able to keep Paul at a distance with a constant jab because it is pretty clear at this point that his overhand right is his main weapon that has resulted in most of his victories in the past.
I was VERY happy to see that the crowd was getting tired of the constant clinch-fest and eventually the referee stepped in and deducted a point from Jake for doing it. In the very next round the referee would deduct a point from Tommy Fury for exactly the same thing.
The end result was a split-decision victory for Tommy Fury with the scorecards reading 75-74, 73-76, 73-76 in favor or Fury.
Here is the aggregate average

src
There is a rematch clause in the contract so I would imagine we are going to see this one again in the next year or so but in all honesty, unless Paul can financially convince Fury to throw the fight for him, I think it would be in Jake's best interest to move back over to fighting ex MMA fighters.
But who knows? Maybe Jake truly does want to be considered one of the greats even though when I watch him fight I feel as though he has a long way to go to ever achieve that. His style still seems sloppy and amateurish to me. Between his brands and boxing purses Jake Paul makes upwards of $50 million a year, so it's not like he needs the money.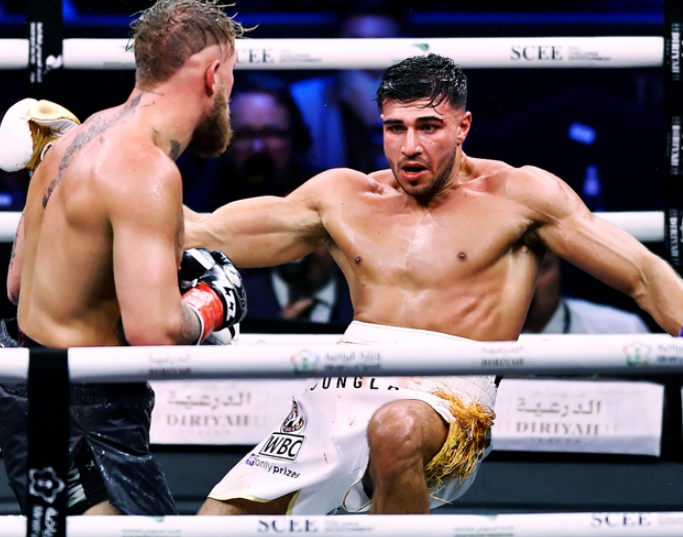 src
If you want to watch the highlights of the match you can watch them here if you want. I wouldn't get too excited about that that though because other than the one knockdown in the 8th round where Tommy stood back up right away, there weren't really any highlights. It still just looks like sloppy boxing to me.
---
---