New England went into this game against Baltimore as 7-point underdogs and based on their rather lackluster performance against the winless New York Jets, I think that Vegas probably had the correct notion to assume that this would be the case.
Cam Newton has had his hands full trying to pull the Pats together, often getting more rushing yards than any of the running backs on the Patriots roster. Up until 2 weeks ago Newton actually WAS the top rusher for the Patriots and i guess Damien Harris finally found his rhythm to overtake Newton in rushing yards.
Cam Newton is still a fantastic QB and has a lot to prove since he is currently only on a 1 year contract with the New England team and his salary was a bit on the embarrassing side compared to what he was accustomed to getting. His base salary is only 1.05 million dollars with opportunities for performance bonuses built in. There are 23 other QB's currently making more than Cam does in the NFL.
That aside, the game vs Baltimore was a pretty amazing one and it was kept close the entire way through. The highlight for me was a trick play that was just amazing to me and it wasn't performed by Newton at all but rather it was a 43 yard pass completed by a Patriots wide-receiver named Jakobi Meyers.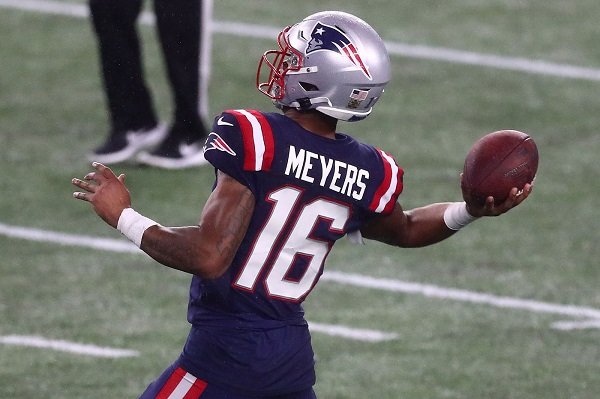 src
If you haven't heart of the quarterbak Meyers there is a pretty good reason for that. He was an outstanding quarterback in high school and was recruited to play for NC State, where they somehow converted him into a wide-receiver. This was not a move the pleased him because they had recruited him as a quarterback and he nearly considered switching schools but NCAA rules make that sort of process very difficult so he accepted his fate.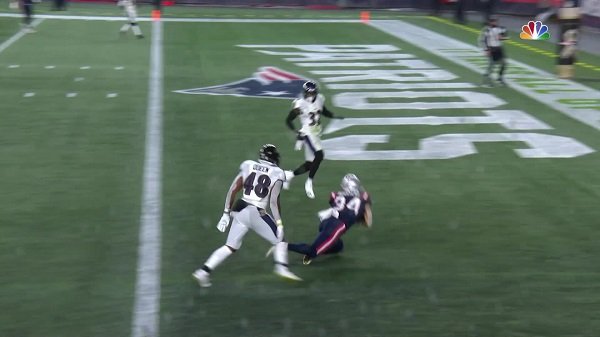 src
He made the pass was done with a level of pinpoint accuracy that you would expect from a guy that hasn't taken a single snap as a QB in his NFL career. The icing in the cake is that the receiver of this amazing pass was Rex Burkhead who is actually a running back and NOT a wide receiver. Burkhead has received passes in the past and of course this is totally legal, but to have two men perform something that isn't their primary role in their jobs so flawlessly was a thing of beauty.
blink and you'll miss it! The game ended up going down to the wire with the Patriots eeking out a win by a mere 6 points. Had it not been for this play, it is easy to argue that this W could have been another L in the column for the New England Patriots.
Well done gentlemen... that was truly amazing.