Logan Paul vs. Floyd Mayweather: Do you care?
I'm in the club of people that is definitely not going to pay $50 to see this fight but would probably like to watch it after the fact once a torrent becomes available. It has the opportunity to be pretty entertaining because of one reason alone: Fighters with this much of a height and weight disparity never really get to face one another.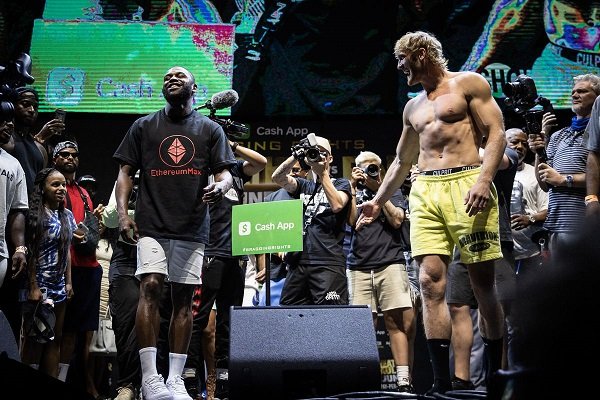 src
It doesn't really look like these two hate eachother at all... they both love attention and money, that is for sure
When they make a lot of the promotional pictures, they likely have to get a bit creative in order to make it look like Paul isn't trying to stare down some little kid because although there is no doubt that Mayweather might be one the all time greats, he is really tiny compared to Logan Paul - who by the way looks like an absolute beast and is in fantastic shape.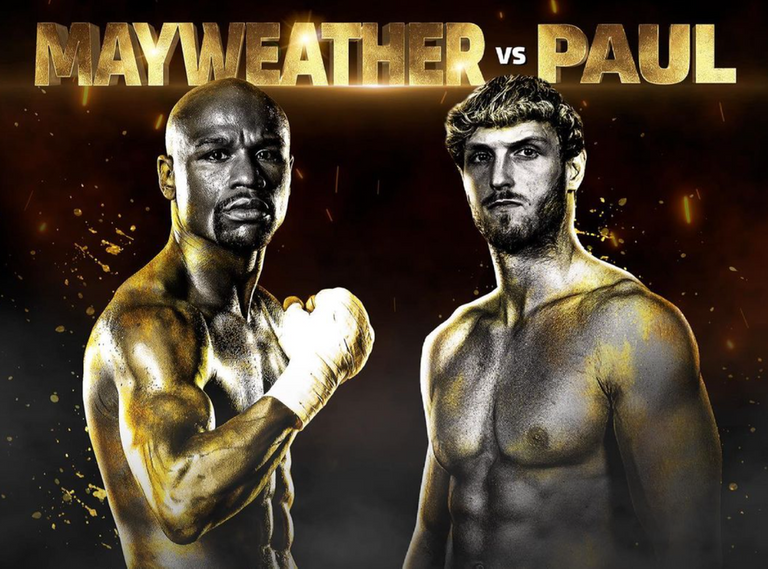 src
Logan Paul is 6 inches taller than Mayweather, which I suppose isn't unheard of in the boxing world but the fact that Paul weighs so much more than Floyd, well, outside of Butterbean circus matches, we don't get to see this sort of difference in weight very often. There is a reason why they have weight classes after all.
Mayweather has always kind of bored me in boxing matches, particularly his prior fight with Manny Pacquiao and even Conor McGregor where it seemed he just spent the entire match running away and wearing out his opponents by way of having them do all the punching.
People that are more into boxing than I am would say this is a massive part of the game and I believe you: It doesn't mean that I have to find it entertaining though. We could see a situation where Logan's punches, even if blocked could actually do damage to Floyd if Paul can manage to catch him. For the sake of entertainment I really hope that Mayweather doesn't do his usual dancing around the ring because the much heavier, although very fit, Logan Paul is not going to be able to catch him.
Personally, I have always wondered how a much heavier opponent would fare against a smaller, more talented opponent in many different fighting sports. One of which was when Conor McGregor, when he was basically calling out everyone, called out people in the WWE and Roman Reigns had this to say in return.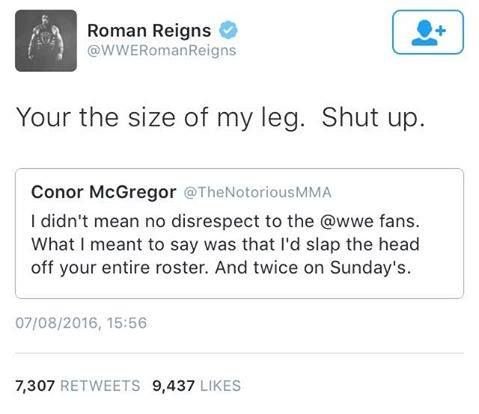 src
both men got attacked by the grammar nazis in the replies
Can a trained, tried, tested, and truly true fighter the caliber of Mayweather "eat" the punches of someone who is 35 pound heavier than they are and has arms the size of Mayweather's legs? Will Mayweather's lightning quick punches have enough power behind them to hurt someone significantly bigger than he is? Will Mayweather have to adapt to a far different punching style considering the 6 inch height difference?
If I had to guess, and please note that I am not really a boxing fan, I would say that Floyd is going to go for body shots for the most part and maybe Paul is planning on this being the case because damn dude, look at homie's abs?
Paul weighed in at 189.5 lbs and in the early stages of the planning of this fight there were some concerns that the much larger Paul would not be able to make weight so there was going to be a $100k fine placed on him for each pound that he came in over 190. So kudos to the guy for getting just below 190.
---
Best case scenario in this fight, which is on tomorrow is that we see what can happen when two men who are far from one another's respective weight classes face one another. I for one am very interested to see if Mayweather is capable of completely blocking a much larger and much stronger opponent. On the other hand Paul is not a boxer and Floyd's speed is definitely going to be a massive factor but will these punches have enough juice behind them to KO him? I know I wouldn't be sad if they did.
The worst case scenario is that this fight ends up being a dancing contest with Mayweather constantly running away from Paul even though Paul only has a record of 0-1 while Mayweather has a 50-0 record. Unfortunately, I see this being the more likely outcome of the two things.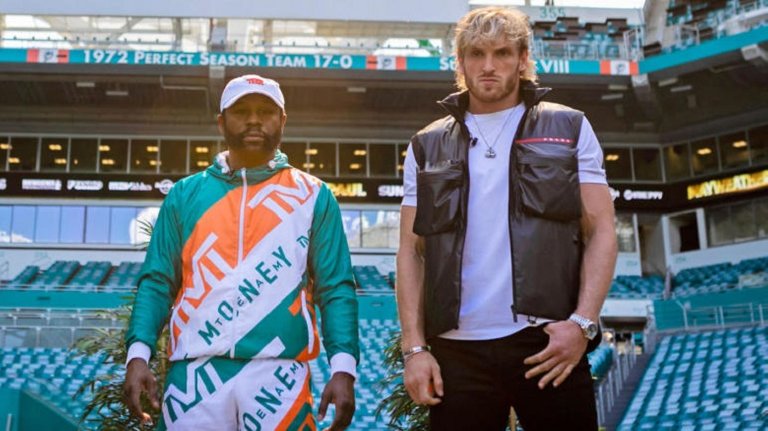 src
I think there is a better-than-average chance that this fight is going to be boring and that Mayweather is going to drag it out for as long as possible. If Paul is going to have any chance he is going to need to pace himself because bigger guys gas out faster in every sport: That's just the way it is.
By the way at the moment Mayweather is a -909 favorite to win (meaning you if you bet $1000 on Floyd you will only win $91) and honestly, I don't see how anyone could really assume any other outcome. Let's just hope that Floyd will make it interesting and not a running away dancing contest the likes of which he has done so many times before in the past.
So do you care about the fight? I guess you could say I am a little bit but this isn't really a sport folks, this is a side show and a very lucrative one at that. At $50, there are much better ways IMO to spend your money and time. I'll just catch the highlights after the fact.
---
---