If you saw the O'Malley vs Moutinho fight on Saturday, you realize that it was a very one-sided affair that saw the latter individual endure a near record-setting amount of strikes for a 3-round fight, EVER. Speaking of which: Sean O'Malley now has the world record for most significant strikes landed per minute of any fighter in UFC history. I think we can look forward to Moutinho joining the list of "record-breakers" on the wrong end of the spectrum if his strategy continues this way (you can't make the list until you have at least 5 fights with UFC.)
src
While failing to get a "real" finish, there was no denying that Sean O'Malley was by far the better fighter in the octagon during the first fight of the main card at UFC 264. Moutinho, who was called up on 11 days notice and given a UFC contract specifically for this fight, was basically a punching bag for O'Malley as he cleanly landed strike after strike after strike.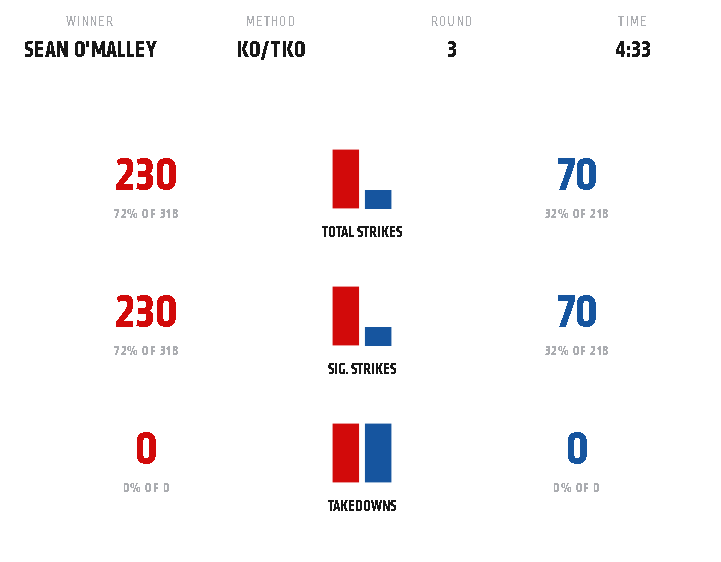 src
I kind of doubt that every single strike that O'Malley threw could be considered "significant" but I'm just happy that UFC has stats of some sort on their website because they are notorious for being very slow on getting the stats or even the rankings correct for days after a fight has taken place.
Now considering the beating that Moutinho endured, it would make sense that he would be the one that is facing a medical suspension, and he is... but for only the usual 1-2 months of "no contact" that basically any fighter faces after a KO / TKO loss.
Sean O'Malley on the other hand, could be looking at up to a 6 month medical suspension because of the damage that both his hands and feet took by beating up the other guy. If this happens, it will be a first for UFC that I am aware of.
According to the doctor's report this is the situation facing O'Malley
Suspended 180 days or until both hands, left tibia and right foot are cleared by a doctor; suspended for 30 days with no contact for 21 days.
So this doesn't necessarily mean that he is definitely out for 6 months it is just strange that after that very one-sided fight that the victor could actually be facing more "jail time" than the guy that he put a fight-clinic on.
It is not unusual for people to go on medical suspension after a victory, it happens to a lot of guys actually. But to go on the maximum medical suspension after a dominant win like this is something I have never heard of.
I guess it just goes to show how hard Moutinho's face and legs must be because at the end of the fight Joe Rogan correctly stated that Moutino's face looked like "battered roast beef"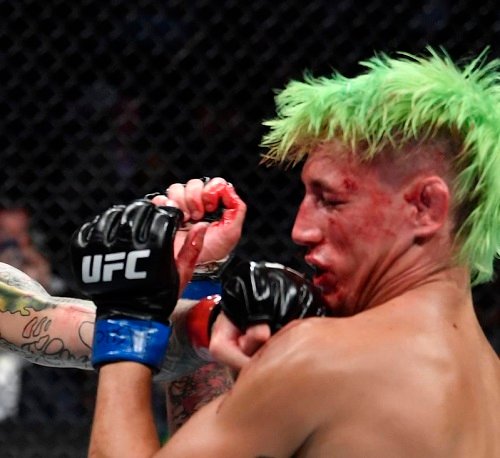 src
In other news: Referee Herb Dean faced a lot of criticism from the public for stopping the fight with only 30 seconds remaining but Dana White chimed in defending Herb stating that "he could have stopped the fight in the 2nd round."
The damage Moutinho endured was so extreme that Dana White insisted that he be sent straight to the hospital, which is why you didn't see him in any post-fight interviews.
I'm excited to see what is next for both of these guys in the Bantamweight division. Moutinho of course remains unranked but O'Malley does as well but when you consider that a juggernaut like Dominick Cruz is ranked number 9 in that division, I think it is pretty safe to say that this particular division is extremely well stacked. I think that O'Malley's stock may have actually gone down a bit as far as rankings are concerned because he failed to get a real KO / TKO despite landing an incredible amount of strikes.
Personally I look forward to seeing both of these guys in a fight in the future. For Moutinho, he needs a dramatic overhaul of his overall strategy and O'Malley might need to put a bit more "umph" behind his punches. What do I know though? I haven't fought in 20 years.
Did you see the fight? What did you think?