UFC 261 was one of the most electrifying pay-per-view events I have ever seen and I have been watching UFC for many years. On the main card there wasn't a single boring fight and I complain when fights go the distance in a boring fashion. Well we certainly didn't have that because only 2 of the fights made it out of the first round. It might have been one of the fastest PPV main cards of all time.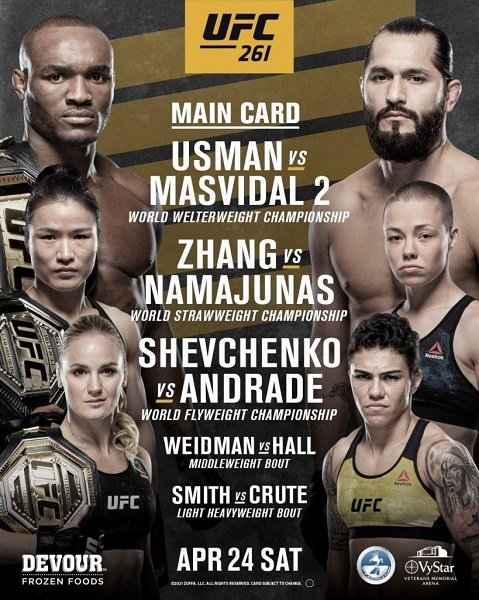 src
there are good cards, great cards, stacked cards, and then there are cards like this
One of the fights that surprised me the most was the Smith vs Crute fight in that I have never seen a medical stoppage ever occur in a fight because of a "dead leg." I can understand where they were coming from but the funny thing about this particular instance was the fact that Crute, who was the one deemed unfit to continue, didn't really seem to have an advantage at any point in time except for after the injury.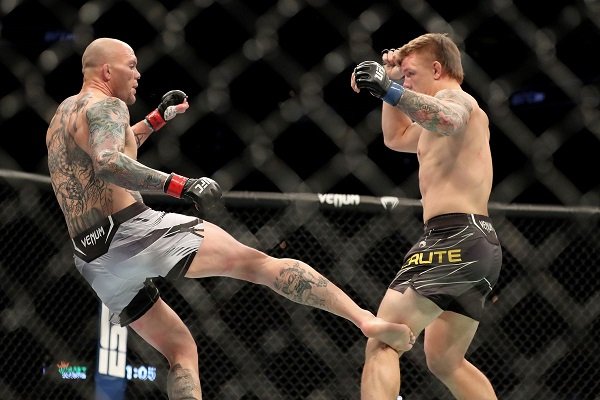 src
Late in the 1st round, Anthony Smith hit Jim Crute with what appeared to be just your run of the mill leg kick, catching him just above the knee. However, after Crute absorbed the hit he collapsed and appeared to not have use of that leg anymore. However, shortly thereafter, he was actually the aggressor and seemed to have control of the rest of the round achieving top position on the ground.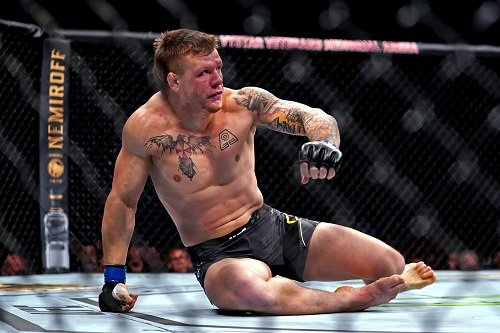 src
Normally when something like this happens, your opponent who is still standing will swarm and quickly achieve a KO or TKO victory but precisely the opposite happened. Crute seemed to be very comfortable on the ground and for the first time in the match had the clear upper hand.
It wasn't until the round ended and Crute had difficulty walking that some real attention was drawn to his injury. The crowd gasped in horror as he kept rolling his ankle, apparently unable to feel his leg at all.
He protested with the ring doctor telling him that he could continue, he insisted that he could and in my mind he kind of proved that he could continue by basically dominating the end of round 1. However, it was pretty evident that he was unable to put any weight on his left leg.
This was the first time I have ever seen a doctor stoppage for a "leg malfunction."
I don't know if the doctor made the correct decision or not but I like to believe they have some sort of medical criteria for deciding the fighters fate that I am just too uneducated to understand. There is no denying that having use of your legs is a huge factor in MMA and I think that this situation would have sorted itself out early into the 2nd round anyway if they had simply allowed the fight to run its course.
When the doctor called the fight, Crute punched the octagon in what might have been his strongest jab of the entire fight. He obviously wanted to continue and I would have preferred had they let him do so. The sensation in his leg came back just a few minutes later, although he was still clearly wobbled. He gave about as civil an interview as can be expected to Joe Rogan after the fight was decided.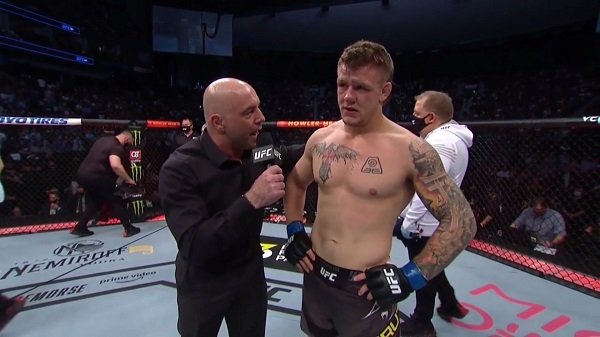 src
I don't really understand the justification for medical stoppage and I would have liked to see a bit more. If the knee was that much of an issue Anthony Smith would have been able to finish it pretty quickly, but you never know. This injury might have been a temporary thing just like when you see guys get rocked, look like they are done and then come back to win.
There is no precedent for this that I am aware of, but I don't think the doc made the right call in this situation. I don't think that Jimmy was in danger of additional or permanent damage due to this injury the way that a massive cut or eye poke would do.
What do you think? Should they have let this one go longer or did the doc make the correct call?