Look I get it ok, Jon Jones is one of the best MMA fighters the world has ever seen, perhaps even THE best but this notion changes as time goes by. Anderson Silva for example, was largely considered a god among men as far as MMA was concerned and then he completely tarnished his good name by sticking around for far too long and facing a series of embarrassing defeats.
Jon Jones is a true phenom, there is no denying that. However, it really angers me when there is all this talk about him getting a title shot when he is ready in the heavyweight division.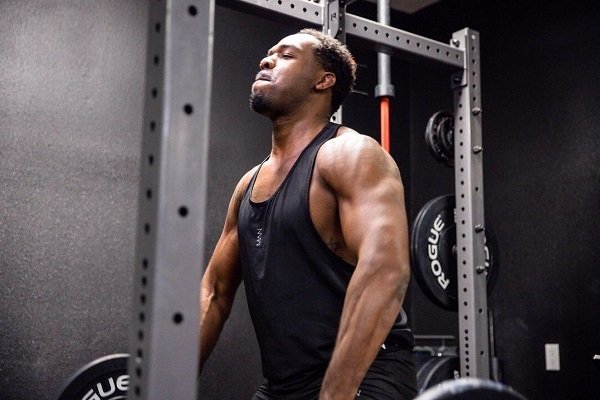 src
Jones has been working very hard to gain weight and is no doubt, very impressive looking at 252 lbs (the last I checked) and there is no doubt that he is one of the biggest draws in the promotion trailing only perhaps Conor McGregor. Now we all know that UFC and all the other MMA promotions are primarily about making money, despite what the presidents of said organizations claim. All sports are about money once you get out of youth leagues.
Jones in ANY fight would be a huge draw and would certainly be the main event. It kind of has to be. The man has been too dominant in his fights in that past for this to happen any other way. But I want us to look at this potential "superfight" between Jones and newly crowned Francis Ngannou in what I consider to be the correct light.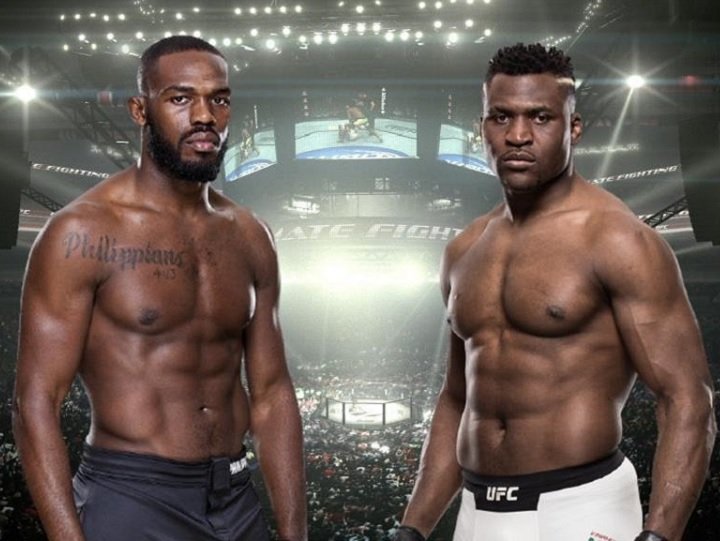 src
For one thing and I think this is the most major thing, Jones has never fought at heavyweight. His desire to jump up a division is a very admirable one because only a handful of fighters have ever been able to do that, but this doesn't change the fact that he has a heavyweight record of 0-0. For him to immediately get a chance at the belt when he comes back... is that fair?
We have no reason to believe that someone who has gained that much weight would even be capable of competing at that level for one thing although if anyone was going to be able to pull it off it would likely be "Bones."
What about the guys that have put their heart and soul into this division for years and scrapped and lobbied for a shot at the top and are consistently denied it because at the end of the day, the administration decides who is going to fight who when.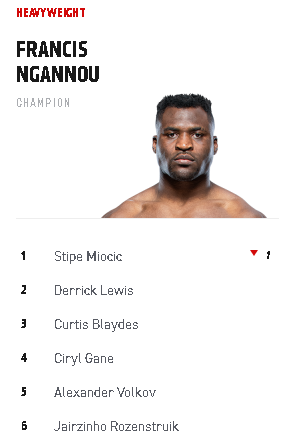 It only took the largest MMA promotion in the world nearly 48 hours to update this section of the page, good work guys!
What about these top 5 guys? Shouldn't one of them be the one that gets the shot at the belt next? I personally don't think it is fair the Ciryl Gane is in the top 5 especially considering his very boring last performance but he was a "darling" for Dana White from the start so this was always going to happen.
But what about Blaydes and Lewis? Has their time not come? What about a Stipe rematch? A lot of champs get at least one of those before they get sent out to pasture but I doubt such an honor will be extended to him despite the fact that he has beaten almost all the other guys in the list, including the current champion.
Jones is going to waltz in here and immediately get a shot at the top award? Does it not matter that he isn't featured in any weight division rankings other than best pound-for-pound overall and he only recently got that as Khabib's retirement became official this past week? Does it matter that it has been over a year since Jones last fought anyone and that fight ended in a decision? Does it matter that Jones has been found guilty of doping on multiple occasions?
More and more people are talking about how Jones and Ngannou is going to be the next title fight and in my mind this is just plain wrong. I think giving him a fight against any of the top 5 guys would be wrong but if they were going to be really nice to Jones - and you know they will be - I think it would make a lot more sense for him to fight one of these guys first. What I'd like to see is him fight Stipe and if Miocic can win, or even better embarrass Jon Jones in that fight, then HE should get the shot at the belt.
There are a lot of voices in the MMA community that echo what I am saying here and I would love to have a sitdown with Dana White and explain to him that he can make multiple superfights out of the current heavyweight division if he wanted to and this would make UFC even more money. How about a Ngannou / Lewis main event and a Jones / Miocic co-main event? That would likely be the biggest PPV draw of 2021 and would also set it up perfectly for the next one.
It remains to be seen what will end up happening but in the end Dana is going to do whatever her wants and unfortunately I think that he will give Jones a shot at it right away, whenever he wants it. To me, this is just awful and the ranking system may as well not exist if this is the way that it is going to be done.
I'll watch the fight when it happens and even though I like Jones and think he is one of the most entertaining fighters in the world when he wants to be, I will be rooting against him if he gets a shot at the belt on day one of returning to the UFC.