I don't expect much from UFC Fight Night cards as they do seem to be the least focused on of the 3 types of UFC events that are arranged. I do however, expect a double main-event card to have some sort of magic happen but that was not the case with this past weekend's Fight Night.
The main card looked like it would be exciting on paper with the much-anticipated return of Miesha Tate after a 5-year leaving of the sport. There is also a lot of hype that floats around Islam Makhachev because he has one of the G.O.A.T. s in his corner and has only seen defeat once. Unfortunately, both of these co main-events were so eventless that I actually stopped watching the screen at one point.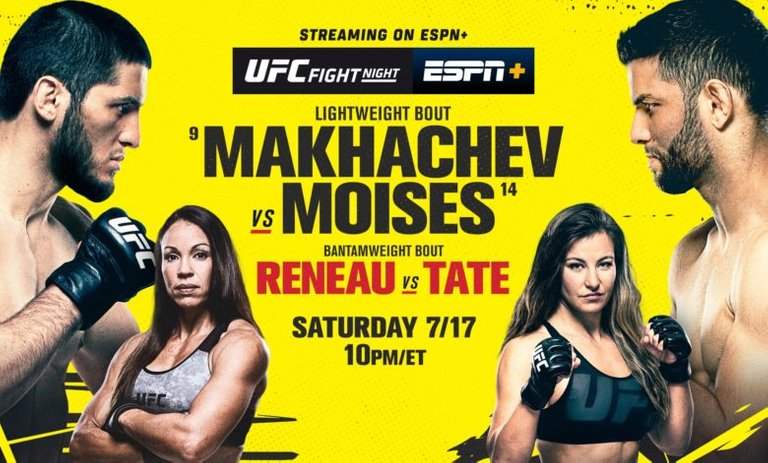 src
Miesha doesn't have the clout that someone like Ronda Rousey does. When Tate went on a 5-year hiatus she did so because she was losing a lot and it seemed like her time was done in the sport. With a relatively unimpressive record of 19-7 it might not have even been up to her as Dana White may have quietly given her marching orders. Tate was once a champion and if i am not mistaken she actually took the belt from Holly Holm. It isn't of much consequence though because soon Nunes came along and basically just stomped everyone.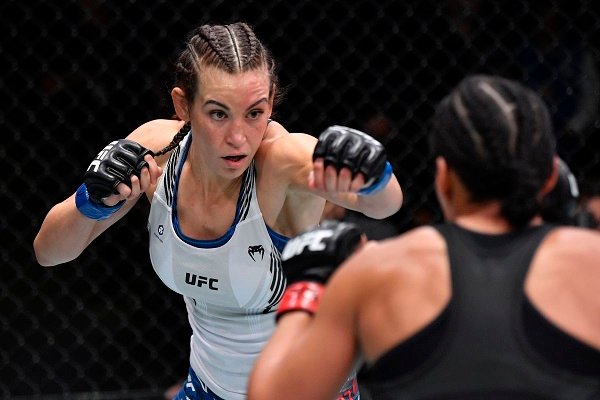 src
This should have been a walk in the park for Tate because her opponent, Marion Reneau, is 44 and had announced before the fight had even been fully confirmed that win or lose, she was going to retire after this one. These aren't the words of someone that is going to enter the octagon giving their all. The fight was extremely boring, with most of it taking place at distance with both fighters hesitant to engage. When Tate got the TKO late in the 3rd, it seemed more like Reneau had given up rather than was defeated.
Tate would later say on the mic that she is back not just to prove that she can come back, but that she is here for the belt. Well "Cupcake", you are going to have to do a lot better than what you just did if anyone is going to take that statement seriously.
---
The true main even was between Islam Makhachev and Thiago Moises. The Russian Makhachev seems to be under the wing of recently retired Khabib and honestly, you can't say that this isn't a massive reason why the UFC is paying attention to him.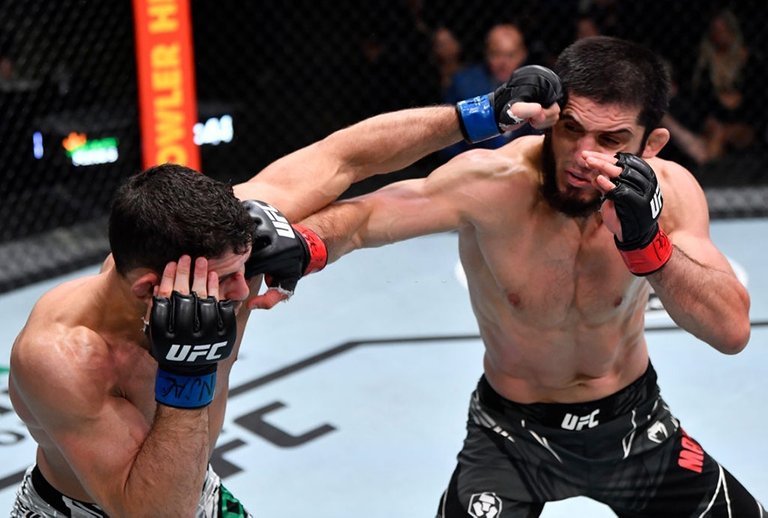 src
For the most part, not a lot happened. This was mostly a dancing contest with a few strikes thrown in there as both guys tried to stay at distance. Makhachev is always looking for a takedown, which is where he thrives, and Moises is aware of this so he threw strikes sparingly from a distance, apparently super concerned about takedown defense and not putting much effort into actually dishing out some damage of his own.
In the end Moises and all of us watching were finally put out of our misery in the 4th round where Islam did what he almost always does, and that is to submit his opponent.
Look, I don't have a problem with submissions, they can be an exciting part of any match. The problem I have with Islam Makhachev is that this appears to be his entire gameplay from the start. He bides his time, looks for an opening for a takedown and then spends a LOT of time working his way into position while there. While this is effective and he has a really long winning streak specifically because of it, it's just boring for those of us that are watching the fight.
It's not nice to say but I am looking forward to him facing someone in the top 10 soon that can actually batter him around a bit like Michael Chandler or Justin Gaethje. I think it will be a while before this happens though because even though he is on an 8 fight win streak, all of his bouts are like this and even though it isn't fair, the fans don't like to see this kind of technical bout. Islam's last 6 fights were all submission or decision victories, he hasn't had a slugfest KO or TKO since 2015 and he was the guy who got knocked out. To be fair he did KO Gleison Tibau back in 2018 but that was more because Tibau can't take a hit as there were only 6 or 7 strikes landed in that entire fight between both fighters combined.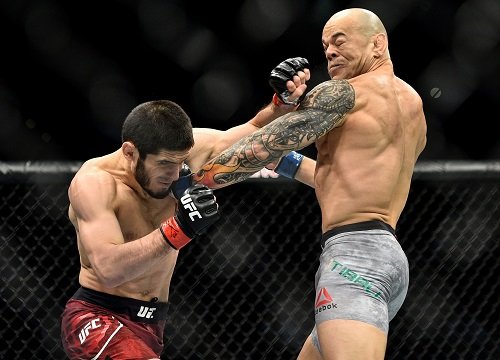 src
---
I had actually forgotten that this Fight Night was on and only tuned in because a friend reminded me about it. When it was all over he apologized for reminding me that it was on... lol
UFC is unique in this realm. The fans are more fickle than someone would be in say, boxing or kickboxing, where the strategic wins are still exciting to the fans. In UFC, if you don't entertain the masses, your W/L ratio doesn't seem to be very important and unless these two victors can pull something magical in their next bouts, neither one of them is going to be a big draw ever. At the end of the day these things need to be exciting for the crowd and this past weekend's event, was likely the most boring I have seen in 2021.
Did you see it? What did you think? I think the food I decided to heat up while the fights were on was more exciting than either of these snoozefest fights.