UFC's Nunes could end up being the GOAT
Amanda Nunes went out at UFC 277 and did exactly what a lot of people thought she was going to do: She regained her title in dominant fashion. There wasn't a point in that fight other than what I consider to be an over-hyped potential arm-bar in round 4 where Pena ever looked like she even belonged in the octagon with Nunes.
Nunes showed the world that she is still, by far, the best in the business and now Dana White and company have to go back to the drawing board to try to find someone for her to actually face off against. This could be easier said than done since Nunes has already beaten everyone, some of them twice.
The loss against Pena was a shocking one and I have spoken in great detail about how I think that was a fix anyway. I'll leave that dead horse alone now :)
The thing that I was unaware of but should have known was that as unfathomable as it might seem, Nunes honestly should be considered a top contender for the GOAT (greatest of all time) because like the other people that are on this upcoming pic, she has been so much better than basically everyone that she has faced off against.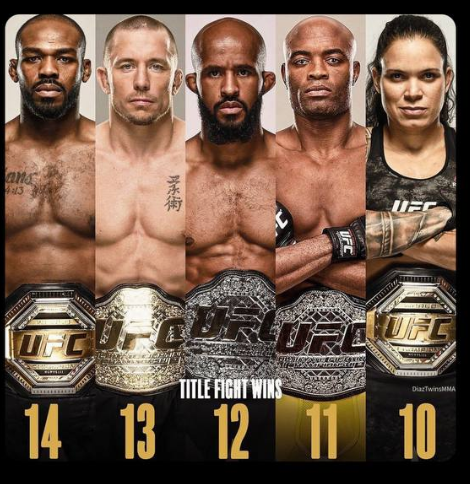 If you are a fight fan, I am sure you recognize all of these faces except for maybe Mighty Mouse Demetrius Johnson - who nobody ever really cared about because his fights were boring to a lot of people, including and especially me.
Nunes has 10 title defenses and honestly, that number should be 11. Now the question remains if she is young enough, hungry enough, and willing enough to get another 4. 4 fights for someone of her caliber and fame is something that could be pulled off in a couple of years. Therefore I think a lot of her continued success could lie not in her own abilities, but the ability of UFC to actually find someone for her to fight.
You see, Nunes is 34 years old and while this is just a spring chicken for most people, very few fighters remain in good form as they get closer to 40. This could end up being problematic for "The Lioness" because go ahead and rack your brain about who she could possibly face in either of the divisions that she currently holds belts in.
She has already beaten Holly Holm, De Randamie, Meisha Tate, Pena (of course), Pennington, Cyborg, and she is responsible for retiring Rhonda Rousey - who up to that point was considered herself to be unbeatable.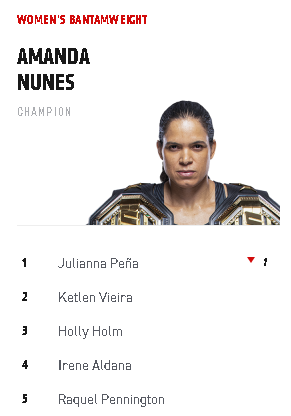 src
A major problem that Nunes faces is something that doesn't really exist in many other divisions in that there isn't really anyone left for her to fight. Let's look at Viera and Aldana for example: Both of these women are Fight Night fighters at best, have a bunch of losses - some of which are to people that Nunes beat convincingly, and neither one of them are consistent. They are ranked as high as they are simply because there isn't much talent depth in the Women's Bantamweight division. I can't say if either of them are chomping at the bit to get a title shot but looking purely at their respective records, I think they would just get brutally embarrassed in the octagon vs Nunes. It would be really tough to hype up a fight like this.
Something else worth noting is that Nunes is so good that she has beaten Valentina Shevchenko, who is largely considered to be one of the best women fighters of all time, TWICE.
I believe that if there was more talent in the pool, so to speak, that Nunes could easily surpass all of the men that she shares the most title defenses of all time with. The problem she is going to face is whether or not the UFC can actually find a worthy opponent for her. For the time being, I can't really think of anyone that can fit that bill.
---
---