Seventh finish in MotoGP Valencia 2020 is enough for Joan Mir to ensure that he becomes world champion in MotoGP 2020. Franco Morbidelli won the race himself.
At the Ricardo Tormo Circuit, Valencia, Sunday (11/15/2020), Franco Morbidelli made a good start and immediately shot forward. Pol Espargaro and Jack Miller also stepped on the gas after the start.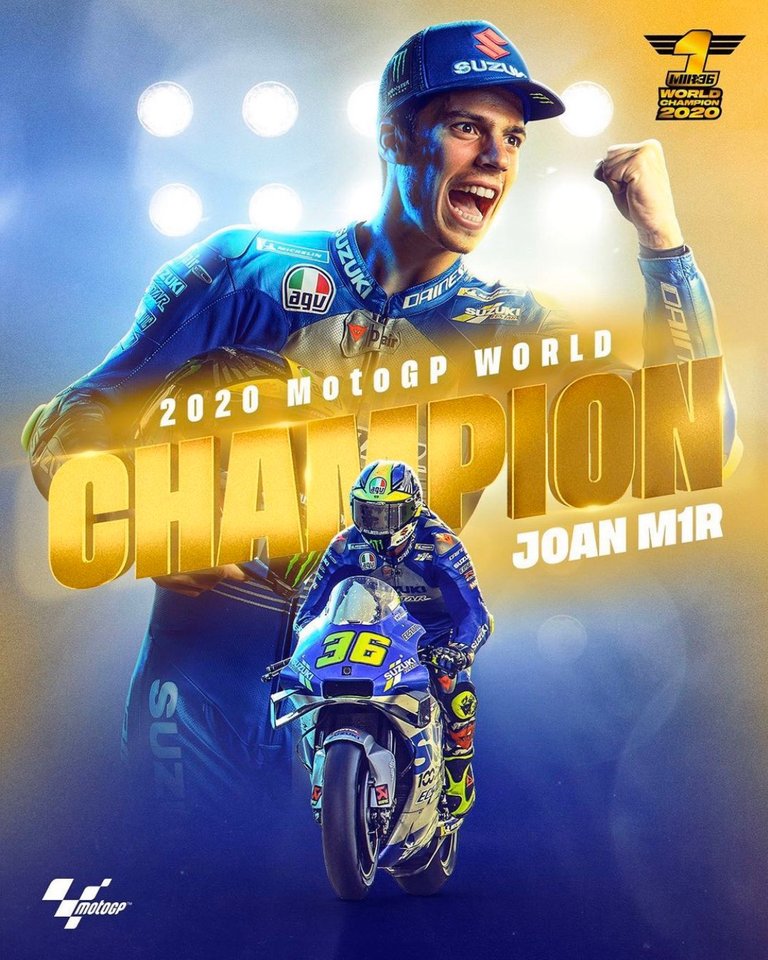 Source
Meanwhile, Fabio Quartararo looked a little wide at Turn 2 and immediately fell behind! Joan Mir also appeared in 11th position after the start.
At the end of the first lap of the Valencia MotoGP 2020 there were Franco Morbidelli, Jack Miller, and Pol Espargaro who respectively finished in positions one to three.
On the fifth lap, Joan Mir is already in 10th position. The situation in the race up to this point will still make Mir the world champion.
On the sixth lap, Johann Zarco fell! He seemed to slide into gravel on Turn 1. Thanks to that, Joan Mir moved up to ninth place in the race.
Next is Fabio Quartararo who falls! He crashes in Turn 6 of the ninth round. Kans Fabio Quartararo, the world champion is gone, while Joan Mir is getting closer to the throne of world champion with the situation in the MotoGP Valencia 2020 race so far.
Entering the 15th lap, Franco Morbidelli, Jack Miller and Pol Espargaro were still in front. Meanwhile, Joan Mir runs steadily in 8th position which is enough for him to secure the 2020 MotoGP world title.
Until the last 10 laps, Jack Miller kept stalking Franco Morbidelli who was still leading the race. They are less than 1 second apart. In eighth position, Joan Mir continues to advance to the throne of world champion.
With 9 laps remaining, there was Takaaki Nakagami who crashed at Turn 14. At that time he was trying to overtake Pol Espargaro who was in third place. This also affects Joan Mir, who is now in seventh place in the race.
The last five laps! In front, Jack Miller is already within the range of just 0.3 seconds from Franco Morbidelli. But whoever the winner of this race, Joan Mir is still on the track to be the champion of MotoGP 2020. He is still in seventh position in this race.
Franco Morbidelli vs Jack Miller on the last lap! The two of them salute each other in the last round of the Valencia MotoGP. How fierce!
Franco Morbidelli ended up winning, Jack Miller finished second, Pol Espargaro finished third. While Joan Mir won the 2020 MotoGP world thanks to finishing seventh!