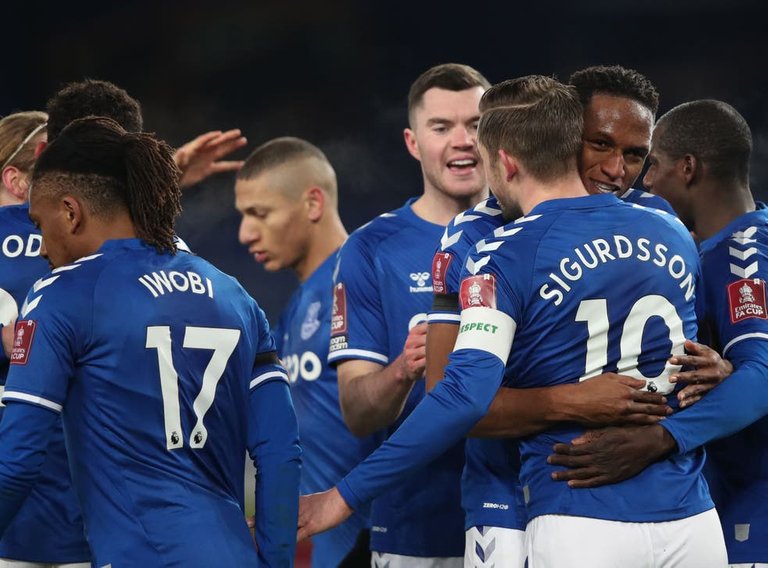 Whenever we think we have seen it all in English football, something will always come up to give us a new vibe about how beautiful British football can be.
Yesterday, we witness a party of goals in the English FA Cup quarter-finals between Ancelotti's Everton and Mourinho's Tottenham.
Everton hosted Tottenham at the Goodison Park in the FA Cup quarter-final and that fixture has been speculated to be a massive one considering the fact that both teams are wounded lions and are trying to get back to winning ways.
Both managers are known for their success in football management and this alone has given viewers and fans a topic to discuss on who will come out standing tall after 90 minutes on the field of play.
Tottenham took the lead just 3 minutes into the match courtesy of Sanchez header and on the 36th minute, Calvert Lewin got an equalizer for Everton.
At the restart of the game, Everton snatched another goal on the 38th minute through Richarlison and on the 43rd minute just before halftime by Sigurdson from the spot.
3 goals within the space of 8 minutes was a shocker for Mourinho and his men and that was a bitter reality they had to experience before halftime but a glimpse of hope emerged as Lamela pulled one back right on the verge of the whistle for halftime to make it 3 - 2.
Into the second half, Tottenham started on a high tempo, trying to come back on level terms with Everton and So Everton were also reluctant to break easily. 12 minutes into the second half on the 57th minutes, Tottenham got their wish as Sanchez did well to level the scoreline to 3 - 3.
It started looking like Everton are beginning to slack off and Tottenham gaining grounds on the field of play.
11 minutes after Tottenham's equalizer, Everton took the lead once more again through Richarlison on the 68th minute.
When we thought all is over at the Goodison Park, Tottenham stepped up once more to level the scoreline on the 83rd minute and Kane was the nan to get the equalizer.
4 - 4 it ended in the regular 90 minutes of football and the play extended into extra time.
In the first half of the extra time, Everton did a great job to finish the job on the 97th minute and allowed Tottenham to play catch-up throughout the remainder of the extra time, while they sat deep to defend the 1 goal advantage which saw them through the quarter-final.
Everton 5 Tottenham 4