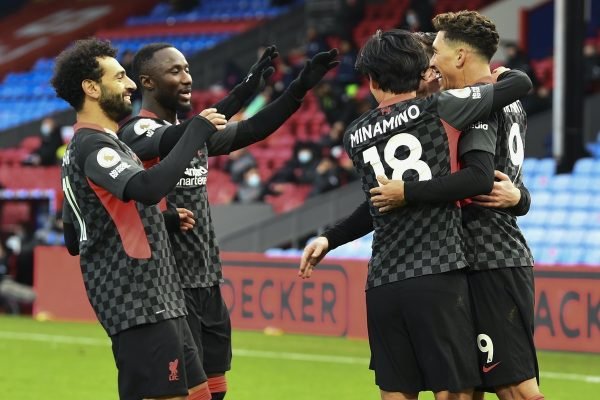 It was a bright afternoon at the Selhurst Park as Crystal Palace welcomed Liverpool for the earliest kickoff of matchday 14.
The matchup was meant for both sides to take their chances. Liverpool to try to stay on top of the log while Crystal Palace to move up the ladder a bit and to keep the confidence of the players high.
The game started on a high for both teams, rushing to dish out attacks on each other in order to take charge of the game.
Crystal Palace were decent with their approach to the matchup but Liverpool were too quick with the ball and that got them the lead on the opening 3rd of the game through Minamino who was assisted by Saido Mane.
Crystal Palace tried to respond immediately but they were unlucky as they failed to capitalize on a couple of chances to equalize and to take the lead.
Liverpool extended their lead on the 35th minute through Mane who stopped at nothing to bury the ball past the goalkeeper.
Just right before half time on the 44th minute, Firmino got his name on the score sheet after he fired a well-crossed ball by Robertson past the goalkeeper to give Liverpool a 3-goal advantage over Crystal Palace before half time.
The party of goals for Liverpool continued right into the start of the second half on the 52nd minute. The man on this one was no other person than the Captain himself Henderson, who was assisted by Arnold.
Crystal Palace kept on struggling and trying to keep up with the quality and pace of the Liverpool side, with the hope of getting at least a goal back.
Little did they know, as Liverpool continued to punish them with more goals and this time, it was Firmino who got another goal to his name on the 68th minute to make it 5 nil.
Second-half substitute Salah also got the piece of the cake and ended the party with 2 late goals on the 81st minute and on the 84th minute to take the scoreline to 0 - 7.