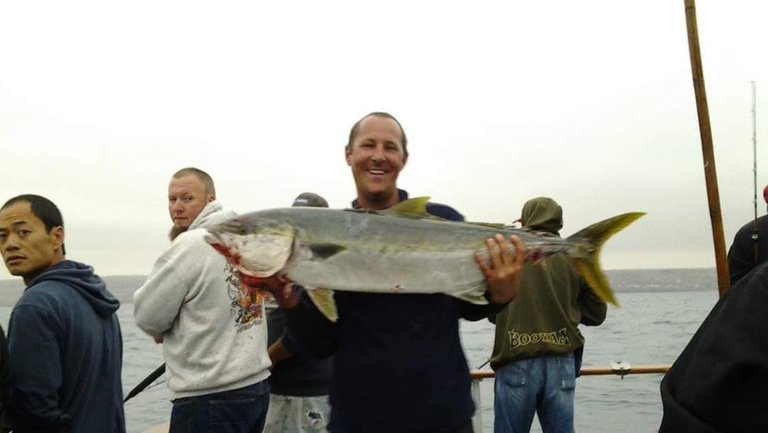 "Hearts and thoughts they fade, fade away". ~ Pearl Jam!
But memories backed by photographs can last longer than a lifetime!!
On that note, I really miss offshore fishing. Feeling the ocean breeze as you take in the smell of saltwater. Ruffled hair and dried salt on your skin from errant spray are all a part of the enjoyment.
"Yes, I am a pirate. 400 years too late. The cannons don't thunder, there's nothing to plunder. I'm an over forty victim of fate". ~ Jimmy Buffet
So for today's post, I've decided to take a trip down memory lane. That lane in the ocean where the warm current runs is where I'm headed and you're welcome to join me.
I'm going back, way back over 10 years. We'll start there and work our way forward, with full explanations accompanying each fishy photograph.
All Night White Sea Bass Fishing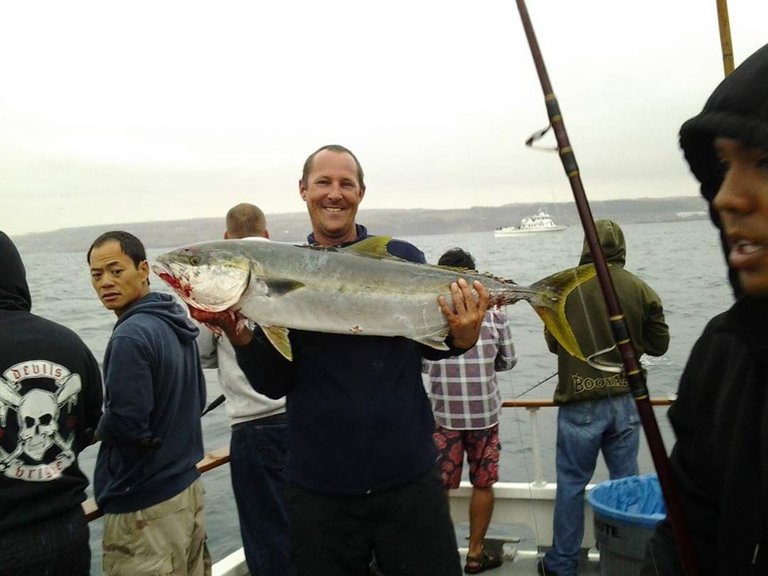 This is from an all night trip into Mexican waters fishing for giant White Sea Bass! I hooked 2 that night. One came off shortly after it's 1st run. The other I fought a good 10 - 15 minutes, almost bringing it to color before it came unhooked.
As a consolation, I hooked and landed (with the Captains help) my personal best yellowtail seen in the pic above. We fished all night and I hooked this fish just after 6 AM. Boy was I tired!
2.5 Day Trip To San Martin Island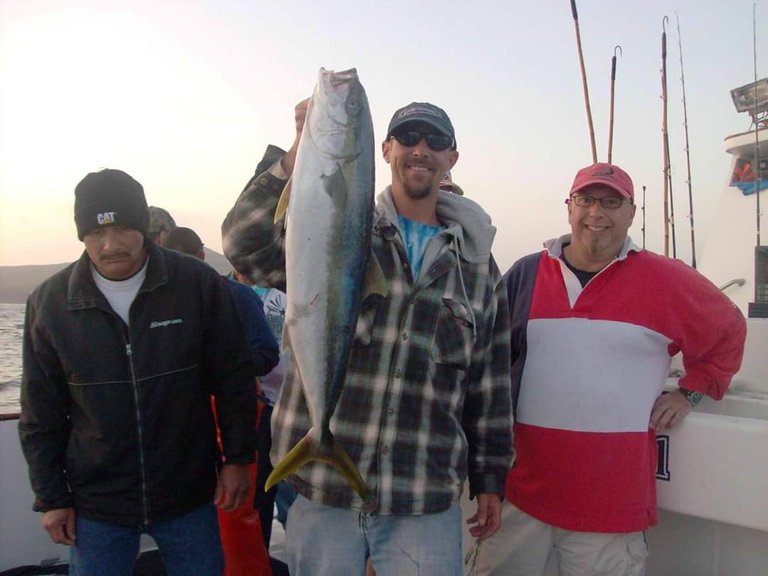 The weather came up on the second day. But the first day was some very good yellowtail fishing. We hung the anchor just off a high point in the rocks below and the yellows swarmed us. One lady caught 7 on a bottom rigged dropper loop!!
This trip actually goes back further than 10 years. A reminder of the days before I quit drinking.
3/4 Day Fishing At The Coronado Islands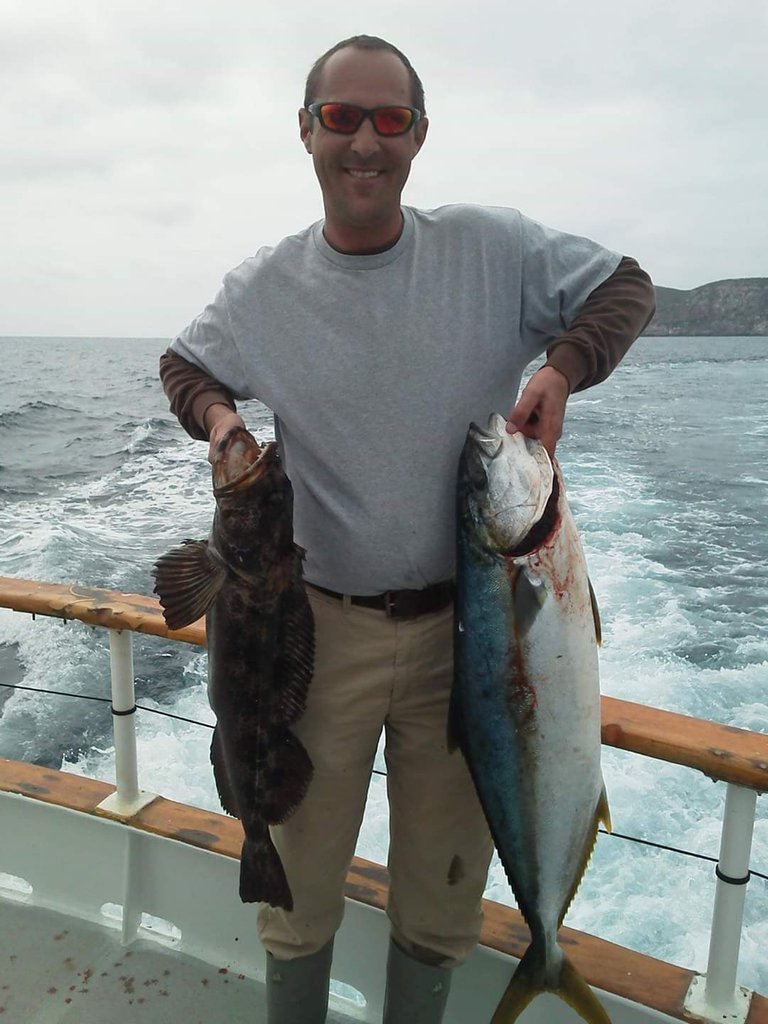 A fine day of fishing indeed! I hooked and landed 2 yellowtail that day (one not seen) and a nice lingcod. My buddy Jerry who taught me how to fish offshore was skunked.
Halibut Fishing In Batiquitos Lagoon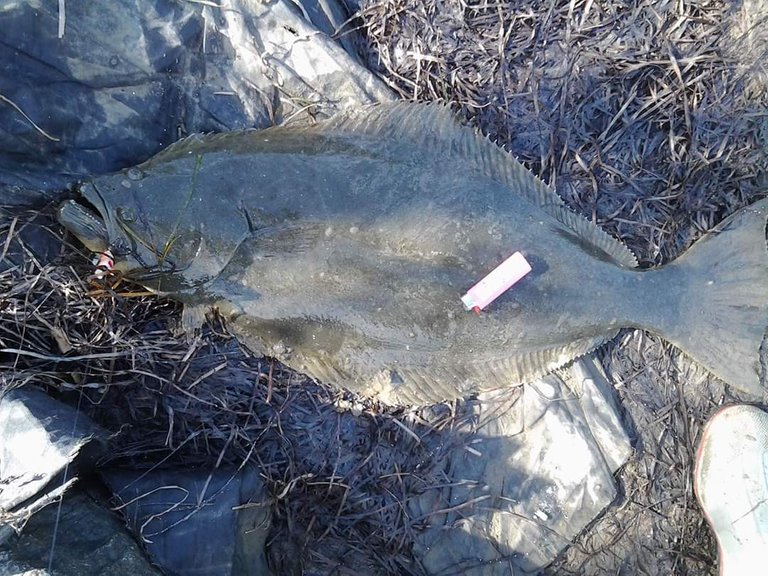 Some of the best trips are just a few miles down the road. No boat was needed to land this 24 inch halibut. Just a little hike to a spot under the I-5 freeway where the lagoon flows through.
I don't usually keep my catches from inland coastal lagoons. Halibut, however, make for the tastiest fillets over the smoker or grill.
Overnight Fishing On The Pride!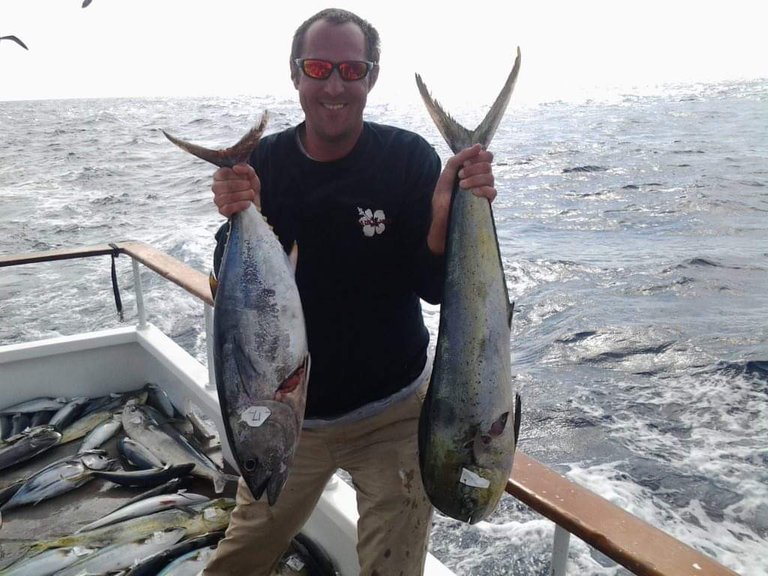 The Pride is a sportfishing boat I've fished aboard several times. It was the same boat where I lost the White Sea Bass but got the Yellowtail. This trip brought us Yellowtail, Dorado, and Bluefin Tuna.
I'm holding a Dorado there and was lucky (and skilled) enough to catch a Bluefin that day too. The image above shows the wild wind swept hair affect! I don't think we slept going out the night before. The swells were too rough for much shut-eye.
1.5 Day Fishing On The Condor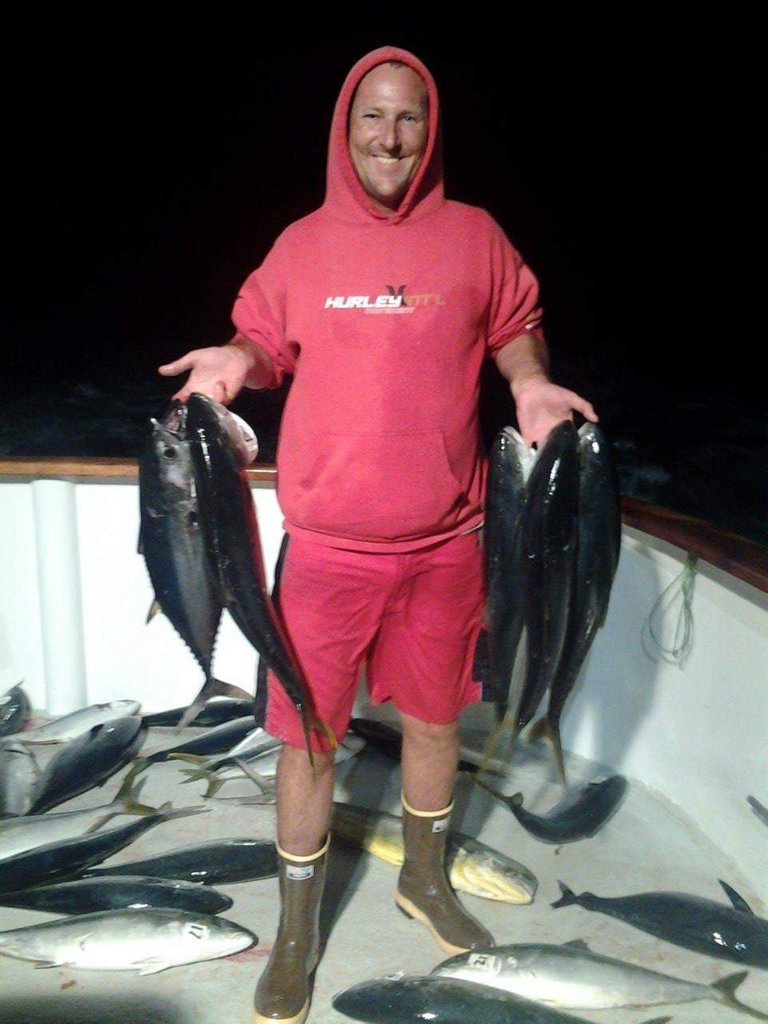 I was trying to blend in with the blood on the deck that day I guess. We did find some Bluefin Tuna way down into Mexican waters.
After we had left the harbor the night before and put about an hour of water behind us, we realized a deckhand had switched off the bait tanks.
Soooo we had to turn around and go back to fill up on bait again. It wasted precious fishing time from the trip which brought only small fish in the end. I wouldn't have wanted to be that deckhand.
Back On The Pride With A Jackpot Yellowfin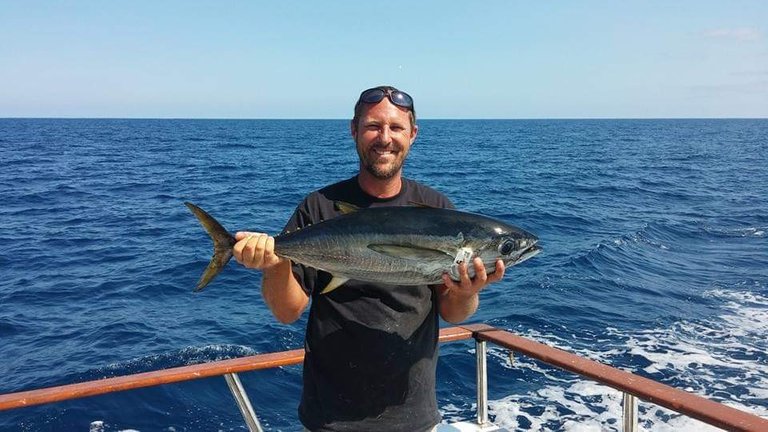 Fish were on the smaller side that day but big enough to put up a fight. We limited out and I won Jackpot for the heaviest fish. I gave half as is customary to the crew.
The deckhands spent hours filleting fish on the way home. Though it happened too fast for pics, we saw a Blue Whale that day just before he fluked and disappeared.
1.5 Day Aboard The Constitution
It was an epic day of offshore fishing! My arms and back were strong from working on a fishing boat myself. I had a couple days off and made this trip.
After all was said and done that day, I roped 8 nice Yellowfin Tuna. The 1st pic is a 35 - 40 lb specimen. Fish pics and sunsets on the stern always go well together.
Overnight On The Old Glory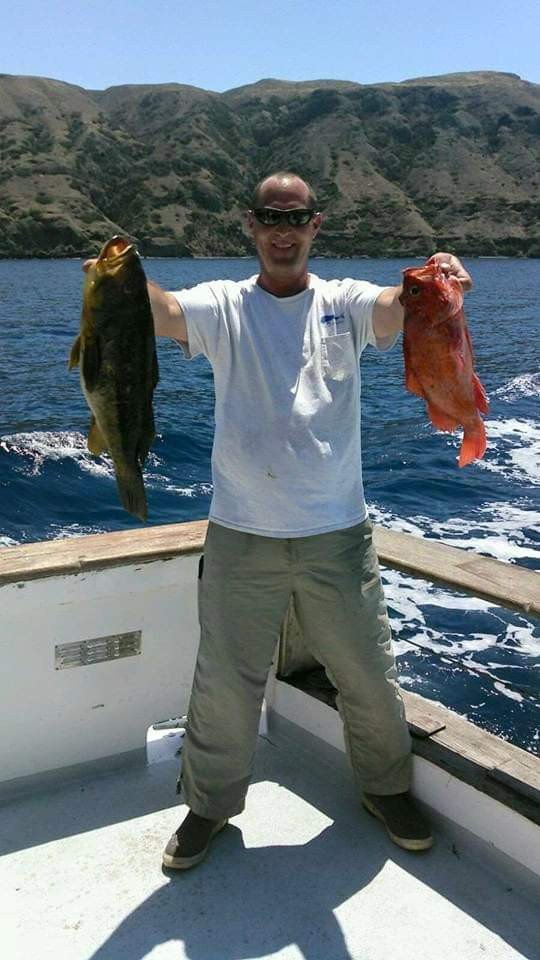 This day brought us a few miles from San Clemente Island in the United States. We saw huge schools of Bluefin on the fish finder and tried for them several times.
They just didn't want to cooperate. The captain made a good choice and put us on some rockfish. After we loaded up down deep we went close to the island where I landed this Calico Bass. Another jackpot fish!
Fishing With Mark - God Bless His Soul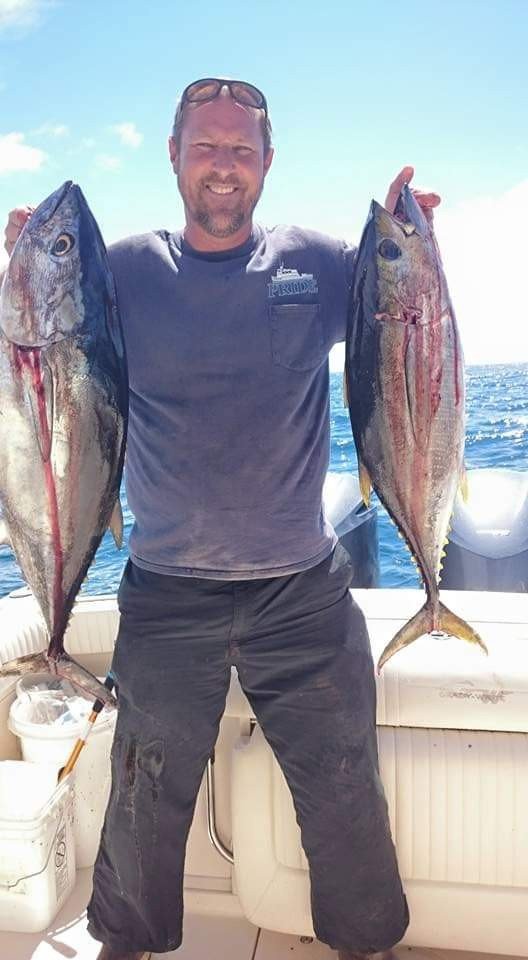 Some of the last fishing I have to share was with a gentleman named Mark Struchick whom I met through work. He owned a nice vessel and we went out a handful of times together. Sadly, Mark passed away and I lost a friend as well as a fishing companion.
We got some nice fish Mark. I didn't get a chance to thank him enough.
That wraps up the journey down fishery Lane. Can't wait to make more fishy memories.
Happy Hiveing!
Images Courtesy Of My Various Cellphones
Bottom Image Courtesy Of Hive.io Brand Assets