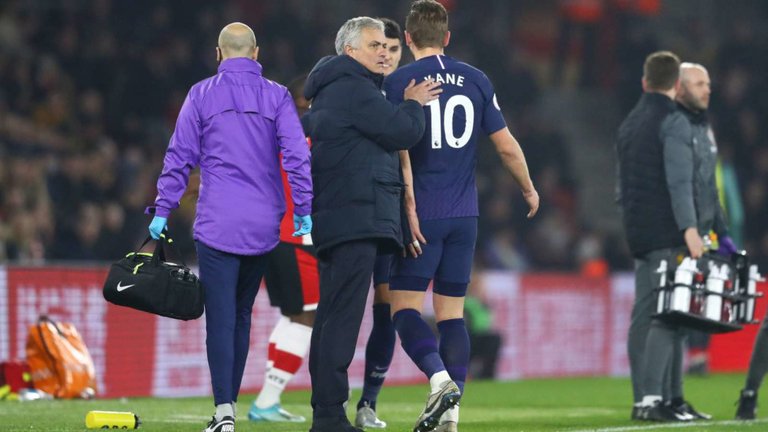 Tottenham lost game against Southampton after one more dreadful performance. It was obvious that defense of Spurs isn't good, but new thing is that creating chances and attack become just as bad as defense. Goals against Norwich from free kick and penalty might make delusion about attack, but against Southampton it was clear that part of team is not doing good like few weeks ago. Valuable points have been lost, Chelsea escaped one more point, but thing which is for even more concern is hamstring injury of first star of club Harry Kane. He ended match soon after his goal was disallowed by VAR. He limped toward the bench and Eric Lamela substituted him. It was obvious that injury is not easy one.
Later reports are saying England international will ll be absent for 4 to 6 weeks which means he will skip games against Liverpool and Manchester City. With current form of players it was very hard to believe Spurs could grab 4th place on the table, but without main striker it's clear it's impossible mission. Spurs have no serious replacement for him. Young 19 years old boy Troy Parrot is the only striker who can replace Kane. For consolation he can hardly be worse than Llorente last year in similar period of season. With this style of play and so bad service for striker I don't see how he can do anything in attack.
Good news is that Son is coming back after that stupid red card earned against Chelsea, but that is not going to be enough for this stumbled club without real ambition. Even players who were excellent in the past like Alderweireld and Verthonghen went out of form which makes defense Aurier, Rose, Verthongen,Alderdeweireld, Sanchez or Foyth not good enough for premier league. With bad play in midfield and main star injured Spurs have nothing to hope in next few weeks. Train for top 4 has gone from the station. Mid-table mediocrity is reality again just like it was in the past before Pochettino. Fans can maybe hope for good FA cup run, and decent Champions League performance.