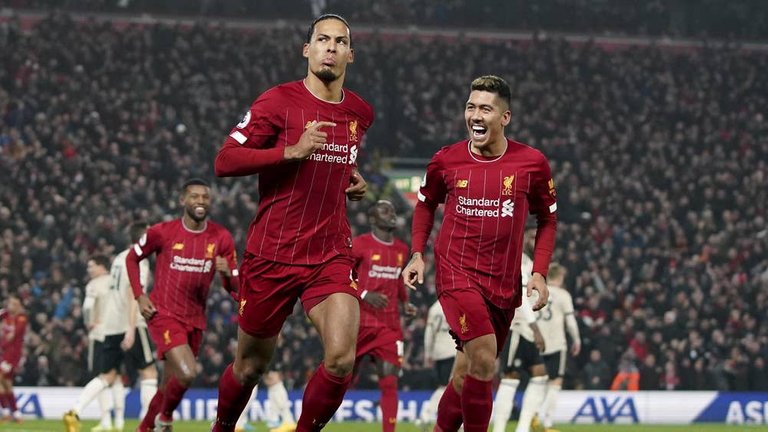 Champion of Europe and World Liverpool, which has plenty of points advantage on Premier League table, played derby game against fierce rivals Manchester United yesterday. The biggest football game in England passed in total domination of Reds which missed chance to fill United net with even more goals. Long passes with surgical precision often on other side of pitch were to much for United.
Virgil van Dijk scored first goal after corner. He was better in high duel than Harry Maguire and after his header ball ended under the bar of De Gea'a goal causing "madness at Anfield" on terraces . Plenty of talks compared Virgil van Dijk and Harry Maguire and this direct duel showed that at the moment Liverpool central defender is real goat. Liverpool soon scored second and third, but VAR denied them because of foul on De Gea and offside. Manchester had one good chance near the half time, when their striker did tackle on far post, but missed the ball and ended in net instead of it.
Second half started with hurricane attacks by Reds under famous terrace "Kop". A lot of chances in just couple of minutes including Salah's who missed sitter, were all missed. Unwritten rule in football said when one team miss so many chances punishment is coming. That didn't happen yesterday because Martial missed only chance for United in second half by firing well above goal. Before and after that Liverpool continued milling United, creating chances, but failed to score second and secure win.
Near the end Manchester went all in attack, made some pressure, but van Dijk and Liverpool defense easily dealt with it.
After one clearing and great long pass in 93th minute Salah ran toward De Gea with United defender on his back and scored goal for total celebration of Liverpool fans.
It's not question will Liverpool win title this season, only question should be can they do it without single loss or maybe by winning every game until the end ? They might not win a lot Premier League titles, but when they do they do it with style by breaking all records. Jurgen Klop really made milling (grinding) goal scoring machine.
Congratulations to Liverpool for this kind of performance! United has a lot to learn to reach this level of play.