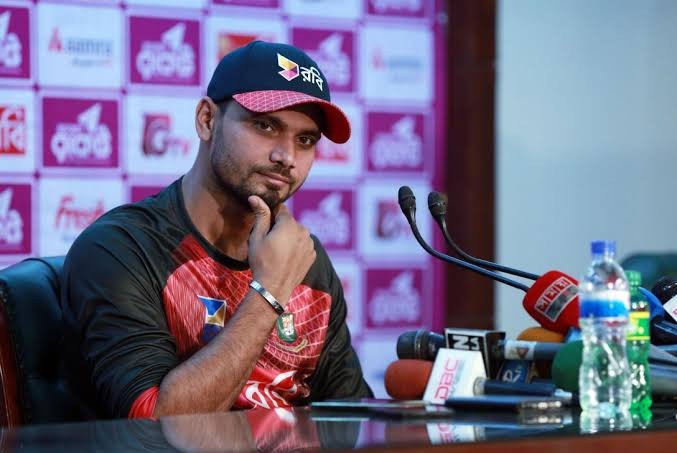 Source
Mortaza has enjoyed the most successful stint as a Bangladeshi captain this far. Under his leadership, Bangladesh has played 87 one day internationals, out of which they have won 49 and lost 36. Mortaza will be stepping down after the third and final ODI against Zimbabwe. If Bangladesh wins, Mortaza will become the first-ever Bangladeshi captain to lead his team to 50 ODI wins. With the way, Zimbabwe has struggled in this series, a win looks likely for Bangladesh.
With a few short stints as a captain way back in 2010, Mortaza managed to get a permanent hold of captaincy in 2014. Bangladesh reached the knockout stages of the World Cup in 2015 and in the semi-finals of the recently concluded ICC Champions Trophy under his leadership. It was also under his leadership that Bangladesh whitewashed India and Pakistan for the first time in the history of cricket.
Mortaza said that he will step down after the final ODI and will continue to play as a player if selected. His selection is, however, very unlikely because of the fact that he isn't the same bowler that he used to be 5-6 years ago. He has lost pace and was only playing for Bangladesh because of his good leadership skills.
When he first arrived in the international arena, he was touted to be the best fast bowler, Bangladesh has ever produced. While he did some justice to that tag but injuries kept him from reaching his true potential. He was very quick during his early days and clocked at a speed of over 140kmph but a series of injuries brought down his quickness significantly. He still did very well despite losing speed. He will go down as one of the best fast bowlers Bangladesh has ever produced.
His departure as a captain means that Bangladesh will have to choose a new captain. They have a few senior players like Shakib, Tamim, Mushfiqur and Mahmudullah. Shakib is a very controversial player as he keeps inviting controversies and Bangladesh management will definitely want the skipper to be far away from controversies.
Mahmudullah is another great option and he has shown that he possesses great leadership qualities in the past. But given the fact that he is currently out of form, he will not be a good choice as the burden of captaincy might add extra pressure. He is already struggling for a place in the squad and it will not be wise to let him lead while he is struggling for his own place.
That leaves Bangladesh with two choices, either Tamim Iqbal or Mushfiqur Rahim. While the former was out of touch for a long time, he found his touch in the ongoing series against Zimbabwe. However, Tamim is highly prone to injuries and has been in and out of the squad for such a long time. No team wants their captain to play a few matches and then rest for a few.
Mushfiqur has been Bangladesh's workhorse for as long as I can remember. Whether it's a test match, an ODI, or a t20, he is there. He plays every format of the game and has loads and loads of experience. He has been a captain in the past but hasn't had the success he would have wanted but right now he looks to be the only option for Bangladesh.
Download Brave and start earning BAT.