Form is temporary and class is permanent so the saying goes but just how temporary is form?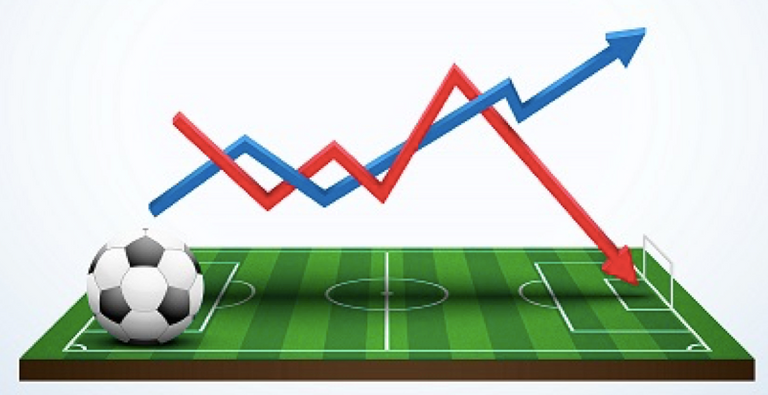 This article will look at whether form from one Premier League season is carried over to the next season.
I will be looking specifically at the last quarter of the one Premier League season v the opening quarter of the next season to see if there is any trend towards form being transferred across the summer break.
Rather than flooding the blog with a lot huge mounds of statistics (I've got all the raw data if anyone is really interested), I'll just be focusing on what I call the "biggest winners and biggest losers" of the previous season, that is to say the teams that saw the largest upturns or falls in form in the closing part of the season and how that impacted them at the start of the next season.
Having considered whether there is an affect on form in the new season, we'll look at the biggest winners and losers in the recently completed Premier League season to hypothesise who might do well and who might struggle at the start of the 2020/21 season.
2016/17 biggest winners and losers

Relegation threatened Swansea were the team that had the most success in regards a turnaround in form at the end of 16/17 season to pull clear of the drop but as we'll see as we go through the next few seasons late charges during a relegation battle don't usually transfer themselves over to form at the beginning of the next season. Swansea's 8 points from their opening 9 games in 2017/18 clearly demonstrates this and they weren't able to engineer a great escape at the 2nd time of asking as they were finally relegated.
WBA joined them in going down that year and what we can clearly see in their case is that a late season collapse in 2016/17 played a big part in their downfall. The Baggies took just a single point from their last 8 games that season having been sitting comfortably in mid-table prior to that. They ultimately finished bottom of the league in 2017/18 having failed to arrest a slump that began 15 months prior.
Watford on the other hand managed to turn things around largely thanks to a managerial change which is a tactic we'll see also worked for them in years to come up until the most recent season when their hopes of gaining a pump in points off the back of a fresh face in the dugout finally failed to pay-off.
Neither of the North London clubs quite managed to emulate their late season form of 16/17 the following year. Spurs haul of 20 points from their opening 9 games in 17/18 is certainly not a bad return but wasn't sufficient to take them to "the next level" in the manner that their run-in during 16/17 might have suggested. Arsenal meanwhile floundered in the early stages of what proved to be Wenger's final season in charge and had it not been for that late season form in 16/17 as shown above it might have been that the Frenchman went a year earlier.
2017/18 biggest winners and losers

Again we see some interesting trends for relegation threatened sides (Crystal Palace and Newcastle) who managed to survive off the back of some good late season form but then not managing to replicate that form in the opening part of the next season. It's like some of these clubs only come to life after Christmas when their Premier League status is threatened!
Watford are featured again for exactly the same reasons as the year before! Throughout Premier League history there have been plenty of similar sized clubs who seem to fight hard for 40 points and then switch off as soon as they reach that magical mark that signifies safety.
Arsenal and Everton meanwhile show that within reason a small upturn in late season form for sides in the top half of the table and within modest PPG ranges (1.5 to 2.0 points) can be transferred over from the end of one season to the start of the other.
2018/19 biggest winners and losers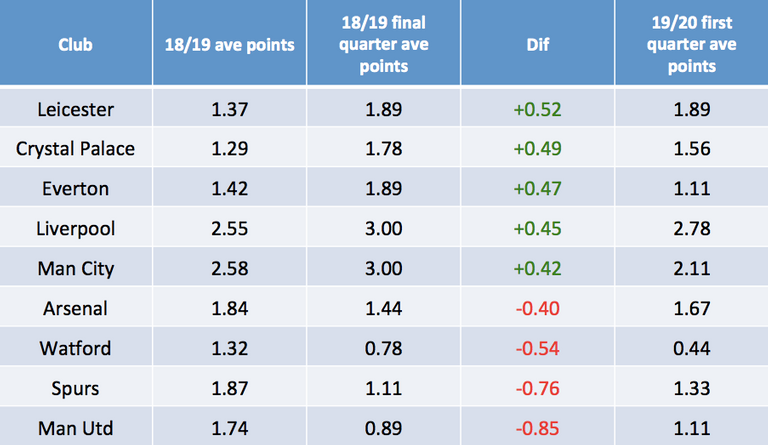 The first thing that stands out about this transition is the sheer number of teams on the list! With such seismic shifts in form it's perhaps not surprising that 5 of the clubs on this list changed manager before Christmas the following year and you can see just how fortunate Solksjaer was to keep his role at United.
Our good old friends Watford return once again with a familiar end of season collapse which was transferred into the next season and we all know how that finished...
Elsewhere we again see a top half of the table team in Leicester successfully using late season form to help catapult them onto better things when that PPG average sits between 1.5 - 2.0.
Right at the top, neither Liverpool or City were able to replicate the perfect form they both demonstrated at the end of the 18/19 season at the start of the season just gone but Liverpool certainly used it as a catalyst for a very strong start that ultimately delivered a title while City couldn't maintain the pace.
Crystal Palace had a really good 2019 which has ensured a relatively comfortable Premier League existence for the last 2 seasons for one of the England's famed yo-yo teams but will that continue?
Conclusions
From the data the above holds true
Sides whose late season form sees them successfully fight relegation do not usually enjoy similar success in the early stages of the next season
Mid-table teams whose form slumps towards the end of the season usually continue to struggle into the new season as well
Top-half of the table teams that see a modest increase in form at the end of the season can usually expect to carry it through to the next season
Predictions for 2020/21 Season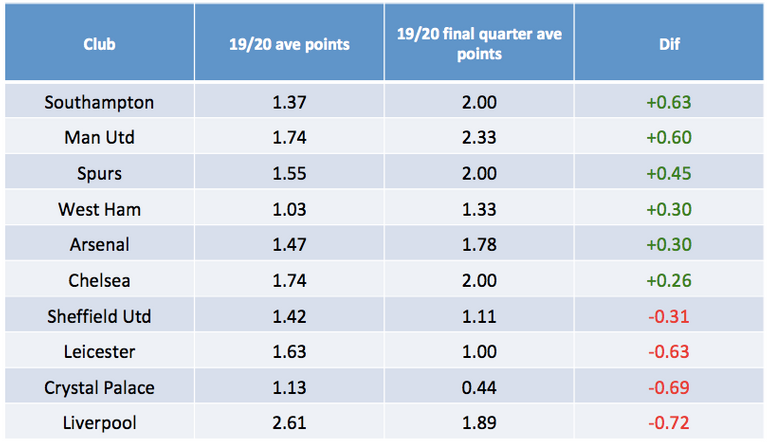 Based on the form of the remaining 17 Premier League teams at the end of the 19/20 and the conclusions drawn above, what might we expect to see at the beginning of the next season?
Southampton were the big gainers after the restart but there is reason to believe that the Saints had been improving ever since their 9-0 humiliation at the hands of Leicester early in season. In fact, if Southampton are looking for a club to emulate then it may well be the Foxes who used their late season form in 18/19 to push on in 19/20. Could Southampton challenge for a European spot in 20/21?
Moving on to Leicester themselves, the midlands club's end of season collapse means it's unlikely that we'll see them challenging higher up the table next year. It should be remembered that they sustained some injury problems late in the season but ultimately I think that Brendan Rodgers is a bit of a one-trick pony and that will be exposed again in the early stages of next season.
It was certainly a good post-lockdown period for fans in London with all the major teams seeing an upturn in fortunes. Spurs, Arsenal and Chelsea all sit within that golden 1.5 - 2.0 PPG mark that we've seen often leads to greater success in the following season. Given that all 3 have changed manager in the past 12 months, it's perhaps not that surprising that it took until the later stages of the season to see the clubs begin to deliver better results and that should now continue into the new season.
West Ham supporters meanwhile probably shouldn't be counting their chickens just yet if previous seasons are anything to go by. The Hammers late burst of form saw them escape the pull of relegation with a couple of games to spare but history suggests that it will be difficult for them to replicate that come the new season.
Manchester United supporters have generally been going overboard in regards their team's form in the closing stages of this season with the likes of Rio Ferdinand boldly declaring that they "are back". Certainly United are in a better shape than they were this time last year but if trends from recent years are anything to go by then it will be difficult for them to maintain their points average in the early stages of next season.
The biggest losers towards the end of the season were ultimately its biggest winners, league champions Liverpool. The last 9 games saw Liverpool living a strange kind of half-life and having essentially already won the league they stumbled over the line rather than striding triumphantly to a first Premier League title. Klopp has been keen to stress that he is not planning any major investment in his squad over the summer but I wonder if that alongside their poor form of late will mean they will struggle to defend their title particularly with so many challengers moving in the opposite direction.
Elsewhere Crystal Palace's slump is reminiscent of the efforts of WBA and Watford in recent years and is likely to leave them battling for Premier League survival next year.
Another side to look out for in that regard might also be one of this season's overachievers in Sheffield United whose overall poor form after the restart was masked by impressive victories against Spurs and Chelsea. If they can't rectify this slip then it's not out of the question that they will suffer from the fabled "2nd season" syndrome.
Of course the closing period of the season just completed is somewhat unique given that it was preceded by a 2 month hiatus. What's more there is only a 6 week rest period now until the new Premier League season begins and I don't think it's unreasonable to expect that form from closing stages of the 2019/20 season be even more pertinent to the results in early 2020/21.
What do you think? Will late season form influence results for the new season in September?
All genuine and engaging comments will be rewarded with BEER and/or ENGAGE tokens