When all is said and done and individuals lauded for their performances in the 2nd Test, the most important element of England's victory over the West Indies earlier in the week was the first innings runs that they put on the board at Old Trafford.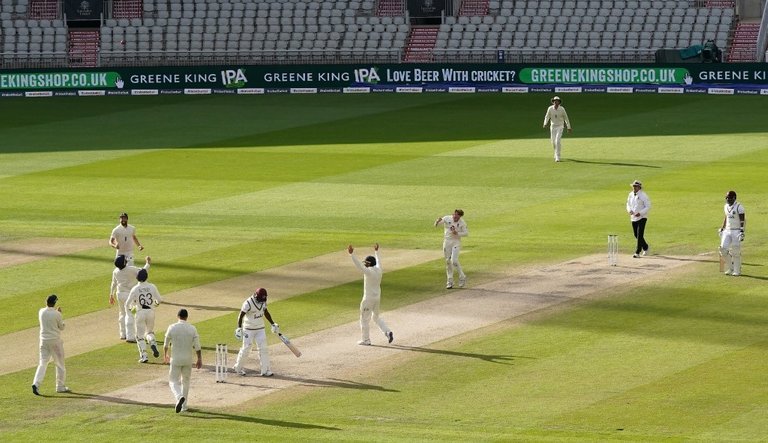 The shadows draw across Old Trafford as England claim a win late on the 5th Day
In hindsight, Jason Holder's decision to win the toss and bowl does not look a great one but under grey skies and with a damp pitch he faced a tough choice. Ultimately though what might have influenced the West Indies skipper most was his knowledge that for a long time this England side has struggled to make significant runs in the first innings of a Test Match.
Or at least that much was true of the old England under the guidance of Trevor Baylis and Paul Farbrace. While this coaching duo may have taken England from white ball no-hopers to World Cup winners in just 4 years the knock-on effect to the Test team was evident with consistent below-par scores and the odd batting collapse thrown in for good measure.
However, since Chris Silverwood's appointment at the end of last summer things have begun to transform at a rapid pace.
England had not scored over 400 in a first innings away from home since the 2017 Ashes when an Alaistair Cook double hundred on an MCG wicket with about as much pace as a dusty old carpet might produce saw England escape with a draw (the only Test they didn't lose Down-Under that winter). This winter though they managed to pass the 400 mark in their first innings in 3 of their 5 Tests against New Zealand and South Africa. Meanwhile the 469 they scored in the first innings at Old Trafford last week was the first time they've passed that milestone at home for 3 years.
You don't have to be genius to work out that first innings runs and a first-innings leads generally increases the chances of a side winning a match but if you are a statistician you can at least crunch the numbers to show just how effective such a scenario is in impacting results.

The graph above comes from a study carried out in the School of Mathematical Sciences at Swinburne University, Melbourne Australia. The study goes on to conclude that having studied all teams across all conditions over a sample size of 371 Test Matches that
to have a better than even chance of winning, the home team on average needs to establish a (first innings) lead in excess of 93 runs whereas the away team needs a lead in excess of 115 runs to have the same chance.
This analysis seems to fit perfectly with the results achieved in England's first 8 Tests of the Silverwood era as demonstrated below with only the 2nd Test this winter against South Africa falling outside those margins.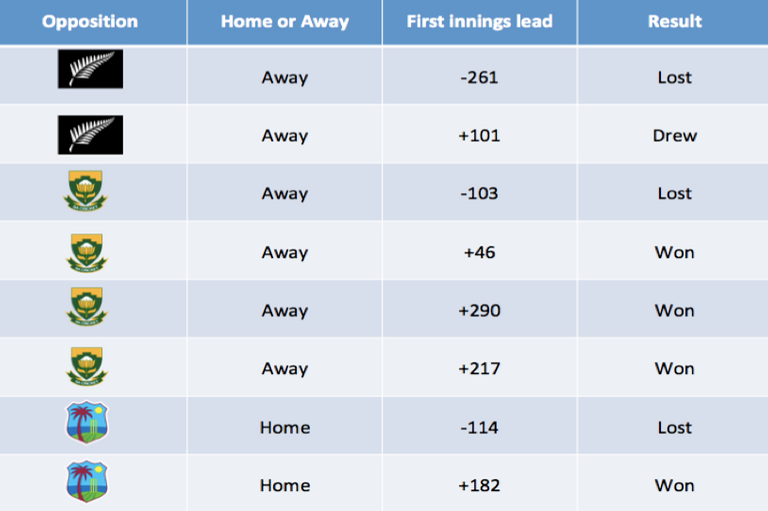 England's mission then in the 3rd Test is pretty simple, get ahead and stay ahead.
That task may be made easier by the gruelling schedule that this series is being played under and the fact that West Indies don't appear to have the depth in their bowling stocks that the home side possesses.
In an interview earlier this week West Indies Assistant Coach Roddy Estwick suggested that the tourists had no major injury concerns amongst their first choice fast bowling line-up but anyone who watched the 2nd Test will find it hard to believe that this is the case.
Shannon Gabriel looked very stiff throughout the match, his pace was down and he was often erratic early on in a spell. Meanwhile, Alazzi Joseph was forced to abandon an over midway through it during the 1st innings due to an elbow problem. He did return later on but the idea that the West Indies would go into a Test with question marks over the fitness of 2 bowlers seems suicidal.
There is not a huge amount of experience waiting on the sidelines but it has been rumoured that giant off-spinner Rahkeem Cornwall could be in line for a call-up as the pitch is expected to turn.
Batting wise, the Windies are also facing an issue. Opener John Campbell looks like a walking wicket at the moment with England confident that they can dismiss him on both sides of the bat. At number 3, Shai Hope has been trading on former glories for the past 3-years and you would imagine that if the West Indies had a viable alternative they would surely have been given an opportunity by now.
All-in-all, the West Indies have fought hard for the majority of this Test series but the wheels did start to come off during the last 4 sessions of the 2nd Test. The first-innings collapse in the evening of the 4th day essentially cost them the match and they looked ragged on the morning of the 5th Day as Ben Stokes swung the momentum even further in England's advantage.
Jason Holder and Phil Simmons have a job to do in regards patching their team up and getting them back to fighting a superior England XI otherwise the final Test could yet turn into something of a blood bath.
England have the luxury of the opposite kind of selection dilemma as they seek to pick a bowling attack to win this game from a list of 8 possible candidates. Silverwood has indicated that he will select "the strongest team" but I'm not sure anyone knows what that is right now.
The one critique of England's first innings performance last week was that the runs came slowly. I can't help that feel here that fans and commentators alike are suffering from a case of the grass is always greener syndrome. In previous years England have scored quickly but often recklessly and as we've discussed already failed to put themselves into enough winning situations early in a match.
I have no problems with the way England batted in the first innings and established a platform for them to attack later in the game and potentially influence this match with the fatigue amongst West Indies bowlers discussed above.

The graph above does demonstrate that the chances of a game finishing as a draw do increase exponentially once a side batting in their first innings bats much more than 4 sessions.
My feeling is that the top-order should not be overly concerned with this and must continue to bat time as is their natural game. England are developing a powerful and effective looking middle order with Root, Stokes and Pope able to cash in on the hard yards done by the top 3.
The one area for greater improvement and scrutiny is what I would call "the engine room" of the batting line-up at numbers 7, 8 and even 9. An analysis of the importance of those positions and who the right men are for England going forward can probably wait for another blog...