It is all change once again at KXIP! Last year saw a major shake-up of both the playing and coaching staff at a franchise that has failed to reach the playoffs since 2014 and this year the changes at least on the pitch have continued with the departure of captain Ravi Ashwin alongside several big-name overseas stars including David Miller and Sam Curran.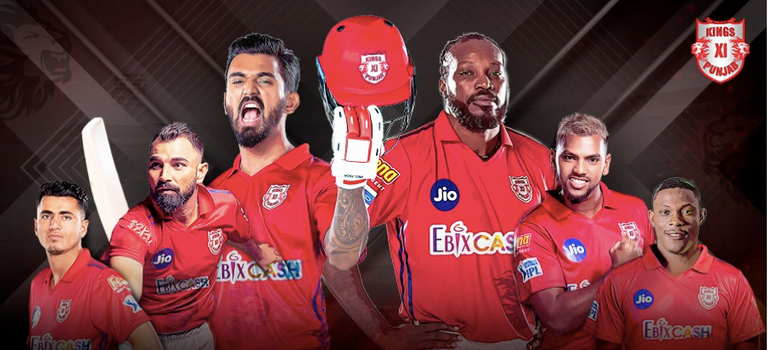 KL Rahul, arguably the best T20 batsman in world cricket over the last 12 months has replaced Ashwin as captain and so much will rest on his shoulders if KXIP are to make it to the final 4. Alongside opening the batting and captaining the team, he is likely to keep wicket once again and I'd be somewhat concerned that the frantic pace of the IPL will ultimately take its toll on him.
As an opening partner for Rahul, KXIP have the choice of either Chris Gayle or Mayank Agarwal. The former has shown in the last couple of IPL seasons that he is still a dangerous hitter on his day but like KXIP in general, Gayles form has started well in both 2018 & 2019 before fading badly towards the back end of the tournament. He remains a liability in the field and doesn't offer the hope of many quick singles either. The other defining factor over his selection may also be which of their other overseas buys KXIP decide to play instead of the big West Indian. Agarwal meanwhile has established himself as a key player in the Test team for Indian and showed glimpses last year that he has the kind of stroke-play to push for honours in the white-ball game as well. If he is looking for inspiration for a player who got labelled early on as a long-form specialist only to transition into a limited-overs star then he need look no further than his new franchise captain.


Top 10 Test run-scorers in 2019. Agarwal's efforts from just 11 innings are only really eclipsed by Steve Smith
Moving down the order, things are looking pretty exciting for Kings 11. They have retained West Indian Nicolas Pooran who I have stated before is a major talent in this form of the game. He played just 6 innings in last year's tournament generally in the later stages as KXIP sort a replacement for the disappointing David Miller and even though he only faced 107 deliveries in all he struck 168 runs (S/R 157) making him the 9th fastest scorer ahead of some very big and established names in the IPL. Imagine what he might be able to do with a full season behind him? Ultimately, he is likely to be going head to head with Gayle for the 4th overseas slot in the side but if it was me selecting the final 11 then Pooran would be involved ahead of The Universe Boss.


Pooran's strike-rate last year was better than Pollard, de Villiers and Gayle and he also hit a maximum every 7 deliveries he faced
In league with Pooran in the middle order will be Australian Glenn Maxwell who was a wanted man in the auction last December. Maxwell like many of the Australian 50-over stars opted to sit out last year's tournament in order to rest ahead of the World Cup and Ashes and thereafter he also took another self-imposed break from cricket as a result of burn out. However, he returned for the recently completed BBL and lead the Melbourne Stars to another final with powerful hitting, canny bowling and some shrood captaincy. After that break from the game where he lost his place in the Australian set-up and following a fairly disappointing return in the 2018 IPL, Maxwell certainly has a point to prove in the sub-continent. Looking at Australia's current T20 side, it seems to me that they are crying out for a player of Maxwell's ability and baring injury or a complete loss of form his stint at KXIP should provide the platform for his reintegration in time for the World Cup on home soil later this year.
Other all-round options for Kings XI include new signings Deepak Hooda, K Gowtham and Jimmy Neesham. Neesham is likely to be a back-up option for the likes of Maxwell but Hooda and Gowtham could both play an important part in the side with the later known as a good slow bowling option in the power-play and fearsome striker of the ball at the death.
In regards bowling, Kings XI's pace attack looks to be well balanced with the acquisition of the left-armer Sheldon Cotterell to bowl in tandem with Mohammed Shami. Shami finished as their leading wicket-taker last year and KXIP fans will be hoping to see Cotterell give plenty of opposition batsmen his famous send-off. Back-up options come in the form of Chris Jordan who has put on some excellent displays of death bowling over the last 12 months for England and Hardus Viljoen who is retained from last year and can bang the ball in with pace and hostility.
In terms of spin, I've already covered the all-round options above in Maxwell, Hooda and Gowtham who are all conventional right-arm finger spinners. Where KXIP might be short in that sense is with a bit of mystery spin or at the very least some variety. Taking wickets during the middle overs will be crucial to any franchises success and in that respect, much will depend on young Afghan Mujeeb ur Rahman to outfox the batsmen in that period of the game. While his stock delivery is also the off-break, he does possess the ability to throw the odd wrist-spinner down as well. As for out and out leg-spin bowlers, KXIP have Murugan Ashwin who had a solid but hardly spectacular 2019 season with just 5 wickets to his name alongside Ravi Bishnoi who has made a name for himself with the Indian U-19 squad recently. In comparison to the sides who generally dominate the IPL, KXIP's lack of a really high-quality, wicket-taking spinner looks to be their Achilles heel.
Predictions and betting tips
With so many changes to their squad once again, it's difficult to predict what Kings XI might achieve this season. Certainly, on paper, they have a potentially stellar looking batting line-up but I'd be concerned that their bowling doesn't quite pack the necessary punch particularly throughout the middle overs. With such tiny margins determining which teams make the top 4, this season might ultimately be more about developing a core of young players to build upon for the next few years.
Batting wise, it'd be difficult to look beyond KL Rahul who will undoubtedly start at pretty short odds to top the charts again. Argawal could also be a decent bet as he looks to build on an impressive 12 months that have seen him establish himself in the Test side.
As for bowling, it might be a case of trying to work-out who will play the most matches. Mohammed Shami is the only senior Indian bowler in the side and assuming he stays fit he is likely to have a big responsibility of taking wickets at either end of the innings. As mentioned above Mujeeb represents the only real attacking slow bowling option but we'll have to wait and see how he responds to the weight of expectation and whether on occasion the coaches decide to replace him for a leg-spinner or another overseas quick.