IPL in an over + My team of the week
We're a couple of weeks and 20 matches into the IPL 2021 season and here's my update and talking points from the latest fixtures.
This time I've decided to present them in the form of an over i.e. 6 deliveries all with a slightly different theme.
As always, drop your thoughts in the comments section. I'm happy to reward those who do.
Ball 1, Yorker delivery, knocks back middle - The demise of Mumbai Indians
It's been a tough week for the reigning champions. Firstly they capitulated against Delhi Capitals to not only lose the match but also their stranglehold on one of the teams most likely to thwart them in a bid for a third straight title. Mumbai started their innings well but their play through the middle overs was far too gungho and the pitch in Chennai unforgiving against such wreckless strokeplay.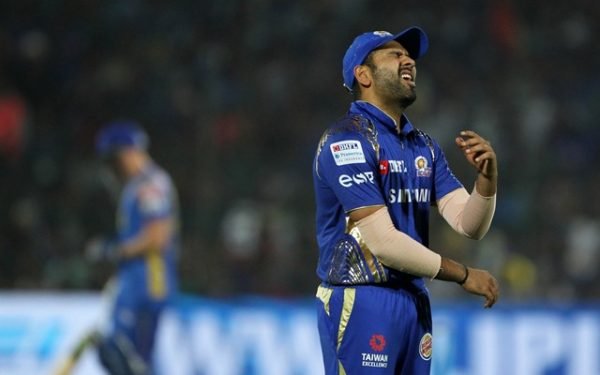 Then they over-compensated in the match that followed against PBKS, allowing Moise Henriques, a bowler who could charitably be described as "medium-paced" to bowl 3 overs and part-time off-spinner Deepak Hooda another 2 in the powerplay as Mumbai managed just 21 runs from their first 6 overs. I honestly think most Sunday League sides would have scored more freely against that attack!
Is this a short-term blip or have MI passed their peak?
Ball 2, In the slot, smashed for 6 - KKR almost pull off dramatic run chase
At 31 for 5 it seemed unlikely that KKR would pass the 100 mark let alone get close to the 220 that CSK had posted in their innings. Queue one of the almost greatest comebacks in T20 history!
It started with Dre Russell finally finding the kind of form that has alluded him since 2019 with a quickfire 54 from 22 balls before he was bamboozled by a Sam Curran delivery that bowled him behind his legs. Even then with the score at 112 for 6, it felt nothing more than a brief bit of entertainment before the inevitable.
However, Pat Cummins wasn't about to give up on things and the Aussie launched into some spectacular late hitting to get his side within 18 runs going into the final over. Ultimately Cummins ran out of partners and KKR fell short but it was certainly a thrilling climax to a game that for large parts looked like it would be very one-sided.
Ball 3, Slower ball, swing and a miss scampered a bye - Controversy over batsmen backing up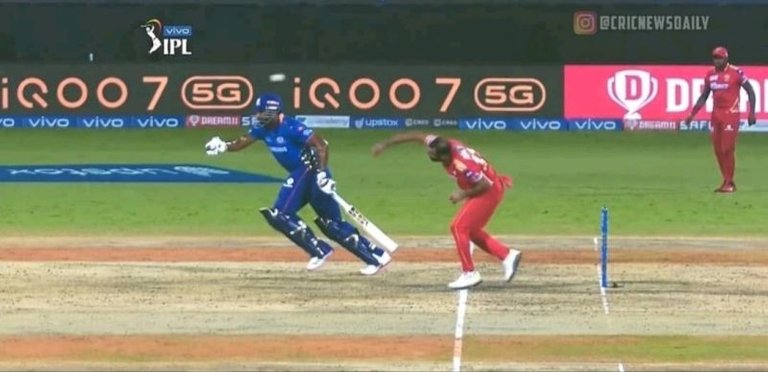 I've spent the last couple of days telling people to not listen to the storm in a tea cup that some of the IPL commentators have attempted to create about batsmen backing up at the non-strikers end. With many suggesting that a new law should be introduced to prevent it happening
A batsmen is well within their rights to leave the safety of their crease at the non-strikers end if they wish to as long as they can have no complaints about the bowler stopping in their action and running them out!
A "Mankad", as it is generally referred to, is perfectly legal but is usually seen as being "against the spirit of cricket" which is of course crap because at its core cricket is a game about understanding risk vs reward. The reward of sneaking out of your crease is to potentially pinch an extra run, the risk, is that you get run out! There is no need to change the rules but perhaps more can be done to protect bowlers who are labasted for attempting a "Mankad".
Ball 4, full and wide, hit out to the cover sweeper, batsmen scamper a 2nd but wait ... Warner's one short costs SRH
One of my picks to be dark horses for IPL 2021, it just hasn't quite happened for SRH so far.
Kane Williamson dug deep for them in their chase against DC and while if you just looked at the scorecard, you wouldn't say his unbeaten 66 was anything too special. However, on a pitch where all comers have struggle particularly in chasing, Williamson's innings was one of true class and deserving of winning the game.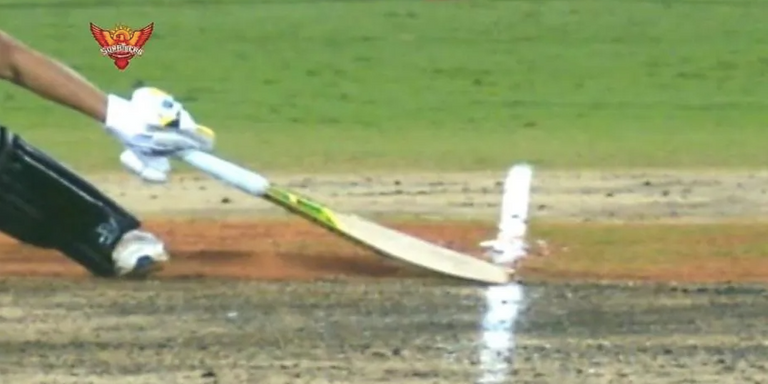 Ultimately he managed to take it to a super over but SRH came up just short, quite literally with David Warner failed to complete a run properly leading to the umpire declaring that they were 1 short. A target of 9 from 6 balls for DC became 8 and they just about got there with a couple of leg byes at the end.
Personally, I'm not quite sure why SRH didn't opt to send out Jonny Bairstow instead of Warner given that the Englishman has been striking the ball brilliantly so far this year. Sometimes as captain, you've got to know when to hand over responsibility to someone else to get the job done!
Ball 5, Chest high full toss, smashed for 6, no ball called, free hit also hit for 6 - Jadeja sinks RCB
Having won their opening 4 games, you felt it would take something pretty special for CSK to beat RCB and they got it from one of the best out and out cricketers around, Ravi Jadeja.
Jadeja was dropped on nought as CSK looked to be labouring to a par score after failing to build on a promising start. Coming into the final over CSK were 154 and RCB would probably consider themselves as favourites to chase the total. However, Jadeja unleashed utter carnage in the last over against the man who is this season's current Purple Cap holder, Harshal Patel, clubbing him for 37 runs, the most ever in an over in the history of the IPL.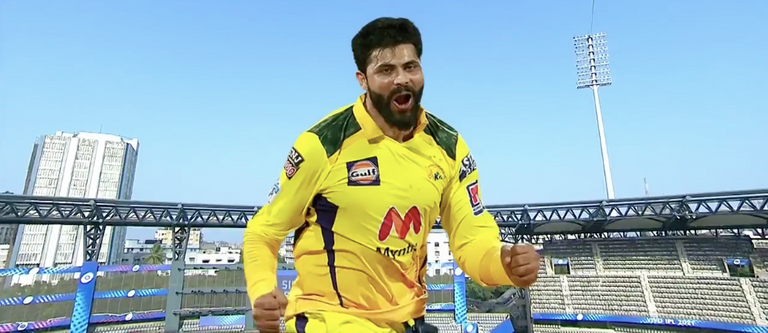 Not content with his batting efforts, Jadeja then took 3 for 13 with the ball and effected a run-out with a direct hit!
As the players left the pitch, even Virat Kohli had to give his international colleague a big smile and pat on the back. Sometimes you're just beaten by a player who was better on the day!
Ball 6, big spinning googly, beats the batsmen, beats the wicket keeper and runs for 4 byes - a couple of lighter notes
Deepka Hooda tries to catch a bar of soap
https://twitter.com/mrlatafan/status/1384364669712822273?s=20
Trent Boult falls off an imaginary treadmill
https://twitter.com/piiiikachuuu007/status/1383681736903598080?s=20
My IPL Team of the Week

Shikhar Dhawan - Seems to be batting like some kind of zen master at the moment such is the control and focus that he has a the crease. He was dropped early on during the T20 series vs England but at this rate it'd be a brave decision not to recall him for the upcoming World Cup
Jonny Bairstow - Back up to open and getting his side off to a fast start every time. If you were being ultra critical it would be that Bairstow hasn't really gone on to a really big score but he'd be the perfect foil for Dhawan in this team.
Faf du Plessis - It's been a week dominated by openers so I need to fit Faf in at no.3. He started the tournament slowly but is building into now and getting CSK off to some fliers. Loves to ramp 90mph yorkers, must have a great dentist back home in South Africa!
Kane Williamson - As noted above, great knock against DC to almost see his side over the line. Best pound for pound cricketer in the world in my opinion.
AB de Villiers - Continues to impress adding fast and consistant runs at the back end of innings.
Ravi Jadeja - As described above, gave arguably the single best all-round performance in IPL history vs RCB. Difficult to keep in quiet in any match, a truly multi talented cricketer
Chris Morris - Has stepped and is justfiying the big price RR paid for him. Doing what he does best which is taking wickets at the death and dismissing lefties. Also adding some very useful runs down the order
Pat Cummins - Has been reinvented as a middle overs enforcer and taken to role well. Stunning display of hitting almost won a memorable game for KKR.
Mohammed Siraj - Probably the best bowler of the tournament to date. Accurate upfront and at the death. Bowling will real pace and skill.
Amit Mishra - Rolling back the years to be a contender for the purple cap. Likes to give the ball some air unlike your typical modern day wrist spinner.
Arshdeep Singh - Might not be getting the big headlines but a very capble bowler in this format. Can bowl in the powerplay or at the death and has a big future ahead of him.
---
---