Analysis, Predictions and odds on who will be the lowest scoring team in the Premier League 2020-21 season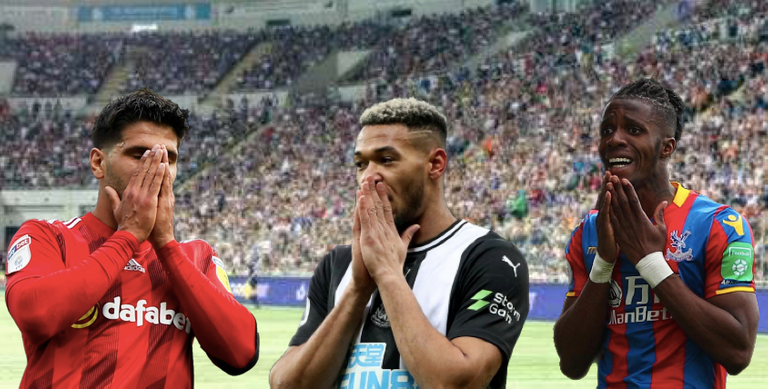 If the odds on the highest scoring team in the Premier League in 2020-21 were a little one-sided then those on the lowest scoring team are far more tightly grouped and backing the right side(s) could net you some nice end of season profits.
In fact, a bet across multiple teams might be just the way to go considering the generous odds on offer and the number of teams who could potentially finish as the lowest scorers of the Premier League 2020-21.

Fulham
It's no great surprise to see the sides generally tipped for relegation are also going to appear on this list and in that sense the play-off winners are already attracting a lot of money to go straight back down and to be the Premier League's lowest scoring team.
As far as scoring is concerned, the Cottagers were very dependant on the goals of Serbian forward Aleksandar Mitrovic in their promotion bid last season and he will be key once again to their hopes of staying up. Mitrovic's scoring record in the Premier League to date is 1 goal every 3 and a half appearances and while there is reason to believe that he has matured since the last time he was in the English top-flight (just check out the video below) he is likely to find it harder going again at this level.
Ultimately Fulham's tally of 64 goals in the Championship last season was significantly lower than any of the top 3 and they drew a blank in 11 of their league matches last year (1 in 4) including 4 out of 6 regular season fixtures they played against the clubs who finished above them in the league. There's no doubt that things aren't about to get any easier and I'd be surprised if this Fulham team can register more than a goal a game on average in the Premier League 2020-21 season.
Prediction: It's likely to be a long season for Fulham and their fans who may ultimately have to come to terms with their side being relegated as the lowest scorers in the Premier League.
Odds. You can pick-up a bet on Fulham to be the lowest scorers in the Premier League at very reasonable odds of @5.0
---
West Bromich Albion
The Baggies finished last season with a total of 77 goals, the 2nd best record in the Championship and they will be hoping to carry that on into the Premier League in 2020-21. However, as always the step-up is a big one and with fewer games and higher quality opposition it's not out of the question that their total could be halved this year.
Unlike Fulham, WBA had goals from a larger variety of players last year and they will hope that this fact added to them having some Premier League experience in the form of Charlie Austin will serve them well. Austin is one of the most naturally gifted goalscorers in the country and boasts a record of scoring once every 183mins that he has appeared in the English top flight or to put it another way just under 0.5 goals per 90mins which is an enviable record by anyone's estimations.
Of course, the major problem for him and West Brom is being able to get their star man on the pitch for long enough to do the damage. He managed 34 outings last season but on average played only 45mins per appearance. The Baggies will hope that he can stay fit and firing if they are to have a chance.
Prediction: There is enough depth to the goal-scoring options at West Brom to think that they have a chance of avoiding being the lowest scoring team in the Premier League in 2020-21 and Slaven Bilic has shown in his previous managerial stints that he favours an attacking brand of football. That being said, it's likely that WBA will be fighting it out in the bottom third of the table where goals are slightly harder to come by.
Odds: While @5.0 aren't bad odds, a bet on the West Bromwich Albion to be the Premier League's lowest scorers in 2020-21 isn't quite as good a value as it is on Fulham.
---
Crystal Palace
Palace finished last season with the 2nd worst scoring record in the Premier League (31 goals) behind only bottom side, Norwich. Their 7 match losing streak at the end of the season also saw them draw 6 blanks in front of goal and across the season as a whole, they failed to score on 16 occasions (42% of all matches).
Given that late slump, it's difficult to see how Palace are going to be able to turn things around with the league due to start next month. Having their star forward Wilfred Zaha adamant that he wants to finally leave the club is not helping the cause either and you feel it may be best for all concerned if the Eagles can ship him on as quickly as possible and invest the funds in a couple of forwards who can do the business for them this season.
Prediction: It looks set to be a very tough season for Palace and given their struggles in front of goal last year they could well be an excellent choice to finish as the Premier League's lowest scoring team this time around.
Odds: Their price of @5.5 is surely too good to ignore even if you do hedge your bets and back one or two other sides at similar prices.
---
Aston Villa
Across the entirety of the season, Villa's 41 goals on their Premier League return actually made them the 2nd most prolific side of the bottom 8 with only West Ham scoring more times.
However, Villa's ultimate survival after the restart was based on a far less attacking game plan than they had played prior to that point and in fact, in their final 10 games, they scored just 7 goals with only bottom side Norwich and the above mentioned Crystal Palace having a worse record post-lockdown.
Part of Villa's problem last season was that they struggled for goals from their centre-forwards particularly after Wesley suffered a season-ending injury. With the Brazilian now facing a race against time to get fit and firing for the 2020-21 season and the big clubs hovering around top-scorer Jack Grealish, Villa may yet find goal scoring in their 2nd season a little harder.
Prediction: It'll be fascinating to see if Dean Smith sticks with the more conservative approach that ultimately saw his Villa side survive the drop last season or whether he'll look to be a little more expansive. Ultimately it may depend on who he has at his disposal to play a more attacking brand of football.
Odds: A price of @11.0 for Villa to be the lowest scorers in the Premier League 2020-21 looks really good value and if Grealish departs later in the transfer window those odds could shorten dramatically.
---
Other notable odds on the team to be the Premier League's lowest scorers in 2020-21 include …
Newcastle – The Magpies certainly lack that natural finisher up front to take advantage of some of the good work that the midfield and particularly the likes of Allan Saint-Maximin and Jonjo Shelvey do. There were however signs that Steve Bruce had got his side playing with a little more cut and thrust in the closing stages of last season as they scored 13 goals in their final 9 matches. With rumours that the club is interested in several strikers this transfer window, I'd expect them to do enough to avoid being the lowest-scoring team in the Premier League – odds @7.5
Sheffield United – Low scoring is very much the name of the game as far as Sheffield United are concerned with the Blades 39 goals last season significantly fewer than the 8 teams that finished above them. They are not blessed with many natural goal scorers in their squad and I do worry that they are going to find it harder going this season than last. You can back them to be the lowest scoring team at generous odds of @12.0
Leeds – It'd be remiss not to include all the promoted sides in this analysis. There have been some big names linked with potential moves to Leeds over the summer but as yet it looks like Marcelo Bielsa will largely be relying on the players who won him the Championship last season. The question remains whether those players have the quality to score regularly in the Premier League. You can bet on Leeds to bet the lowest scoring team @13.0
Brighton – Brighton's Premier League goal scoring returns have steadily increased from 34 to 35 and then 39 goals last season but the fact that they've never breached the 40 goal barrier does make them worthy for consideration when talking about low scoring teams. They also slowed down towards the end of last season, scoring just 7 times in their final 9 matches with main striker Neil Maupay managing just a single goal in his final 8 appearances. You can back that trend of low scoring to continue into next season @21.0

Previous analysis of outright odds on the 2020-21 Premier League season include predictions on
The highest scoring Premier League team
.
Which team do you think will the lowest scorers in this season's Premier League?
.
All genuine comments will be rewarded with BEER and/or ENGAGE tokens