Here I am re-hashing a post from 2019 where I simultaneously introduced the blockchain to the man, the legend, Billie Oddie while assessing the chances of the clubs hovering perilously close to the trap-door that is the bottom 3 of the Premier League.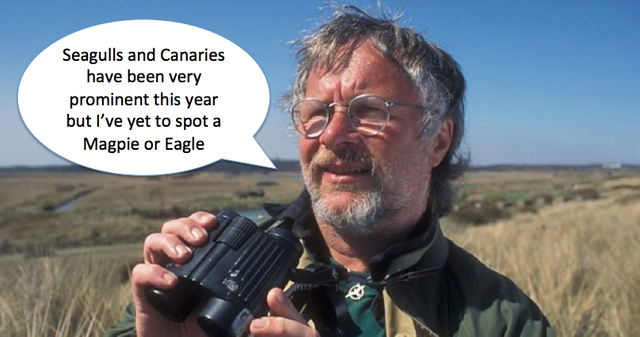 Last year's blog came a little bit earlier in the year (the 26 game mark to be precise) and so as you'd imagine we're looking at a slightly smaller group of clubs who are genuinely threatened with relegation. Had we have looked at that mark this year we might well have been including the likes of Newcastle and Southampton in the assessment but their recent form means they are all but safe and it would take a collapse of epic proportions to see any other side other than the bottom 6 playing Championship football next year.
As a reminder here is the bottom 6 as it stands after last night's fixtures

Brighton
The Seagulls have been the form team of the lower reaches of the league since the restart, with 4 crucial points against sides in the top half of the table. Such a start for Brighton was absolutely paramount given that they had not won a game in 2020 going into lockdown and they have a really difficult run of games. Despite being 6 points clear with 7 games to go it is precisely that run of games that means they are still not quite safe.
Can we play you every week? Brighton have only won 7 games all season and 2 of them were against Arsenal
Over the next couple of weeks, Brighton have home fixtures against Manchester United, Liverpool and Man City and it's entirely possible that they will get nothing from those matches. As such, the away trip to bottom club Norwich on 4th July becomes a must-win game for them. Fail to get something from that match and Brighton might find they haven't gone anywhere making the last 3 games of the season against Southampton, Newcastle and Burnley of great significance.
Brighton's strength is their work ethic and organisation and they have conceded fewer goals than any other side in the bottom 6. In Neil Maupay they have the most proficient striker within this mini-league with an average of 0.49 goals every 90mins and the best-expected goals tally of the season so far. They have fallen behind in 20 of their games this season but have managed to claim 12 points from losing positions suggesting that there is still plenty of fight and belief in this squad.
Watford
Having racked up 50 points last season, their best return of the Premier League era, there was reason to believe that this Watford side was ready to begin establishing itself as a mid-table team. However, a disastrous start to the new campaign saw them bottom at Christmas with just 2 wins from their opening 18 games. Javi Garcia, the man who had not only delivered that record points haul but had also taken them to a cup final was dismissed and replaced by former manager Quique Sánchez Flores who himself lasted just 10 games. Since then Nigel Pearson has managed the side for 15 matches and delivered 5 priceless victories including breaking Liverpool's 44 match unbeaten run.
Had the league have started when Pearson took over then Watford would find themselves in 14th place, with 8 more points than any of the sides currently in the bottom 3. If Pearson can deliver them to safety, Watford would become only the 4th club in the league's history to escape relegation after being bottom at Christmas (WBA, 04/05, Sunderland 13/14, Leicester 14/15).
Watford still have a couple of tricky games against Chelsea and Man City to come but they also play a lot of the teams around them including Norwich on 7th July and West Ham on 14th July. With Deeney and Sarr upfront as well as a host of skilful midfielders there is reason to believe that Watford have the firepower to engineer their own version of the great escape. Whether that will be enough to keep Pearson who only signed a 1-year contract his job at a club that goes through managers at the rate Watford does remains to be seen
Sarr and Deeny should be able to provide the goals to keep Watford in the top flight
West Ham
As a Spurs fan, I can take great delight out the shambles which is West Ham football club but I can only imagine that being a supporter of theirs must be very difficult at times. On paper, they have assembled a squad of high priced, big-name players that should be challenging much higher up the table but very few of those signings have been able to deliver.
Felipe Anderson, for example, scored 9 goals in his debut season following a club record move but has started just 20 matches this year and contributed only a solitary goal which was the team's 4th in a 4-0 rout of fellow strugglers Bournemouth. Sebastian Haller hit the ground running following his own big-money move with 4 goals in his first 8 league games but has since only scored 3 times and has missed his side's opening 2 defeats since the lockdown both of which have seen the Hammers draw a blank.
Other big-money, big-name players conspicuous by their absence include Andriy Yarmolenko who has played just 9 minutes of first-team football since Christmas and hasn't scored since September as well as the perennial waste of space Jack Wilshere who has managed just 16 appearances for the club in 2 years with his solitary goal coming against the mighty Newport County in the EFL Cup.


Jack Wilshere - what a waste of money!
Whether David Moyes will decide to reintroduce these chancers should they ever decide to drag themselves off the treatment table and whether they play with any spirit or fight if they do return might be a defining factor in West Ham's survival. They don't play again until next Wednesday when they entertain Chelsea a match that most would predict will see them rack-up a 3rd straight defeat since the return of football. However, a performance in that game is absolutely crucial as they look to build some momentum going into matches against Watford, Norwich and Aston Villa. West Ham are currently ranked 17th in Forbes Rich List of clubs in world football but they most certainly aren't too big to go down.
Bournemouth
The warning signs for Bournemouth were already apparent last season when they shipped 70 goals in the league with only the bottom 2 of Huddersfield and Fulham who were both essentially relegated by Easter conceding more. This year that porous defence has been coupled with a misfiring forward line and you don't need to be a rocket scientist to work out that if you're not scoring while also conceding a lot then you're in trouble!
Any football fan would be sad to see Bournemouth leave the Premier League. In an age of money and mega deals, their rise from the bottom of the professional leagues to a top-half finish in the Premier League (they finished 9th in 2017) is a remarkable story and they've done it playing very attractive football. However, I've got a feeling that this year it won't be quite enough and perhaps it is the fact that this team doesn't know how to win ugly that is the biggest problem. Since their debut season where the finished 16th, Bournemouth have not been involved in a relegation scrap whereas the 3 sides above them at the moment all have a collective memory of how to get themselves out of trouble.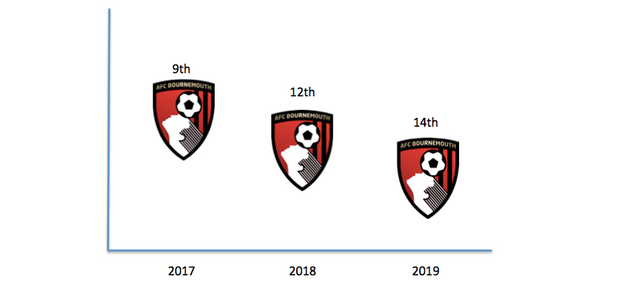 Bournemouth's falling returns in the Premier League. Next stop relegation?
To make matters worse their run-in is none too pretty. They have a massive game against Newcastle next Wednesday then 4 games on the trot against Man Utd, Spurs, Leicester and Man City before heading into a South Coast derby with Southampton and then a final game against Everton. I believe they'll need 3 wins from those games to be safe ideally starting with their match against Newcastle.
Aston Villa
Villa were the only one of the promoted sides to have really spent any money in their bid to stay in the Premier League but to date that hasn't transferred itself into a sequence of results with the club hovering around or in the bottom 3 since last Autumn. Despite those big signings, it has generally been the players who helped Villa into the Premier League last year that have been their shining lights with Jack Grealish, Conor Hourihane and Anwar El Ghazi all having an impact from midfield.
A one man team? Villa will certainly need their captain and talisman Jack Grealish to conjure up some magic if they are to survive
Villa have played with plenty of fight this season and certainly don't seem ready to throw the towel in just yet but do they really have the quality to stay up? They have a midlands derby against Wolves this Saturday which is one of only two Premier League matches this weekend. A win in that game would not only provide local bragging rights but it would also give the side some momentum for the rest of the season and sneak them out ahead of the clutch of teams around them.
Villa's home form has been their one saving grace this season with two-thirds of the points they've won coming at Villa Park. I'm sure had the fans have been allowed into the stadium that a trip there for any side would have been doubly daunting with the Holt End in full voice trying to cheer their side clear of relegation but circumstances are such that Villa and all the other sides chasing something from the remaining month of the season, will need to do it all without the fabled 12th man.
Norwich
Is it too early to say that it is curtains for the Canaries? Stranger things have happened in football but on current form, this Norwich side isn't showing the kind of fight or quality to make up the 8 point difference between them and 17th place.
From defeating reigning champions Man City in September to bottom of the league. Where did it all go wrong for Norwich?
It's been a strange kind of a year for the East Anglian side with wins against the likes of Man City and Leicester and a decent cup run that sees them take on Manchester United this weekend. Whether the FA Cup has served as a distraction or whether it might act as a catalyst to a late-season rally remains to be seen. It was certainly interesting to see that Norwich left the likes of Pukki, Cantwell and Buendía on the bench for their crunch match with Everton during the week. Are they now prioritising the cup over league survival? Norwich's owners spent very little in the summer and have made no secret of the fact that while they would like to remain in the Premier League they were not necessarily expecting to.
One advantage that Norwich do have is that their destiny is still very much in their own hands with games against Brighton, Watford and West Ham still to come. In reality, it seems like they'll need to win all those game plus a couple of others to stand any chance of avoiding the drop.
The safety mark
Given how tight it is down there I think 36 points will probably be enough to stay up although it could well come down to goal difference if for any side reliant on that tally. Apart from Brighton, no one in the bottom part of the table is showing any kind of form and without a passionate fan base to cheer them on it could well be a case of the best of the worst not getting relegated. A scrappy win here or a last gasp equaliser there will make all the difference.
Odds
The below odds on each side to be relegated are accurate as of the end of round 31 in the EPL
Brighton @23.0
Watford @4.33
West Ham @2.62
Bournemouth @1.44
Aston Villa @1.40
Norwich @1.02
Predictions
As the bookies suggest, we are probably looking at it being a case of 2 clubs from 4 joining Norwich in the Championship next season. I think Villa will have a good crack at staying up but will ultimately come up just short and I'm afraid I agree with the odds above that Bournemouth are set for the drop. As much as I'd like to see West Ham capitulate I believe that Bournemouth's tougher run-in and the fact that they have no plan B particularly against the bigger clubs whom they will always try and out-football (usually with fatal results) means that their 5-year fairytale in the top flight is about to come to an end.
What do you think? Who is going to be relegated? Are we in for any surprises?
All genuine and engaging comments will be rewarded with BEER and/or ENGAGE tokens