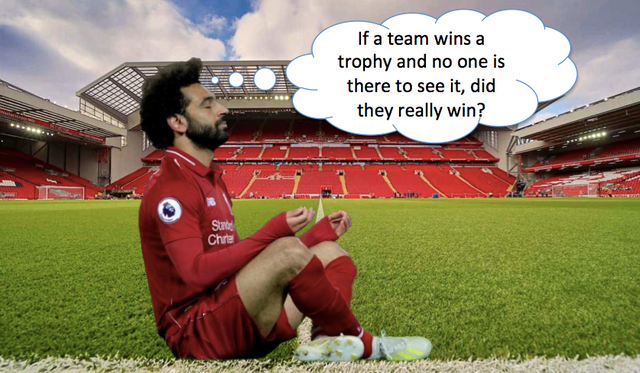 Ok, so this is a semi-troll of Liverpool supporters but I'd also be interested to know your thoughts if you are a supporter of the reds. Was your first league title in 30-years everything you hoped it would be?
After a stellar season that was very nearly curtailed by the coronavirus pandemic, I get the sense that Liverpool officially being crowned champions might be as much a relief as it is a joyous celebration for the fans.
Going into Easter there was a real threat that Liverpool's first Premier League title might be snatched away from them. I spoke to several Liverpool fans at the time whose emotions ranged from slow shakes of the head and an acceptance that this could only have happened to them, to blinding rage that they could be denied being crowned champions and the threat to never watch football again should that come to pass.
The record books will show Liverpool as league champions 2019/20 but of course, they won't get to celebrate the occasion in the same as those who have come before them. They'll be no Anfield home-coming for the team, they'll be no open-top bus tour (at least not in the short-term) and even when there is they'll be no filling the league trophy with champagne and passing it from player to player to toast their triumph. Is this one of sports biggest anticlimaxes?
For contrast and comparison here are a few other sporting moments that didn't live up to expectations.
Mayweather vs Pacquiao
Of course to be a true anticlimax the build-up has to be big! Mayweather vs Pacquiao was billed as 'The fight of the century' between arguably the 2 best pound for pound fighters on the planet. The event was so popular that the number of fans to trying to access it via pay-per-view crashed the satellite feed and the fight had to be delayed half an hour while they fixed the problem!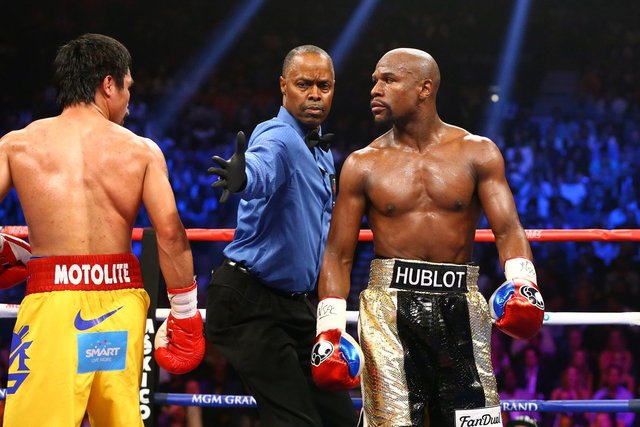 This is about as close to each as they got to each other
For boxing purists, Mayweather's performance was a technical masterclass but as an event itself, the fight lacked very much in terms of entertainment. Mayweather hardly landed a punch on Pacquiao and Pacquiao who allegedly fought with a damaged shoulder was even less effective. 12 rounds of 2 boxers dancing around not punching each other is not what I would call the 'fight of the century'.
Euro 2004
For the England football team, any tournament in the 21st century prior to the World Cup of 2016 has been a major anticlimax but I think this one would have to rank up there as one of the biggest. We were in the middle of our fabled "golden generation" with the likes of Michael Owen, David Beckham, Paul Scholes, Steven Gerrard, Frank Lampard, John Terry and Ashley Cole in our side not to mention arguably the most exciting young talent in global football, Wayne Rooney.
By the time the Quarter Finals arrived, Rooney had already scored 4 times in 3 matches and with him in the side, it finally felt like England might have the x-factor to take them to a 2nd major tournament trophy. The QF against hosts Portugal started so well with Michael Owen giving England a lead inside 3 mins. Disaster then struck when Rooney limped off after 27mins with England really just trying to hold on. Of all people, Helder Postiga, a man who couldn't hit a cow's arse with a banjo while at Spurs, got a late equaliser for the home side. The match ultimately went to penalties and of course, you don't need me to tell you what happened after that!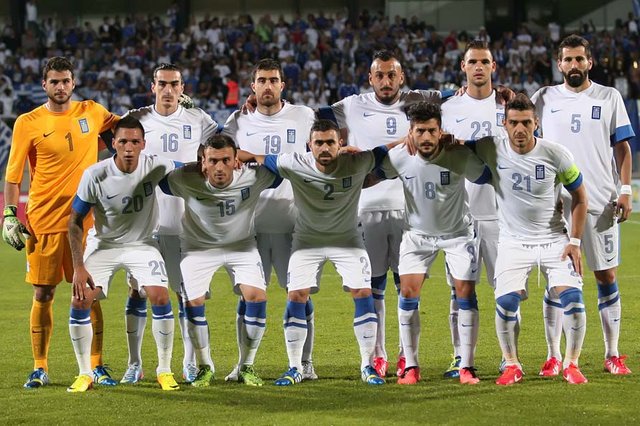 This is not a team photo, it is instead the Greek defensive formation that they would place in front of their own goal in every game at Euro 2004
To make things even worse the tournament wasn't won by the Portuguese side of Ronaldo, Figo and Rui Costa or the all-conquering French team of Henry, Zidane and Viera nor was it the Dutch side with the quality of Van Nistelrooy, Robben and Stam or the technically gifted Czech national team lead by Pavel Nedved. No instead all these brilliant players from established footballing nations were undone by a Greek side that scrapped through the qualification stage and proceed to win every knockout game 1-0 by parking the bus. Certainly a major anticlimax for anyone hoping to enjoy the beautiful game!
The Ashes 2005
This is a very controversial selection because many people view this as the greatest Test series of all time and certainly I believe that the clash between England and Australia in 2005 is the best Test cricket I've ever witnessed. So why include it on this list? Again, it's more of a case of the expectations that had been built up v the ultimate conclusion of the series.
The 2nd, 3rd and 4th Tests of this series were all thrilling matches with England scrapping narrow victories in 2 of the games and the Aussies hanging on for a draw in the other. Going into the final Test at the Oval, Australia knew they had to win to draw the series 2-2 and avoid relinquishing the famous urn for the first time since 1989. Much like the games that had gone before it, this match swung back and forth with Kevin Pietersen ultimately saving England on the final day with his maiden Test century.
Watch from 15 mins onwards to see the umpires finish the series. Even a beered up English crowd are only half celebrating
With Australia requiring a ridiculous 342 to win from just 18 overs the players came out but Steve Harmison bowled just 4 balls before bad light stopped play and everyone returned to the pavilion. The series was completed in somewhat farcical circumstances by the umpires striding to the middle and removing the bails to signify the end of play and an English Ashes victory. To this date, England's 2005 series win against an Aussie side still packed with some of the greatest cricketers of their generation is my ultimate sporting memory but the actual conclusion to this epic sporting contest was rather anti-climatic.
What would you consider some of the greatest anticlimaxes you've ever seen in sport?
All genuine and engaging comments will be rewarded with BEER and/or ENGAGE tokens