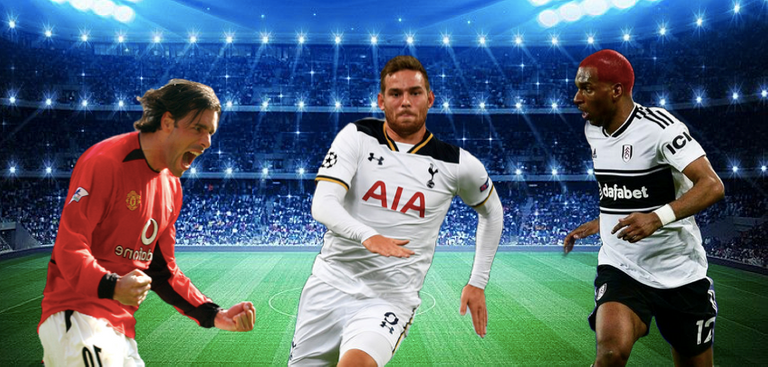 With Spurs looking increasingly likely to sign Dutch forward Steven Bergwijn from PSV, I thought it might be fun to put together a list of players who have moved from the Erdversie League over to the Premiership. Some have thrived on these shores and will undoubtedly go down in Premier League history as the greatest to have graced the stadiums around the UK, while others have proved to be expensive flops.
Ruud van Nistelrooy
150 goals in 219 appearances for Manchester United where van Nistelrooy enjoyed his best years. He was named PFA player of the year in his first season, was the league's top scorer in his second guiding United to the championship and was then crowned Europe's best forward in same year banging in 14 Champions League goals in just 11 appearances. Arguably the best out and out striker of his era, van Nistelrooy definitely makes it into the Good category of this list.
Vincent Jansen
Before Spurs supporters get too excited about the prospect of a young Dutch forward joining the club they might want to remember the last time they splashed out money on one. Vincent Jansen was supposed to be the long-awaited (we're still waiting) understudy to Harry Kane, someone to take away some of the workload from the main man and potentially offer an alternative threat from the bench. Jansen had been banging them in for fun for AZ in his native Holland but found the Premier League a step too high. Critics also pointed out the fact that Jansen is what you might describe as "athletically challenged" and with his ample physic simply not cut out for the pace of the English league he was finally shipped off to Mexico of all places where he is gobbling through Burritos faster than he can score goals!
The bin men come on Friday Poch, just place him in a black plastic bag, leave him on the pavement and they'll bury him in a landfill somewhere in Herefordshire
Arjen Robben
A double Premier League winner with Chelsea under Mourinho who is perhaps hoping that Bergwijn can have the same effect. A wonderful dribbler, direct runner and with a sledgehammer of a left foot he scored some absolute blinders in the period that he graced the Premier League. Yes, he was also a bit of a ball hog and a lazy bastard to boot but when you can cut in from the right and smash them into the top corner as he did on countless occasions who really cares? He certainly didn't...
Jordi Cruyff
I'm sure I've heard that surname somewhere before? You've always gotta feel for a son who tries to follow in his father's sporting footsteps especially when those footsteps are as deeply ingrained upon European football as Johan Cruffy's are. Young Jordi started out at his Dad's old club Barcelona where he had some reasonable success but his move to Manchester United didn't turn out so well as he managed just 34 appearances in 4 seasons before heading back to Spain then to Ukraine and finally Malta. He is now trying to cut a similar path to his father again by going into management, a gig that has so far seen him coach in China and more recently be appointed manager of the Ecuadorian national team. Go Yellows! p.s. that's what the Ecuadorian national team are known as and is not a racial slur on the Chinese.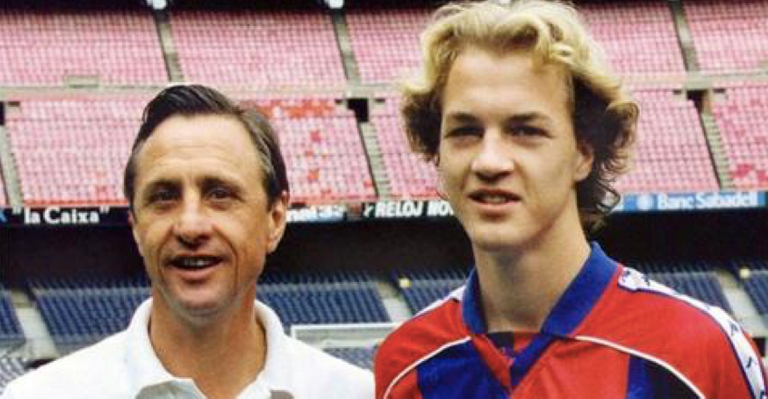 Jobs for the boys. Jordi with dad Johan at Barcelona
Marc Overmars
It was tempting to go with Overmars fellow countryman and club mate Dennis Bergkamp and between them the 2 enjoyed a golden spell in the Premier League under a young Arsene Wenger that transformed the way football in this country was played. However, I've gone for Overmars as he actually signed directly from Dutch football while Bergkamp came via Inter Milan. Overmars took the Premier League by storm in his first season scoring 12 goals as Arsenal won the title. These days the sight of inverted wingers running at defences and scoring their fair share is commonplace with every top team having 3 or 4 players in their side capable of doing so but Overmars still remains one of the best there has been. He is also now a key part of the Ajax set-up that continues to churn out some of the best footballing talents that the world has to offer.
Ryan Babel
Supposedly Liverpool's answer to Thierry Henry, Ryan Babel flattered to deceive in his 4 years on Merseyside never managing to shake off the tag of the talented youngster. He was quick for sure and showed the occasional piece of brilliance but to me, he looked like a player who was never really in control of his body (think Bambi on ice). After leaving Liverpool, he tried his hand in pretty much any league on the continent that would have him popping up in Germany, Spain, Turkey and his native Holland before finally returning to the UK for a short period where he played with bright red hair (did he still think he was a Liverpool player?) for a Fulham side that would ultimately be relegated. Perhaps not the worst player on this list by a long shot but certainly not the best and with a haircut like that he can surely claim the ugly tag.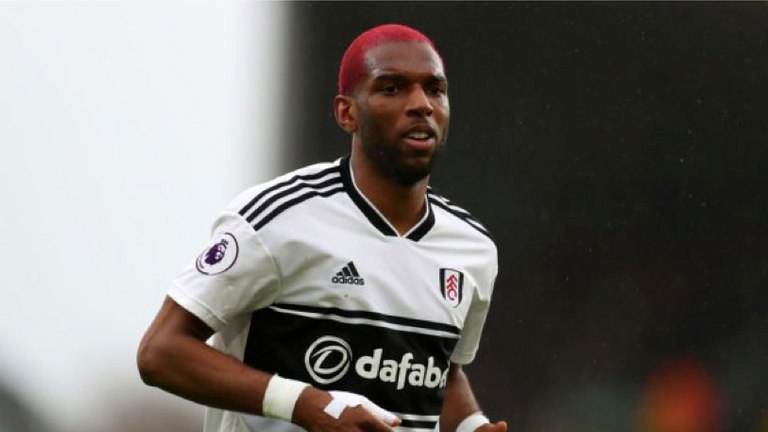 Verdict on Bergwijn?
It's pretty difficult to tell from the obligatory highlights package that you can find on youtube how good (or not) a player really is. Certainly, it appears that the guy has pace and power and an eye for goal but his touch doesn't look fantastic and he's not likely to be given quite the time and space in England that he was afforded in a few of the clips below. He'll need to up his game a good 10-20% just based on the speed and precision required in the Premier League so I would be surprised if he came in and was an instant success. The other perhaps more problematic question is why Spurs are especially interested in him at all given that they have the likes of Son, Lucas Moura and Ryan Sessegnon who can all play in his position and that what the side is crying out for (amongst other things) is a centre forward which Bergwijn is not. Seems to me like another Levy "spreadsheet signing" of a young player who he believes at the very least will maintain his value despite not being the answer to Spurs many footballing problems at present.