The latest soundbites from the negotiations include the 2 parties stating that "a deal is unlikely at this point" and that "considerable gaps" still remain in the expectations on either side.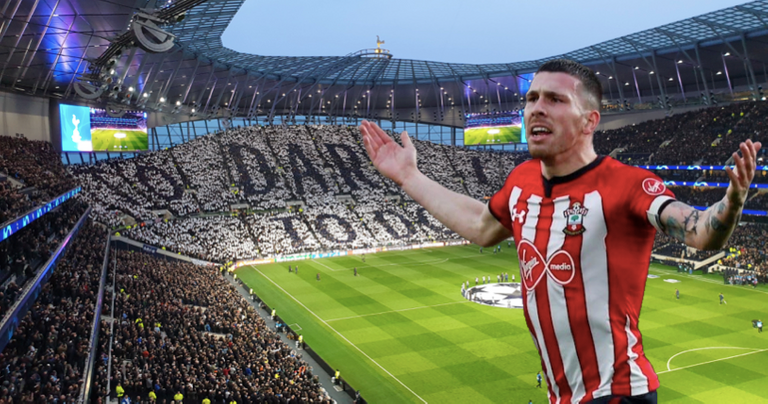 On no wait! Scrap that
I've realised I've just been reading an article on the UK-EU trade deal talks that took place yesterday!
Although of course watching Daniel Levy try and negotiate any transfer is about on par with the frustration of Brexit talks. We know they will be slow, pernickety and while we'll probably get there in the end, neither party will be particularly satisfied.
The good news from a Spurs supporters point of view is that this deal should happen. Højbjerg has made no secret of his desire to move on and not sign a new contract (his current deal expires 2021), a decision that saw him stripped of the Southampton captaincy earlier this season. Better yet, it would seem that his preferred destination is Tottenham Hotspur which he views as a step up from the Saints.
Is Højbjerg a player that Spurs need? Good God yes!
Our central midfield pairing of Sissoko and Winks is not good enough to challenge for trophies or top 4 finishes. I don't have anything against either of these guys, both give it their all for the club but neither the quality of the individual or the pairing is what is required.
Sissoko is a trier and has come back from a difficult start to life as a Spurs player to be one of our "most improved" squad members in recent seasons. Of course, any improvement is always relative and Sissoko has upgraded from being Bambi on ice to the popular mobile phone game of the early 21st Century, Snake 2 in that he is only able to move in straight lines that ultimately don't lead anywhere.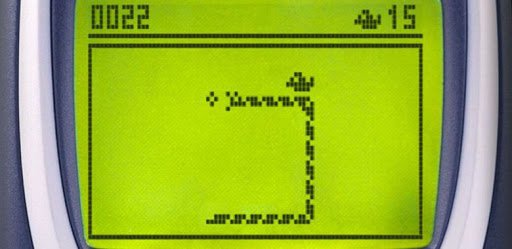 A driving run from Sissoko in midfield looks something like this
Winks meanwhile is a neat and tidy player. I think his defensive work is improving under Mourinho but in the cut and thrust of the Premier League I would still say he is a lightweight option for the role of "midfield destroyer". I would certainly keep him at the club to give us further options in the middle of the park but he is not the answer to the question.
What question I hear you shout?
Well, that's obvious and the only pressing concern that should be weighing on Levy's mind as he enters these negotiations, how can we replace the Wanyama/Dembele pairing?
These 2 colossi in midfield were the primary reason that Spurs were the best team in the league in 2017 and failing to find adequate replacements is a significant underlying factor in the clubs falling returns since.
Højbjerg is not a like for like swap for either of those past Spurs greats. He is strong but doesn't have the physicality of Wanyama, he is creative but he doesn't possess the ability to beat a man standing like Dembele. However, having watched him at Southampton these past few years it is clear that alongside work rate what you will get from him is intelligence and leadership beyond anything Spurs currently have in that department.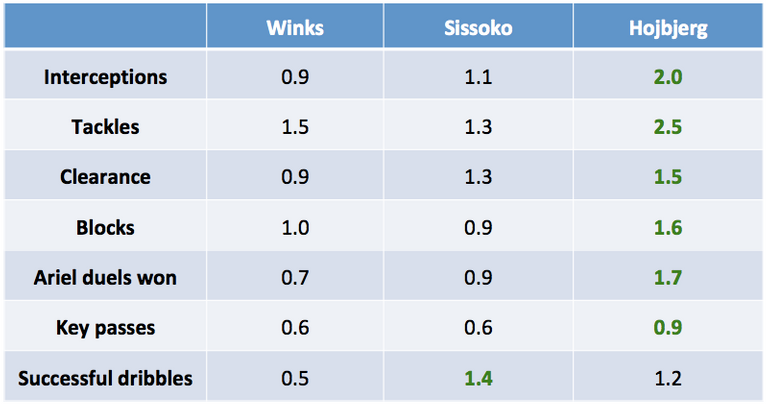 Ratings from the Premier League this season based on per 90mins
The importance of his role at Southampton is also to get the best out of others around him both as a captain but also in his play to link the midfield with the forward lines. Spurs are not short on talent and potential match-winners but finding a system that can utilise them to their fullest extent has so far eluded Mourinho despite the recent run of good results.
The key consideration in that quest will be who Spurs might pair Højbjerg with in midfield. N'Dombele's future is still very much up in the air. With Højbjerg at 6 could the Frenchman whose positional play and work-rate that has often been criticised by Mourinho be accommodated at 8? Perhaps, but I don't get the sense that Mourinho is looking to "accommodate" anyone within the current system.
Another option, particularly against opposition who might look to sit deeper, would be to play Lo Celso next to Højbjerg. While you wouldn't want the Argentine overburdened with defensive work, he has shown that he has an appetite for a tackle and he would certainly offer you something going forward breaking from deep.
Whatever Mourinho decides, Højbjerg appears like an ideal signing and of course, he is Premier League ready!
Competition for his signature is therefore likely to be fierce. There are mixed messages in regards who may already have bid and how much for the Dane's services. Some newspapers are stating that Everton have had a £25million bid accepted but that Højbjerg is not particularly keen on a move to Merseyside. Other reports state that Everton have made no such offer for a man they know is not particularly keen on joining them or if they have it's not to that level for a player with only a year left on his contract.
Further links with Ajax and Man City to join up with his former Bayern Munich boss Pep Guardiola have been muted but one thing is clear, a player of Højbjerg's qualities, experience and yet youth (he's only 24) will almost certainly be in demand and Levy needs to act quickly to get his man into a Tottenham shirt preferably for most if not all of the 6-week close season we'll have this year.
One other footnote to the deal is the current loan of Kyle Walker-Peters at Southampton and with the South Coast club impressed by the young full-backs recent performances, they are keen to make his move a permanent one. This will not be a "swap deal" which generally speaking is a concept that only exists on the back pages of tabloid newspapers. Instead, negotiations and valuations for both players will be independent of one another.
However, much like Brexit, it's difficult to believe that concessions or agreement on one area or in this case player might not have a significant knock-on effect to the other. Now we just have to hope that Levy won't penny-pinch over both deals, God help us...
Chances of Transfer: 80%