While Spurs activities in this summer's transfer market may be limited, strengthening their options at full-back seems likely to be a priority for the club and one name that is doing the rounds is Belgian international Timothy Castagne.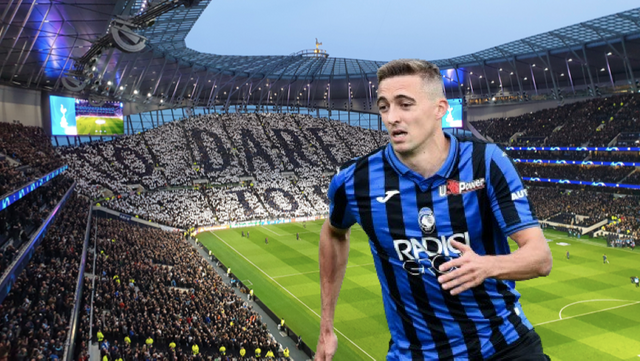 Castagne currently plies his trade in Serie A with an Atalanta side that has been one of the surprise packages in Italy over the past couple of seasons. Castagne generally plays as a right-back or right wing-back but has also been deployed on the left-hand side during his time in Bergamo. At the age of 24, he has also won 7 caps for Belgium scoring twice in the process. The below highlights package certainly demonstrates the Belgian's ability going forward
The big question is whether he will represent an upgrade on Serge Aurier? Let's take a look at the stats between the 2 from whoscored.com

Right off the bat, we can see that he hasn't played that much this season following a couple of short injuries that have ensured he missed 6 games in total and required easing back into the first team. If you break down his appearances and ratings a little more you do see that when he starts games on the right side particularly as a wing-back his ratings are much higher. For all starts on the right side, his average rating is 6.96, for games started from right-wing back his ratings are 7.44. Atalanta seem to use him as a bit of a utility player and I guess that kind of flexibility is useful in a signing but I would also hope that if Spurs do sign him we look to deploy him in the kind of role that he has proven most successful in and assuming that our tactics/formation remain largely the same then it would appear that in joining us, he would get that opportunity.
The below then are stats gleaned from the same source and compared against those of Serge Aurier this season. These stats are per 90mins and for the sake of fairness, I have only included the games that Castagne played on the right-side which is where Aurier has started all his matches for Spurs this season.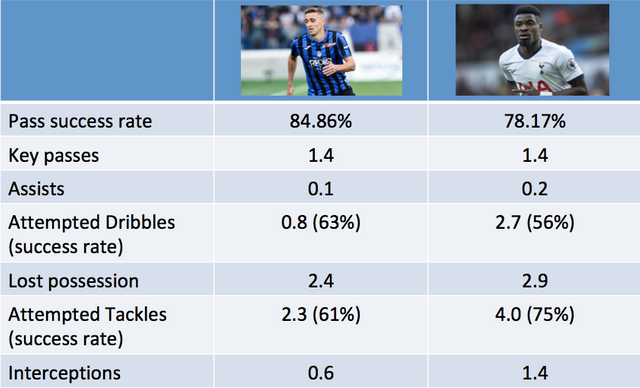 As we can see, Castagne is a somewhat more cultured footballer than Aurier with better passing stats and the ability to retain possession more effectively. Aurier's superior physical ability and speed helps him take the ball past players when attacking and then recover quickly in defence.
Of course, if Spurs have ambitions of challenging for silverware across multiple competitions then they will need depth in their squad and with wing-back being one of the most physically demanding roles in any team then having cover is essential. Castagne would not only provide that cover but he would also give Spurs another option from a tactical perspective. Spurs are blessed with plenty of pace including players such as Sissoko and Bergwijn who operate primarily down the right flank. What they lack is a bit of calm headedness in possession to make use of attacking situations. This is particularly true against sides that defend a little deeper and don't give Spur's speedsters much room to run into. As such I don't see Castagne as an upgrade on Aurier, I see him as a different kind of proposition and one who would give us different options in attack.
Will the deal happen?
Castagne has been gushing praise on a potential link to Spurs while simultaneously trolling Arsenal which on the face of it certainly suggests he's open to a deal.

At the same time, the very fact that he has gone public with his desire to leave and supposed interest from abroad tells me that he is keen to maximise the number of clubs seeking his signature this summer. From a financial aspect, Spurs are not generally a club that will come out on top during the kind of public tug of war Castagne is trying to instigate.
There is also no reports from any reliable source that Spurs are even interested and I'm afraid that for the reasons stated above, I don't view the player as necessarily a reliable source. Furthermore, any deal would likely require Spurs to sell one or probably both of Kyle Walker-Peters and Juan Foyth before we could move to replace them.
While I see some supporters assuming that the transfer of Castagne is pretty much a done deal, I'm yet to be convinced
Chances of Transfer: 30%
What do you think are the chances of Castagne signing and do you think he would be better than Aurier?
All genuine and engaging comments will be rewarded with BEER and/or ENGAGE tokens