Manchester United defeated Nottingham forest at Old Trafford
I am currently happy about all the things currently happening in the world of soccer. We first of all saw what happened in the World cup competition that was recently played in Qatar. We all saw how interesting and fantastic the competition went. There was never a dull moment I must admit. What I must say is that the Qatar World cup competition was interesting right from when Argentina lost to Saudi Arabia, we all saw the happiness, laugher, sad face, dancing, smiling, fun and lots of activities that caught every our eye sight. There is nobody that were expecting the Saudi Arabia team to defeat the Argentina team. We all knows the Saudi Arabia team and we also knows that with Lionel Messi in the Argentina team we all knows that most team will be afraid to face them.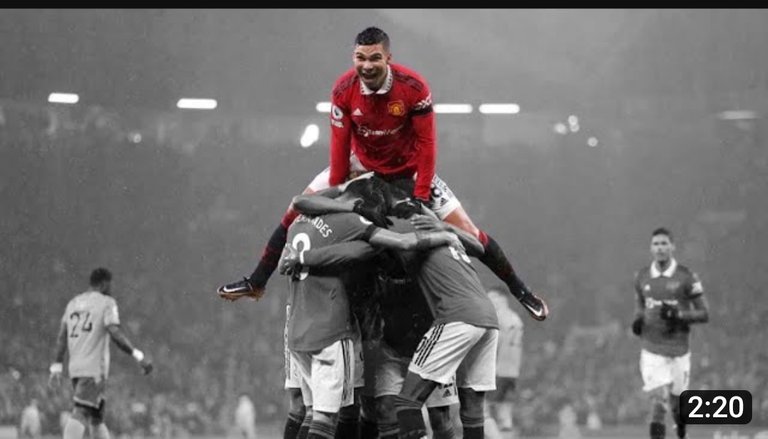 The moment that surprising win goes happened, we all saw how the competition became more interesting more than before. I heard that the Saudi Arabia prince decided to add to the match bonuses of all the Saudi Arabia players if they can win the Argentina team, well as we have it, who doesn't love money? Because of that singular reason you have to see how motivated the Saudi Arabia team is. They put everything that they needed together for the war and they put every negative that is not needed aside. Their aim is to conquer the great Argentina team. Of a truth things works in their favour and they got the money. The good thing that I really love is hearing that everybody were paid by the Saudi Arabi prince. He paid the coaches players and the entire team. When I heard that, I was really happy because it made a lot of sense to me as we speak. That really got the entire team motivated. What really pained me is that at the end of the day the Saudi Arabia team didn't progress far, they were knocked out during the knock out stage of the Qatar World cup competition. It shows that they used all their last strength to play only the Argentina team.
Deviating from that and discussing about the topic of today that I will be talking about in this post as it deals with the English premier league competition that takes place between Manchester United and Nothingham forest. If you have been following up with the English premier league you will knows that the Nothingham forest team is among those team that are not performing well in the English premier league competition and title race. Checking the log table only will give you the clue of what I am saying. They are currently occupying 19th position, they are just (one) 1 point above the team occupying the last position which is Southampton team. This shows that they are really struggling when it comes to the English premier league competition not to talk of the English premier league title race. We all knows that when you are talking about the English premier league you should definitely count them out.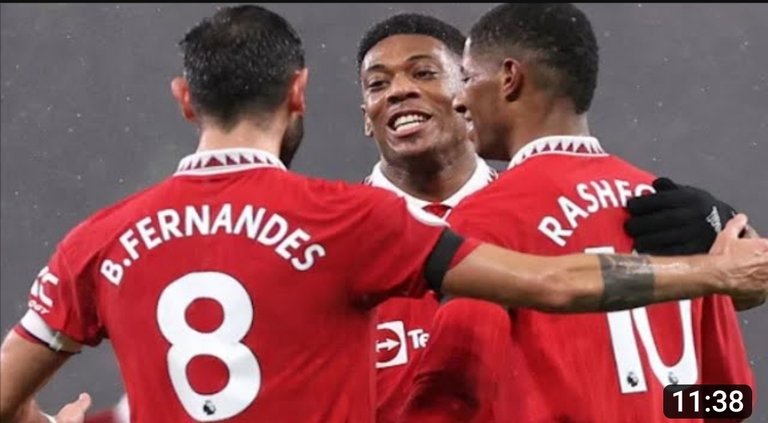 Yesterday we all saw how the Manchester United team capitalized on their weakness by making sure that they defeated the Nothingham forest team. I love what Manchester United did, they are definitely saying that they don't play with chances. If you give them changes they will surely takes chance of the advantage which you present them. They knows that they surely needs any point right now because the English premier league title race competition is definitely getting more and more interesting. I really love what they did and such thing is what I really love to see my team that I am supporting, Liverpool fc team always doing when it comes to the English premier league title race. They should make sure that their performance shows that they are not here to play. They should take any opportunity that is thrown at them.
As we have it, Marcus Rashford returned from the the World Cup competition that was hosted in Qatar by introducing himself with a goal. The sweet thing is seeing Eriksen giving the assist. They both are just returning from the World cup competition that was played in Qatar recently. As we have it, the first goal came in 19th minuet through the player that I made mentioned of above. The other goal came in the 25th minute through Anthony Martial. The nice, amazing and fantastic assist came from Marcus Rashford. I was happy Marcus Rashford seeing doing that amazing, superb and captivating assist for Marcus Rashford. I love how they worked it out.
While still on the first half we saw Orel Mangala scoring in the 29th minute for the Manchester United side. This is amazing I must admit. I will really be glad if the Manchester United side can keep maintaining such performance All the goals came through the first half, that is something nice to see. For the now I will end this post.
Photos from YouTube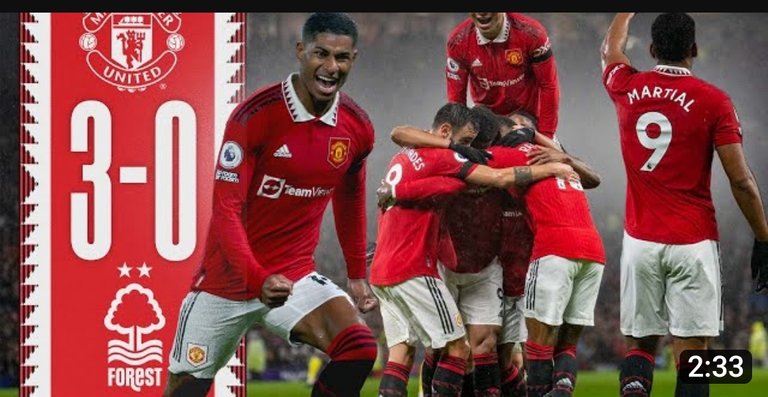 I will love to end the post here but before doing that we should make sure that if we are interested in making any discussion we should be free to do so. Put your comment under this post.
Posted using SportsTalkSocial
---
---