We are in time of international duties and it is a good thing seeing that player were returning back to their respective countries. Nothing is more sweeter than when you received a call or text that you will be featuring for your country. It is every players dream to play for his country. This is why you see players performing very well when it comes to their various clubs. They know that it is the performance for their various clubs that will determined if they are going to be handpicked or not.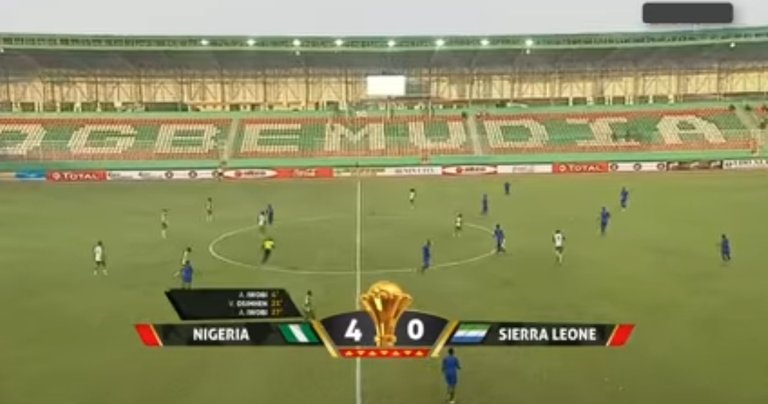 We have lots of matches to be covered but I will be jumping on the match between Nigeria and Sierra Leone. When I was listening to soccer news about the match. I over heard it when some person were saying that Nigeria will surely got Sierra Leone defeated. Some were mentioning the amount of goals and different talks troll in. Well, it is not a bad thing hipping praises on your team. These praises should act as a motivation to the players.
The venue for the Super eagles match was moved from Abuja to Benin for reason best known to them. I hate watching Nigeria matches because of how they love to disappointment when you think they will always deliver. Well, the match started with Alex Iwobi and Victor Osimhen leading the upfront. They started pretty well, just like the way fans predicted. It didn't take long before the first goal dropped in the 4th minute. It was Alex Iwobi that got the goal. You just have to see how fans were jubilating when the first goal came in.
While still celebrating the first goal, the second goal dropped in the 21st minute for Nigeria by Victor Osimhen. Brilliant goal for the dude as fans celebration was massive. Seeing the score line like this, I was gradually getting to buy into the fans suggestion that super eagles wil surely defeat Sierre leone massively. Well, the match is still on and it is looking more entertaining.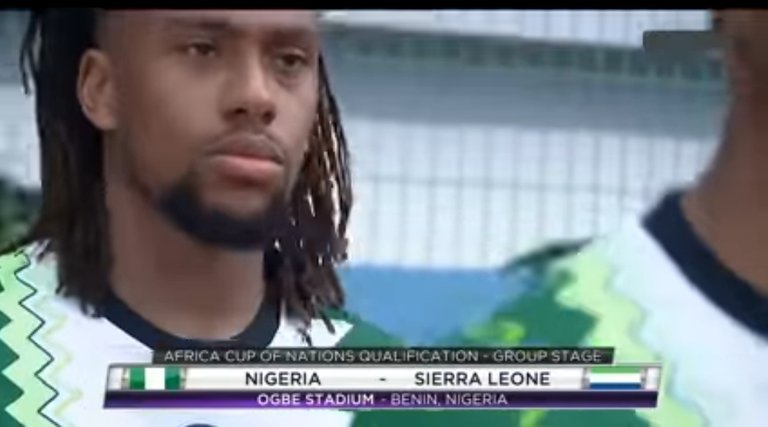 While the Victor Osimhen goal is still being celebrated, 6 minute later, Alex Iwobi added a second for himself and that makes it 3rd for Nigeria. Such a good performance from the Super Eagles team I must admit. While waiting for more disaster to be done for either team, Samuel Chukwueze makes it 4 for Nigeria. Wow, this is fantastic, all 4 goals coming from the first half for Nigeria. While I was thinking that the first half is over, Kwame Quee got the first goal for Sierra Leone in the 41st minute. That ends it for the first half.
Seeing the response from the away team in the first half, I was expecting them to score but Nigeria will win eventually. Second half started and as usual, it was looking more awesome as the Nigeria team were looking over confidence. Just few minute into the second half, Serria Leone got a second. It was Al-Hadji Kamara that got that goal for them. Now, things has changed as the Serria Leone team were pressing to get another goal. While more changes were lost, Mustapha Bundu got a third for Serria Leone after Riohr the Nigeria coach made a awful change by substituting Victor Osimen and Samuel Chukwueze. This killed the vibe of the match as more pressure is now mounted on the Nigeria team.
The Nigeria fans at this period were upset as the match is no longer certain for them. While the pressure was still being mounted on the Nigeria team, Al-Hadji Kamara makes it worst as he scored the equaliser for the Serria Leone team in the 86th minute. What a shame for the Super Eagle's team as it later ended 4 vs 4. Although checking the log table, Nigeria is still seating on first position but the draw upset everybody.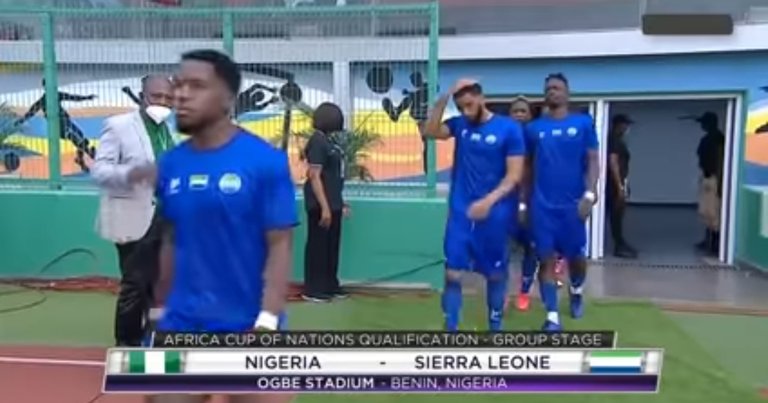 I really felt bad after this result but we have to move on while re-strategizing on what to do when next fixture falls in place. Let us see how things goes. Will surely get you updated.
For more of sport update, stay tune to my blog.
    All photos were taken from my phone

Forget about the hivewatcher comment on this post. I already appeal it, the blacklist will be out soon.