Me and Kung Fu (Wushu Taulo): Performing the 5 Step Form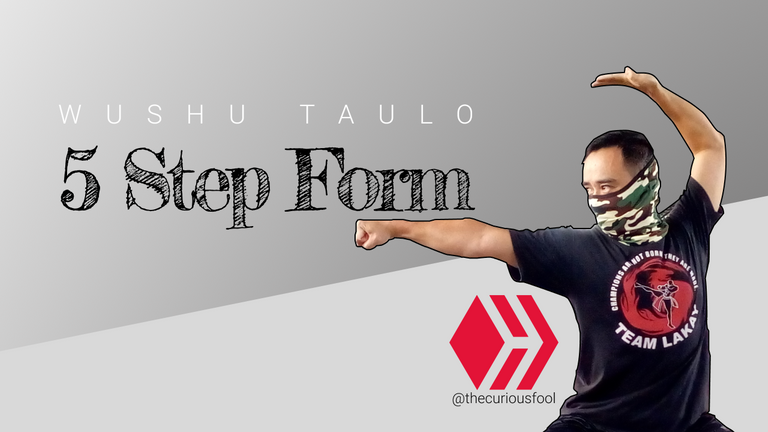 One of the last Martial Art disciplines that I got myself into before I stopped years ago is Wushu or Kung Fu. It is free for all being offered by martial art enthusiast back when I was still in college.
The main discipline I am interested in is Wushu - Sanshou – this is like MMA without the ground fighting.
After a year or two, I realized that Sanshou is too hard and is making me stiff and less flexible. This led me to be interested and joined a group of fellow students doing flexibility exercises.
I do flexibility exercises in the morning and then Sanshou in the afternoon.
All of my companions in the morning are either Taichi or Taulo practitioners which leads me to be interested in learning a few of their forms.
I joined them for months, I cannot remember how long, but they only managed to teach me the most basic form – they call it the 5 steps.
It's been actually around 20 years since then and I can still remember this form. I cannot execute it perfectly but I am amazed to be able to remember it after all these years.
Somewhere within these dormant years of mine, I managed to teach this to a high school student for a pageant. I was not able to see the pageant but I was informed that she won the talent portion by presenting what I taught her. 😍
The Motivation
After browsing different communities here in Hive, I am inspired by those sharing their fitness posts.
They are the ones that made me finally decided to hit the gym again after all these years.
Another important motivation of mine is fitness and health.
The Search
A lot of things changed in the past years and I was not able to find a gym that fit my schedule and the training I desired. This led me to choose a gym that has the equipment that I need and allows me to do whatever I like and whenever I like.
The Presentation
I had been in the gym for almost a month and I've been thinking of what to present on Hive. I decided to review and present this 5 step form as an entry to this type of content.
The final video output was formed by bringing together 3 different shots.
I reviewed this form on my own and I noticed a few improper executions only when I was already editing it. I am thinking of the possibility of shooting it again but I am too excited to present it.
The Form
For those who are interested, here is a more detailed description of the stances of this form.
Try it out if you are interested. 🙂
The Starting Position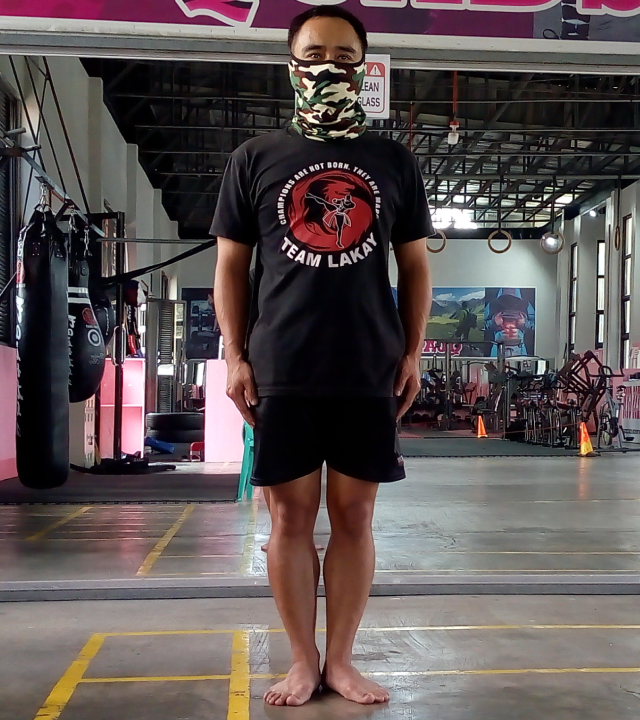 There is nothing fancy here. Just stand erect, feet together and with your arms to your body. Look straight forward.
---
Step 1: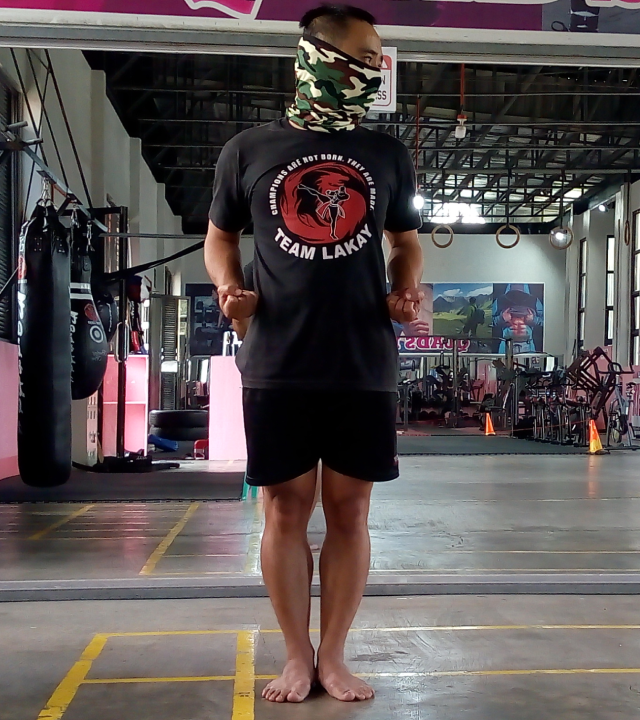 From the starting position, abruptly turn your head to face to your left. As you do this, clench your fist and pull them to your waist as shown in the image.
---
Step 2: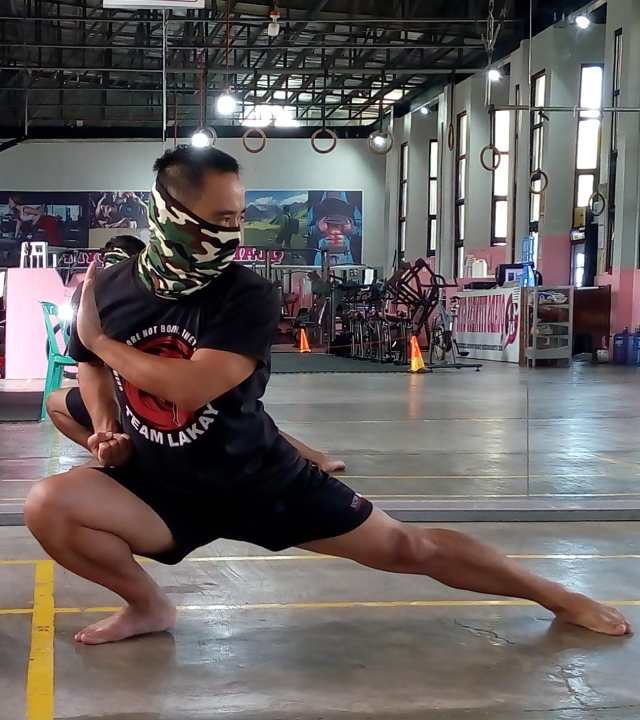 Next, slide your left foot to the left side as you drop to this squatting or stretching position.
As you do so, open your left fist making it point to the ground and in a diagonal position. Keep it straight as you rotate it making an arc from your left side landing to the side of your right arm as shown in the photo.
---
Step 3.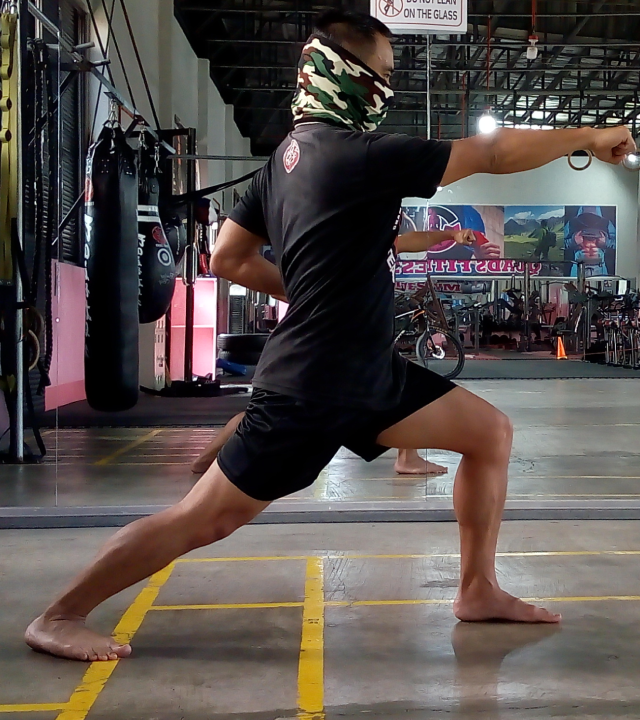 From the previous position, raise your body with your right leg as you move your body to the left and lean on your left leg.
Your left leg should carry most of your weight.
As you do so, pull your left hand to your left waist as you clench your fist.
Also, push your right hand forward as you turn to the left as if you are punching something/someone.
---
Step 4.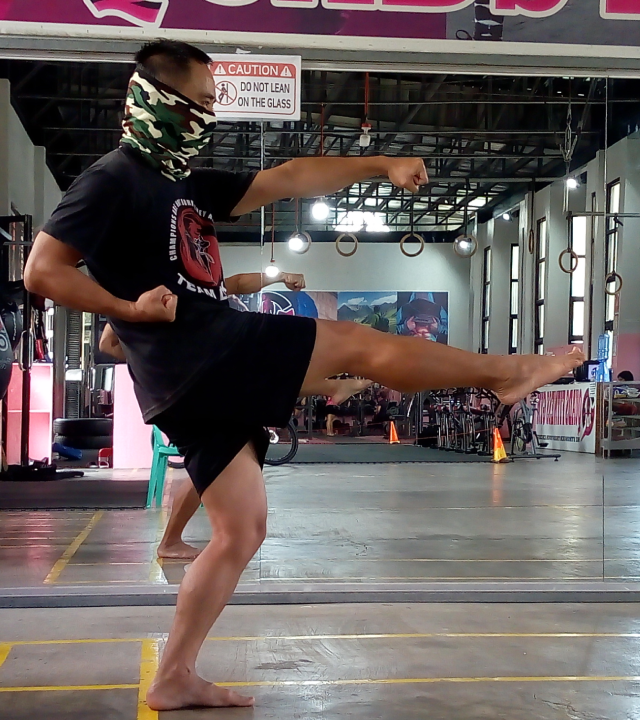 Reverse the position of your hands. Pull back your right hand into your waist as you push your left hand to do a punch.
Make sure your left hand is straight and level with your shoulder.
As you do this, do an under-kick with your right leg.
I am guessing we are kicking someone's crotch in here. Keep your right leg straight.
---
Step 5.
| | |
| --- | --- |
| View from the front | How it looks in front of the performer |
From the previous position, drop your right foot to the ground to assume the squatting stance as shown in the photo. The more level your knees are with your hips, the better. Make sure that your back is straight with your chest out.
As you assume this squatting stance, launch your right hand to do a punch on your right side. Make sure that your right hand is leveled with your shoulder. (I have my arm higher in than my shoulder here which is not supposed to be the case.)
As you do this, open your left hand into an open fist and push it up over your head. Assume that you are blocking something from above.
The second photo shows how it looks in the front.
---
Step 6.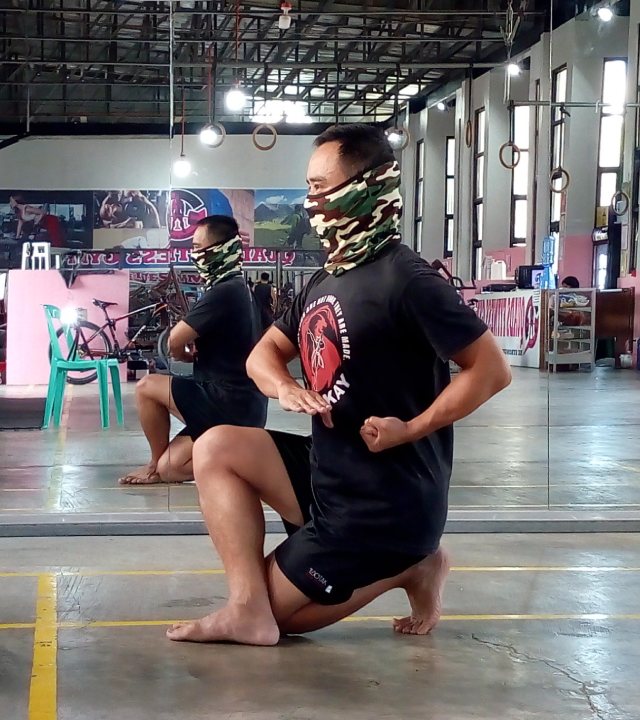 Next, shift all of your weight to your right leg as you bend your left leg under you're your right leg to assume this sitting stance.
As you do this, pull your left hand to your left waist. Clench it into a closed fist position as you do so.
For your right hand, open your fist and rotate your whole arm making an arc over your head as your palm goes to your left side just above your left fist.
This is one of the mistakes in the video that I was not able to notice until I was editing it – I did not make an arc with my right arm.
---
Step 7.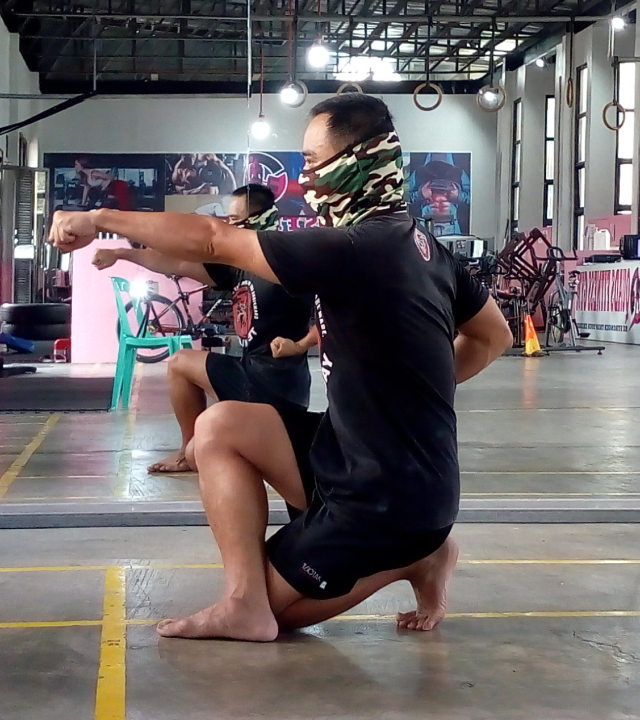 Launch your right left hand to do a punch.
Make sure that, again, your fist is leveled with your left shoulder and is parallel to the straight ground.
As you punch, pull your right hand to your right waist in into a closed fist as shown in the photo.
---
Step 8.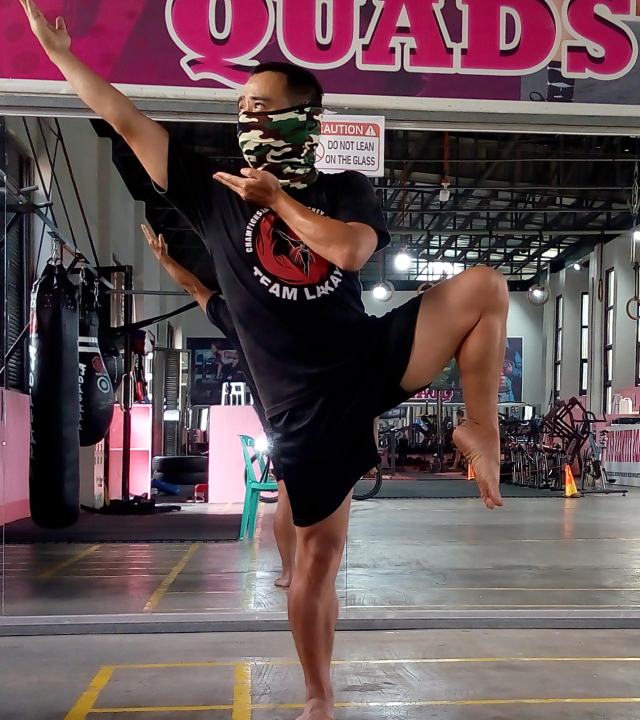 The next step would be to stand on your right leg and your left leg bent and with the toes pointing downwards.
At the same time, open your previously clinched right fist and point it diagonally up. As if you are reaching something with it.
For your left hand, align it with your right and position it just below your chin.
Also, you should also be facing and looking up to the direction of your right hand.
---
Step 9.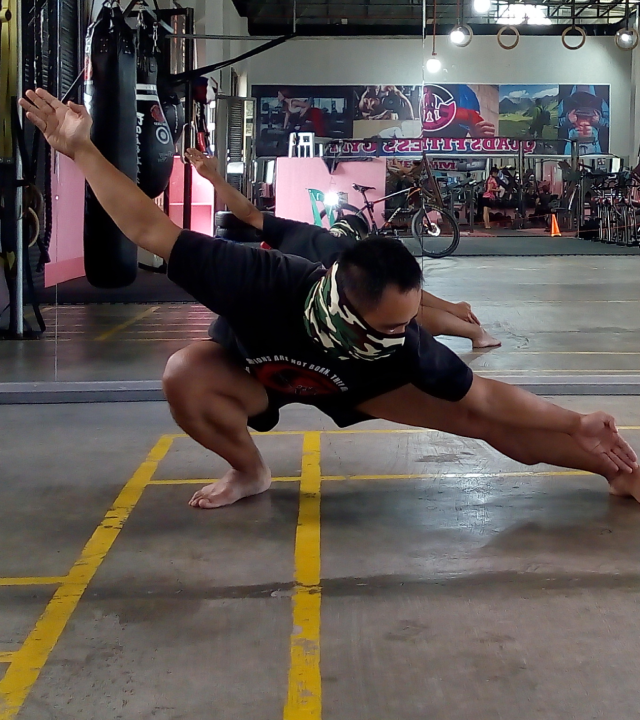 From the previous position, drop your left leg and let it touch the ground. Slide it to assume this leg stretching position.
At the same time, straighten your left hand and align it with your left leg.
Also, face to the left.
Most of your weight should be on your right leg.
---
Step 10.
| | |
| --- | --- |
| How it looks in front | How it looks in front of the performer |
Next, shift your weight to your left leg and step your right leg a bit forward with your toes pointing and slightly touching the ground. (Again, I only noticed that I did not do it exactly in this photo).
As you assume this stance, both of your hands should be straight, in opposite directions, and rotate them both counter-clockwise. End the rotation with your hands in the position as shown in the photo.
Your right hand should be open palm while your left hand assumes something like a sneak head – all of the tips of your fingers should be together.
---
Step 11.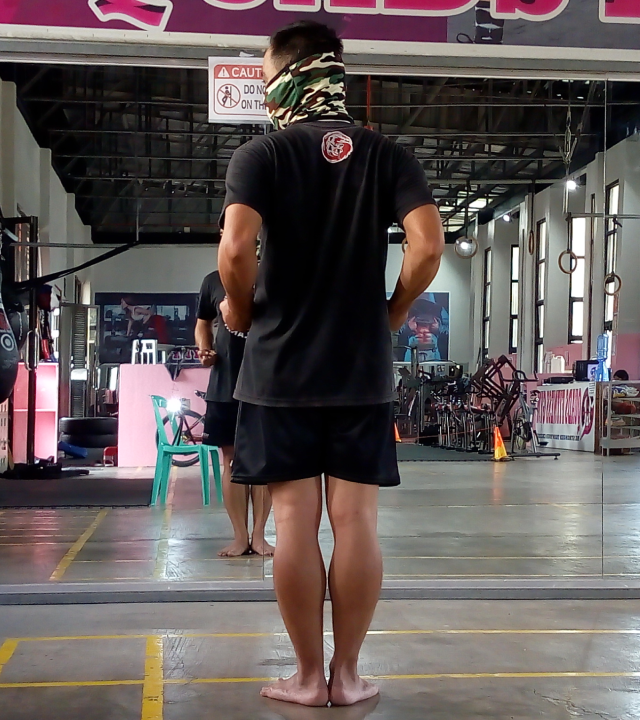 To end the form, transition into the standing position where both of your hands are on your waist.
Refer to step 1.
---
Ending position.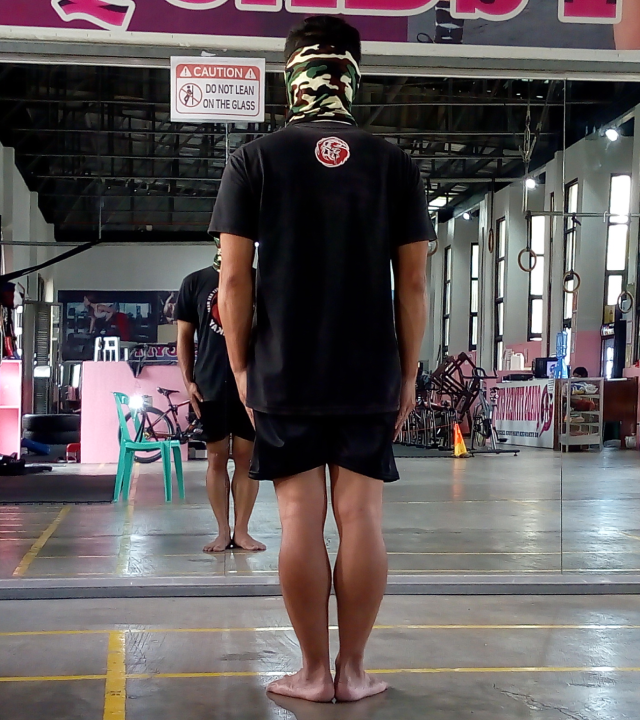 And lastly, transition back into the starting position as your ending position.
---
Final thoughts:
As you have already seen, this form has more than just five stances. I also wonder why it is called the "5 – Steps" but did not bothered to ask.
This form is best performed with long pants and long-sleeve uniforms as it adds to the aesthetics of the form.
The mask is also aesthetic. It was inspired by superheroes and I thought that I might look good in it. LOL. 😅
I was thinking of a ninja mask but I don't have it.
---
That's all for now.
Thanks a lot for your valuable time.
Please let me know your thoughts or if you have any question or clarifications in the comments below.
Also, if you wanted to try it, you are most welcome. Let me know if ever you do so.
Till next time.
---


---
Attributions:
ListNerds Logo belongs to ListNerds.
1UP Cartel image belongs to the 1UP Cartel.
Background music in the video is Music by Anton_Vlasov from Pixabay
Videos and images of me are my own.
---
---