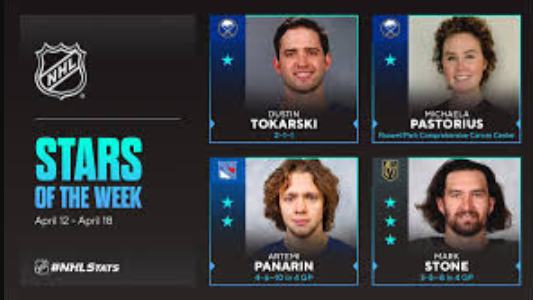 First Star of the Week war diese Woche der eigentliche Nr. 3 Torhüter der Buffalo Sabres, Dustin Tokarski.
Mit einer save percentage von 93,4% und einem Gegentorschnitt von nur 2,27 Toren pro Spiel, legte er eine tolle Woche hin.
Seine letzten Spiele in der NHL davor hatte er übrigens in der Saison 16/17 gespielt und insgesamt hat der mittlerweile schon 31 jährige erst 43 NHL Matches absolviert, umso erstaunlicher waren seine Leistungen in der letzten Woche.
Second Star wurde Artemi Panarin, der Flügelstürmer der New York Rangers.
Third Star wurde Mark Stone von den Vegas Golden Knights, ebenfalls ein Flügelstürmer.
Eine Besonderheit in dieser Saison ist der Ehren First Star, der an Personen verliehen wird, die in im Bereich des Gesundheitswesens großartiges leisten, ganz besonders in dieser herausfordernden Zeit.
Diesesmal wurde Michaela Pastorius ausgezeichnet die vor einigen Jahren als Krebspatientin ins Krankenhaus von Buffalo kam und dadurch ihre Ausbildung zur Krankenschwester unterbrechen musste.
Ihre Betreuerinen rangen ihr aber das Versprechen ab dass sie nach ihrer Genesung die Ausbildung zu Ende bringen wird, das hat sie getan und heute arbeitet sie gemeinsam mit den Krankenschwestern auf der Krebsstation des Roswell Park Comprehensive Cancer Center in Buffalo zusammen, die sie damals gesund gepflegt haben.
---

Diverse Ref. Links*
Blockchain Game - Rabona*
Blockchain Game - Rising Star*
Blockchain Game - Cryptobrewmaster*
Create your own Hive account here - Hive*
Kryptobörse - Binance - 5% Provisionsvergütung*