A Disappointing LIverpool Game: Vinicius Jr Shines
Yes, I said it! Jurgen Klopp and the entire Liverpool squad deserved the thrashing they got from Real Madrid in the first-leg of the Champions league quarter-finals played on April 6th, 2021. I mean it was a disappointing game for me because Liverpool performed so poorly.
Considering that Real Madrid hindered Liverpool from clinching the champions league trophy in 2018, I expected Jurgen Klopp's men to go into the game well-prepared and determined to grab victory. However, the reverse was the case; Liverpool didn't play as though they were wanted to win. It appeared they just played for playing sake; the energy and momentum was quite low on their side.
Beginning from Jurgen Klopp, the choice of his line-up did really put me off. Starting Gini Wijnaldum and Naby Keita in the mid-field was a very bad decision as both players were slow with the ball. Fabinho on the other hand was too sluggish for my liking; it was so unlike him. Moving to the front-line and the goalkeeper, Salah and Mane were not in the game at all and they were being too wasteful. It is very clear that Allison Becker has lost form and that was again shown in last night's game.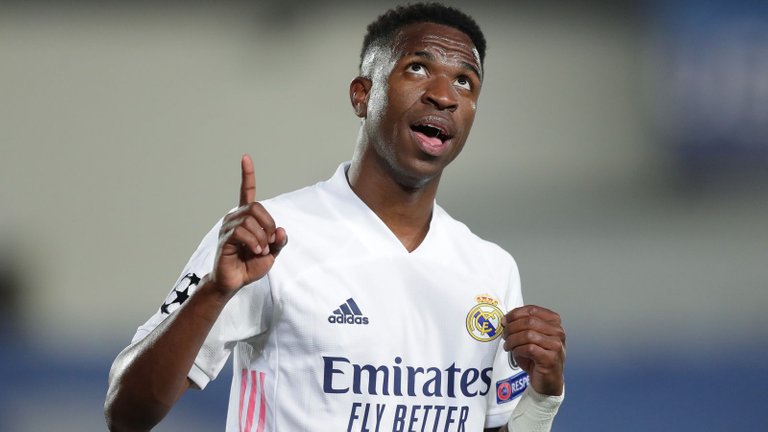 source
---
Real Madrid scored three goals while Liverpool scored only one goal. The first goal of the game came from Vinicius Junior who was really exceptional in the game and was key to Real Madrid's victory. Toni Kroos having measured the distance with his eyes, jabbed the ball with so much accuracy such that Vinicius Jnr controlled it with his chest around the keeper's box and then he delivered a nice finish. He gave Allison no chance while also capitalizing on Liverpool's poor defense. Phillips of Liverpool was the right person to have intercepted the Toni Kroos' cross but he lacked that quality. This goal came in the 27th minutes of the first-half.
9 minutes after the first goal by Vinicius Junior, Alexander Arnold committed a very costly blunder that led to Asensio scoring the 2nd goal for Real Madrid. Alexander Arnold headed the ball directly into the legs on Asensio just in-front of the box, in an attempt to defend the ball and Ascensio then lopped the ball past Allison Becker to score in an empty net. There were no further goals in the first-half as the half ended in a 2-0 scoreline. Meanwhile, Liverpool had no clear-cut on target rather they were just slipping and lacking confidence.
It appeared that they came into the game as the underdogs else they would have put up much of a fight. I mean, you didn't qualify to this stage to not be serious and it is not as though Zinedine Zidane's men were actually outclassing. Real Madrid is just a normal team any side can play but it seems Liverpool saw them as being a very bigger side hence, their fearfulness. Truth be told, the days Real Madrid were much of a threat was long gone. So, I'm really pissed to why the Reds made them win them with such a margin.
On the other, whether they win or lose, it doesn't really concern me. If they play well and win the trophy, they enjoy their money alone so, why getting myself worked up..lol. Even if they play and lose, they still get paid. But it's just that somehow, I've gotten attached to the team and I just wish and hope that they win all the time.
Away from that, Liverpool did come into the second-half better and also showed some level of seriousness as well as a winning spirit but that didn't last long. They made some good, coordinated passes from the midfield till they got to the opponent's box and eventually scored. The goal was being scored by Mohammed Salah and it was a bit controversial but after VAR checked, Salah was confirmed to be onside. The goal was scored in the 56th minute and was assisted by Diogo Jota.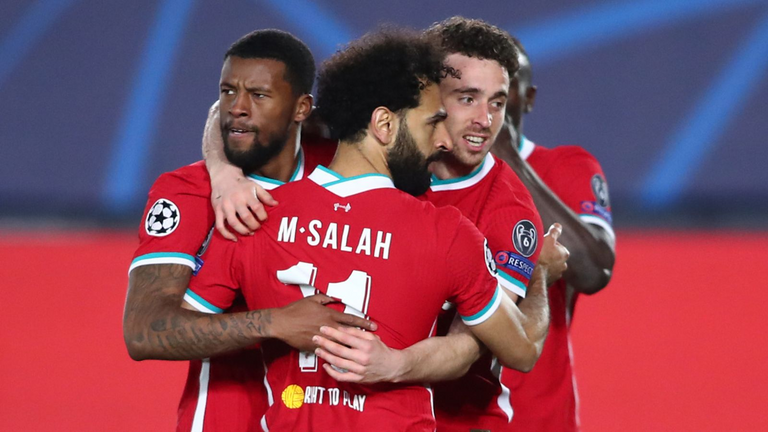 source
Liverpool possessed the ball more after they scored and for some minutes, I thought Liverpool was going to turn the game around but such hope was dashed as Vinicious Junior scored his second goal further showing how Allison Becker and the backline was frail, weak and unconsolidated. This took the scoreline to being 3-1 and the game eventually ended that way.
On the whole, I'd say that we saw a replay of the 2018 Champions League finals. Liverpool FC would have performed better but they didn't. After the game, I overheard some LFC fans say Liverpool is going comeback as they did to Barcelona in 2019. They could but I refuse to think that way because everyday is not Christmas. Liverpool still have a chance at qualifying to the semis but that would only happen if they beat Real Madrid with four goals or more.
---
---