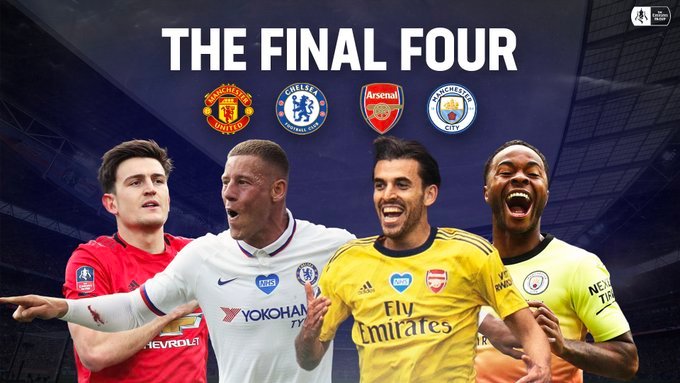 First off, I'm unhappy that Liverpool FC were eliminated from this particular competition. But I'm more happy they won the Premier League title after 30 years of drought. The Emirates FA Cup is the biggest trophy in the English football, if I'm not mistaken. The winner gets more money than the one who wins the premier league title and Carabao cup. However, the premier league is more interesting to me.
---
So far so good, the 2020 Emirates FA Cup has been very interesting and competitive. The quarter finals just ended today with only four teams left in the competition. In the quarter finals, Chelsea took on Leicester City and Chelsea won as Barkley scored the only goal in the match. Manchester City played against Newcastle United and they won two goals to nil. Arsenal took on Wolverhampton Wanderers winning two goals to one while Manchester United had an interesting game against Norwich City winning two goals to one after the extra time.
---
It was not a boring weekend after all. With that, only four teams are left in the semi finals of the competition. Not just any four teams, the four top teams in English football; this makes it really interesting.
---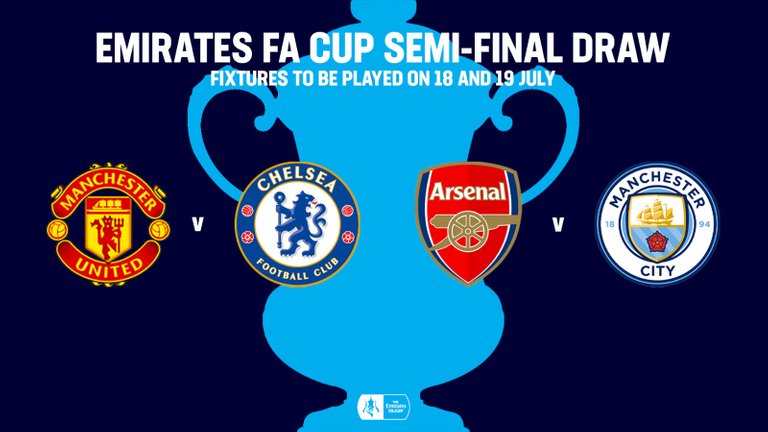 After the semi finals, the draws came out and that was done by the former Newcastle man, Alan Shearer. The semi finals comes up on the 18 & 19 of July 2020 with the following fixtures;
Manchester United vs Chelsea
Arsenal vs Manchester City
---
If you ask me, those are must watch games has it promises to be very interesting and thrilling. So far this season, Manchester United have won Chelsea in all their clashes in all competition this season. Will Chelsea lose to them again? That we will find out in July. It won't be an easy game for both teams.
On the other hand, Arsenal who are the Kings of the FA Cup haven't been in their best form recently. Manchester City who are the defending Champions appears to be the favourite to win the game. But Arsenal will prove to be a tough competition nonetheless.
---
What are your predictions and take on these matches? Who will lift the trophy at Wembley stadium in the end?