It was a nightmare for Liverpool on Thursday night football as Burnley stunned them bringing an end to the Reds home unbeaten run in the Premier League. Since April 2017, Liverpool haven't lost at Anfield in the Premier League till their 69th game against Burnley on January 21st. Barnes made the headlines after scoring from a controversial spot kick to give Burnley all three points while also breaking Liverpool's home win record in the Premier League. It was a painful game for Liverpool and their fans because they deserved to win but ended up unlucky.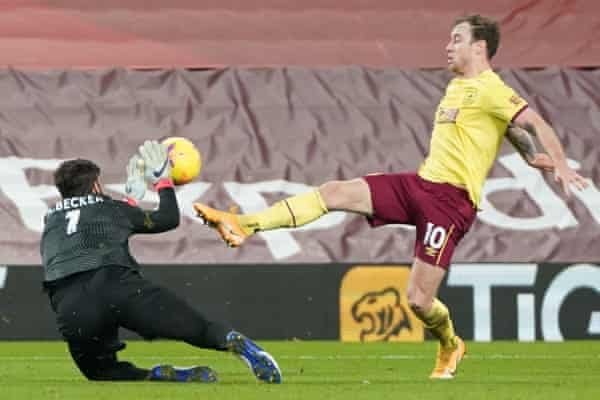 ---
Liverpool were in control of the game from start to finish but it appears the front line wasn't so solid due to the poor deliveries. In the first 45-minutes, Divock Origi who was in the starting XI had a one-on-one chance but saw the ball hitting the top bar. It was a good strike though but that wasn't his best seeing that he had the option of passing the ball onto Sadio Mane or would have gone a little closer even to dribbling the goalkeeper. Should he have converted the chance well, the whole narrative of the game would have changed but it was quite unfortunate.
Alexander Arnold on the other hand disappointed greatly although he created a possible penalty for Liverpool but the referee and Mr VAR didn't even seem interested. Pieter of Burnley committed a handball in the box stopping Arnold's cross but the referee waved it. Comparing it with the penalty that was being awarded to Burnley, it depicted some level of unfairness on the Reds. Allison's contact with Barnes' foot was merely a normal collision and to even mention that Barnes had already misfired the ball. Really sad situation!
For six outings now, Liverpool haven't won a single game and it calls for a quick check and balances in the squad. I think the coach has a work to do in getting the squad back to winning ways. The Premier League is getting more competitive and this isn't a time to lose points. Right now, Liverpool are at the number four spot after playing 19 games. Manchester United is currently occupying the top position but should Pep Guardiola's men win their outstanding game, they'll be a flipping.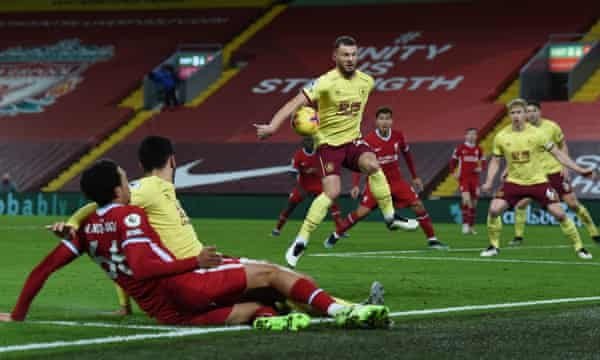 ---
Leicester City on the other hand isn't relenting their efforts in pursuit of the trophy. We have seen displaying them displaying very good performances off late even to defeating Chelsea at Stamford Bridge. Hence, Manchester United and its fans shouldn't rejoice just yet because it's not yet over. I still see Liverpool coming back into the picture and contending for the trophy.
Yes! Liverpool have lost form but they really have to.get back to winning ways. It's not time for the boys to relent but time to look at the flaws and errors and correct them. News has it that Virgil van Dijk is recovering and was spotted training in Dubai. That would be great and I hope Jota recovers fully as well. The squad really needs the delivery of this duo right now. Burnley's clash might not have been a good day for the REDS but I see many good days ahead of the Reds!
YNWA - You Never Walk Alone