I must say that Pep Guardiola and his men have been superb and extraordinary this 2021 EPL season. Each time I watch them, I remember my loving Liverpool of 2020 football season. Pep Guardiola is unarguably one of the best coaches in football history judging from his ability to build a solid squad in any team he is the head coach. When we look at Barcelona, he did a very great job there and by then Barcelona team was feared; he won lots of trophies as well inclusing six LaLiga titles. At Bayern Munchen, he dominated Bundesliga through the period he was in-charge of the German machines.
---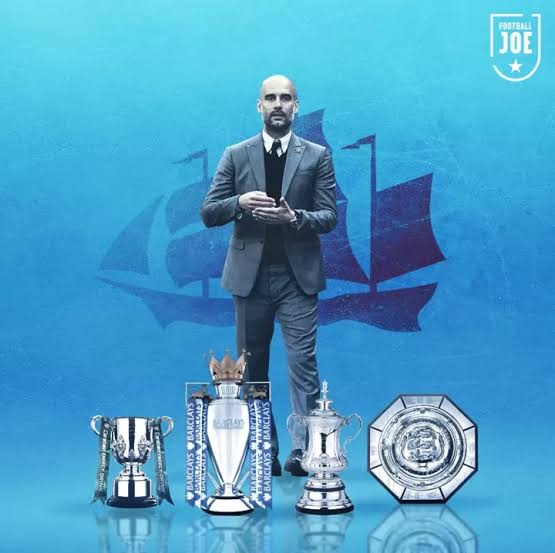 source
---
Now, we are talking about Manchester City. The transformation done in the Manchester City team can be seen even by a blind man😂. So far, Manchester City have bagged two English Premier League trophies with a third in-view. He won first league title in his second year at the club while also setting a record; winning the league with 106 points. That is the highest point so far in the history of EPL; a beautiful feat it was. Still talking of records, it's been a long time a team won the title back to back; Pep Guardiola did that by winning the title in 2017/18 and 2018/19 football season.
If you look closely at Manchester City this season, you will agree with me that there are no big name players in the squad but they are doing wonders. Sometimes, just sometimes, big players usually cause a team to suffer. Why say so? The attention of the opponents will always be on the said player and that could cause him to have no breathing space. In return, the overall tactics of the team could hit the rocks. But when you choose to work with just average players that are striving to make a name for themselves, they'll play with everything in them. On the other hand, opponents won't have to face a particular player because the game won't be focused on just one player. I don't know if you understand my point.
This is the case of Manchester City. Every player on the pitch is a threat to the opponent. You want to tackle out David de Bryune, Raheem Steering is there. You want to focus on taking out Riyad Mahrez, there is Foden and the rest. These guys have been in a very solid form this season and they deserve whatever they will win. So far, they have played 30 games, lost only three of them while playing five draws and winning 22. Massive; no other team is close to that which is why they are sitting top with 71 points.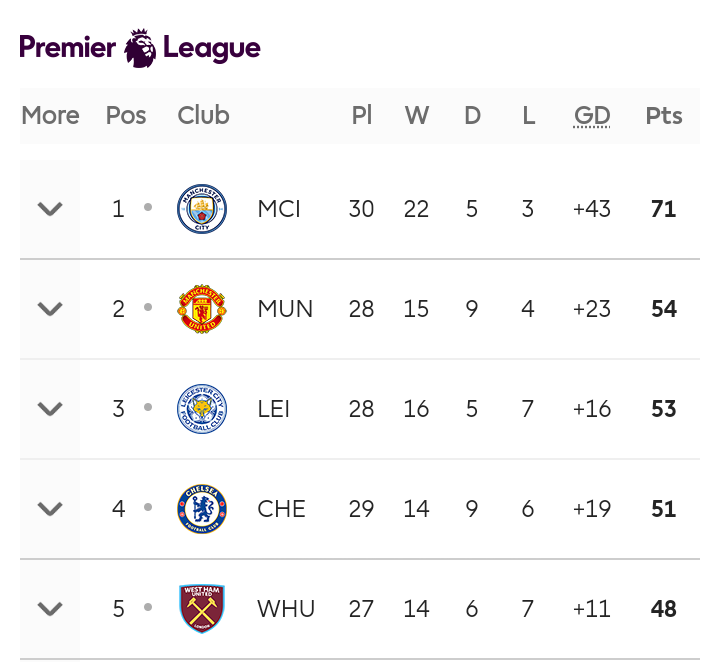 source
---
Luckily for them, there's been a few major injury cases in the squad. It's an added advantage when you have all your key players intact and in good shape. It is a big blessing for the head coach because it is usually terrible sidelining your players because of injuries. The damage it can cause to your team could be large - Jurgen Klopp and Liverpool can relate to this. It was pleasing to see Kun Aguero who has been out for a really long featuring again and he added his name to the score sheet in their 3-0 victory over Fulham.
With just eight games to go for Manchester City, I don't think any other team will Rob them of glory this season. If possible, a guard of honour will be done for them should those in the second and third position lose more games. Great job by Pep and kudos to the boys!