Hello there English Premier League lovers, you all must be really excited to see your favourite teams in action once again. The past few weeks have been focused on international football competitions, which saw the club football being put to rest. Good news, international break is over!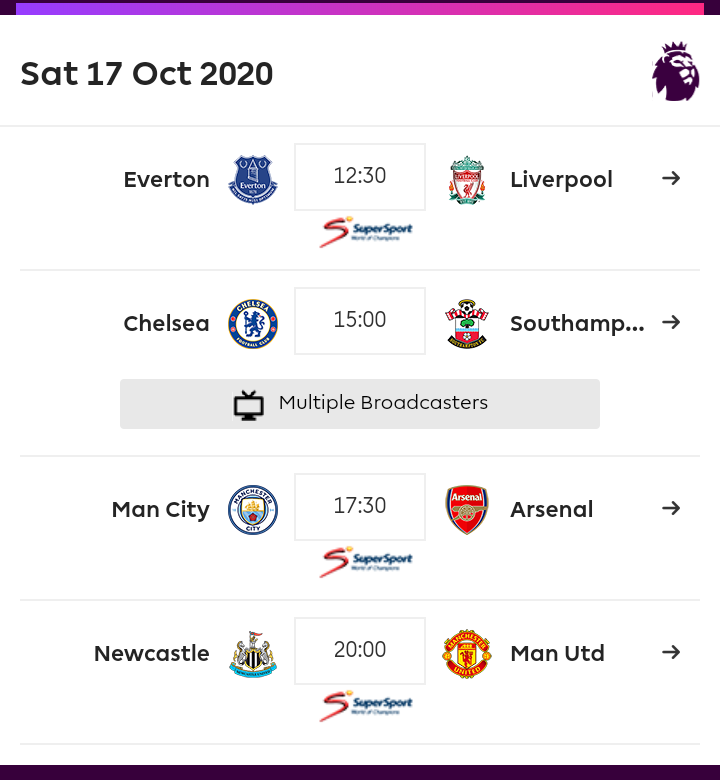 ---
The English Premier League has been quite interesting so far. A lot of surprising results were also being seen in the course of the 4 weeks fixtures. Before the short break, we had Everton FC sitting on the top spot with 12 points. Aston Villa sitting second with 9 points after defeating Liverpool FC in a grand style.
It's quite funny that the big boys are trailing behind on the table but it's too early to judge. The likes of Everton, Leicester City, Aston Villa, Leeds United etc have been doing very well this far but will they be able to maintain the momentum? I believe the big boys are going to step their game in aspiration to lift the trophy. All the same, anything can happen in the world of Sports; so let's just watch and see how things pan out.
A close look at the Match Week 5 fixtures shows:
Everyone FC vs Liverpool FC
Chelsea FC vs Southampton
Arsenal vs Manchester City
Newcastle United vs Manchester United
---
It's going to be a tough weekend as the fixtures are quite interesting. Everton FC will be hosting Liverpool on Saturday afternoon at the Goodison Park. So far, Everton have been unbeaten and they're currently topping the league table. Liverpool FC on the other hand are the defending champions. Though not so hot this season just yet, they're a really strong team to play against.
Liverpool FC lost their last game to Aston Villa with a very unimpressive margin. They'll be so focused on winning this game as they squad is being fortified. Everton too will look to continue their winning streak. What do you think will be the scoreline?
For me, the possibility of being a tie is very high but I expect Liverpool FC to grab all three points. Another interesting game will be between the Gunners and Manchester City.
Have you say?