The Players Behind the Shirt - Manchester United No. 7
Watching football for this number of years, I've come to see that there are certain shirt numbers that are very important in a football team and fans/spectators usually have some level of expectations from those who wear these shirt numbers . What makes these shirt numbers strategic and unique is the impact the past "wearers" have created as well as their legacies left on the sands of timeless times.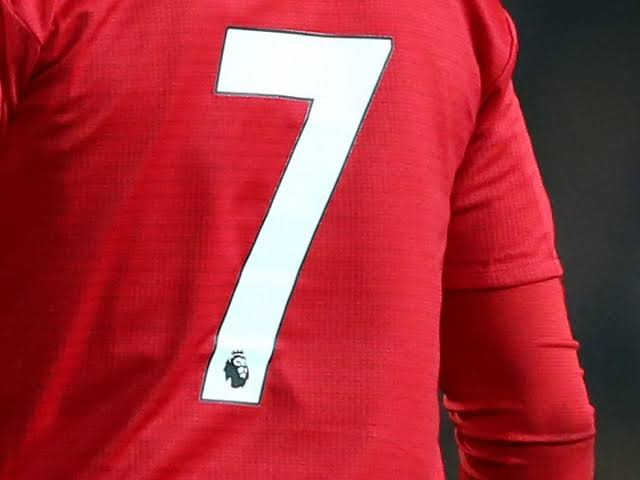 source
---
These shirt numbers are so unique such that people tend to mostly focus on those who have these numbers inscribed at the back of their jerseys. Also, they suffer from incessant criticisms if they appear to be flopping in any area. Some of these exceptional shirt numbers are:
Number 7
Number 10
Number 9
In this post series, I'll be bringing to us the complete list of players that have won a particular number in a particular football team. More so, I'll be analyzing their impacts, achievements and feats during the period they had the shirt on. For this particular post, we'll be looking at the shirt Number 7 in the Manchester United team. I'm supposed to begin with this series with my favourite team Liverpool FC but because of my admiration for Christiano Ronaldo, I'm starting with Manchester United.
The list...
1963 / 1974 - Goerge Best
1981 / 1994 - Bryan Robson
1993 / 1995 - Keith Gillespie
1993 / 1994 - Eric Cantona
1994 / 1995 - Eric Cantona
1995 / 1996 - Eric Cantona
1996 / 1997 - Eric Cantona
1997 / 1998 - David Beckham
1998 / 1999 - David Beckham
1999 / 2000 - David Beckham
2000 / 2001 - David Beckham
2001 / 2002 - David Beckham
2002 / 2003 - David Beckham
2003 / 2004 - Cristiano Ronaldo
2004 / 2005 - Cristiano Ronaldo
2005 / 2006 - Cristiano Ronaldo
2006 / 2007 - Cristiano Ronaldo
2007 / 2008 - Cristiano Ronaldo
2008 / 2009 - Cristiano Ronaldo
2009 / 2010 - Michael Owen
2010 / 2011 - Michael Owen
2011 / 2012 - Michael Owen
2012 / 2013 - Antonio Valencia
2013 / 2014 - Vacant
2014 / 2015 - Angel Di Maria
2015 / 2016 - Memphis Depay
2016 / 2017 - Memphis Depay
2017 / 2018 - Alexis Sanchez
2018 / 2019 - Alexis Sanchez
2019 / 2020 - Alexis Sanchez
2020 / 2021 - Edinson Cavani
---
So far, we have 12 people wearing the number 7 shirt ever since the inception of the club Manchester United. Noteworthy is the fact that the first three players had those numbers before the Constitution of the Premier league/ league title. Equally, I can't say much about the first five players because I never got to watch them play; I've only read about them.
---
Being frank, when Goerge Best, Bryan Robson, Keith Gillespie played active football, I was not ever born as well as during the early years of Eric Cantona. However, I have grown to known that these guys especially George Best and Eric Cantona was exceptional in the football playing and they attained a good height of achievement such as stepping into their shoes after they retired made people to still have high hopes on the heirs of the shirt number.
---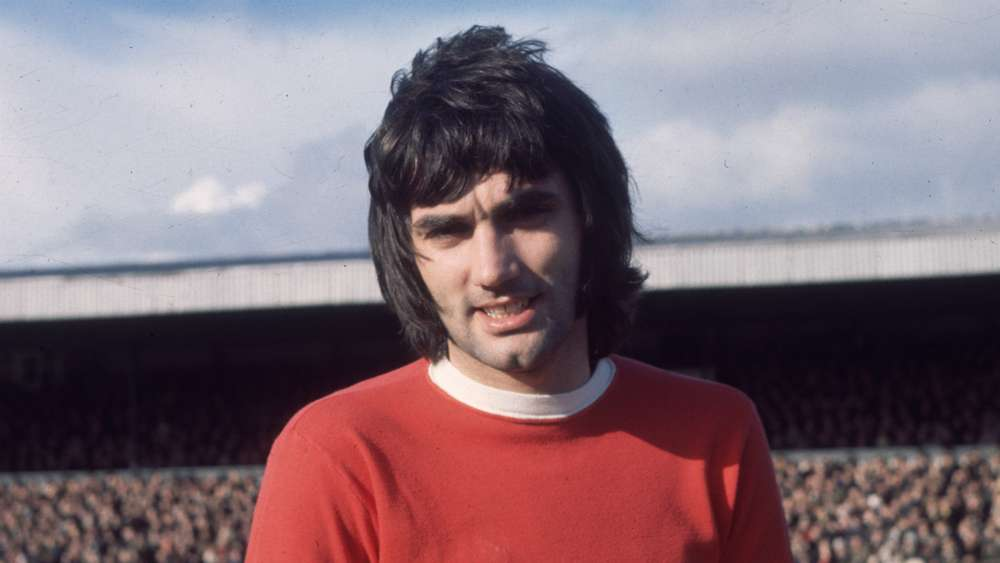 Source - George Best
---
About George Best, while reading about him, I got to discover that he was a good team player and dribble and he made many impacts in the Manchester United team. Being the first player to wear the number 7 shirt, I would say that he is the reason that number is still iconic. He was the pacesetter so to say.
In 1968, Goerge Best was named the European Footballer of the Year and he came sixth in the FIFA Player of the Century vote that same year. Actually, he started playing for Manchester United in the year 1963 and he made 361 appearances for the club while netting 137 goals. He will always be seen a legend of the Red Devils.
---
Next person on the list is Bryan Robson. Again, I didn't get to watch him play but I read that he starting playing for Manchester United in the year 1981. During the period of his stay at the club, Bryan Robson alongside his teammates bagged two Premier League winner's medal, three FA Cups, two FA Charity Shields and a European Cup Winners' Cup.
Worth noting is the fact that, Bryan played as a captain and he is known to be the longest-serving captain in the Manchester United club's history. More so, he made 491 appearances with the United's number 7 shirt and he scored 99 goals throughout his stay at Old Trafford. We can say that, he didn't soil the shirt number as he performed well even as his predecessor, George Best. He was fondly called Captain Marvel.
Keith Gillespie wore the number 7 shirt for only two years and that was in 1993 to 1995. He made only 9 appearances for the club and he scored just a goal. Would I be wrong to say that he performed badly as a number 7 position player? Whatever the case, I think Keith never got established in the Manchester United squad.
---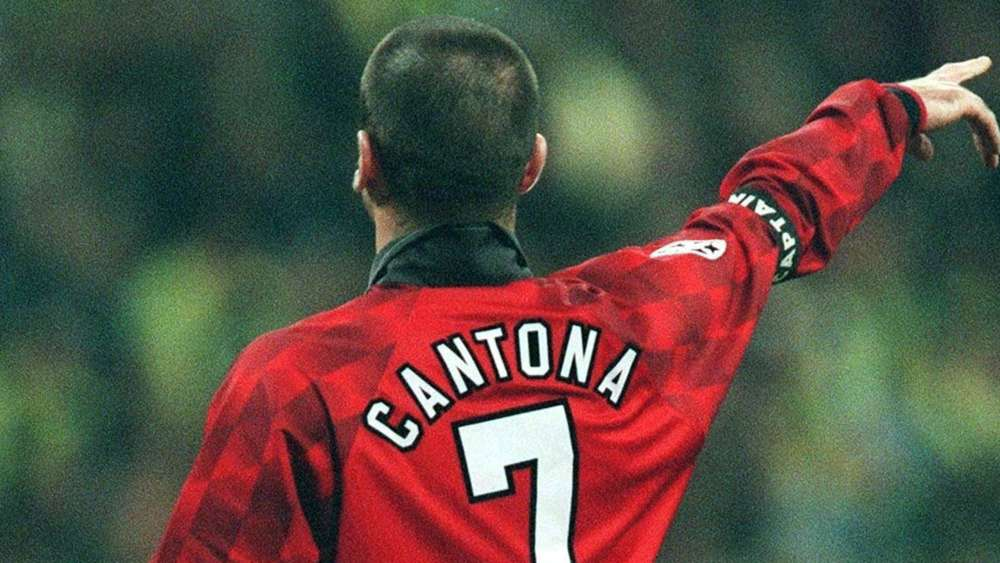 source
---
Fast forward to 1993 when permanent shirt numbers was being introduced in the Premier League, the legendary Eric Cantona was deemed fit by Sir Alex Ferguson to wear the shirt number and it was really fitting and he always delivered. Eric Cantona brought back the pride and glory of the shirt number 7 in Manchester United. Fondly called King Eric, he was a huge contributor to the Manchester United side dominating in the English game. He wore the shirt for only four years but created a lifetime legacy. I still didn't get to watch him play.
---
As Eric stepped aside in 1997, David Beckham did step into his and he also performed very well. Beckham was a boyhood fan of Manchester United and fortunately for him, he got wear the iconic shirt.
---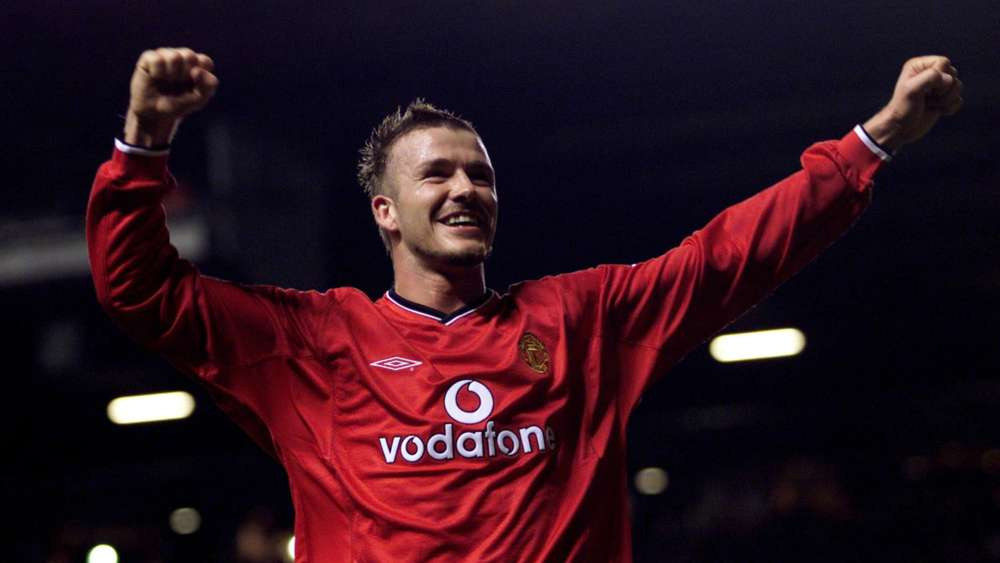 source
---
He made only 361 appearances for the Red Devil and will always be regarded as the club's legend. David Beckham was a man of great personality but on the pitch and off the pitch; he spent 6 years at Manchester United before being signed by Real Madrid in 2003.
---
The list of amazing number 7 players got really interesting when Christiano Ronaldo came into the picture. Believe me, Cr7 was a blessing to Manchester United and a key contributor to Sir Fergie's club glory. Ronaldo was known for his dribbling abilities, his leg overs, speed, stamina as well as his scoring abilities. He was an infamous set-piece taker.
---
Most importantly, he was the first man to win the ballon d'or while playing in an English team after Best. Cr7 as commonly known dignified this shirt number and did set a very high record/ standard that no predecessor as been able to reach not to mention break just yet. Maybe in the future, we'll have a great number 7 shirt wearer.
---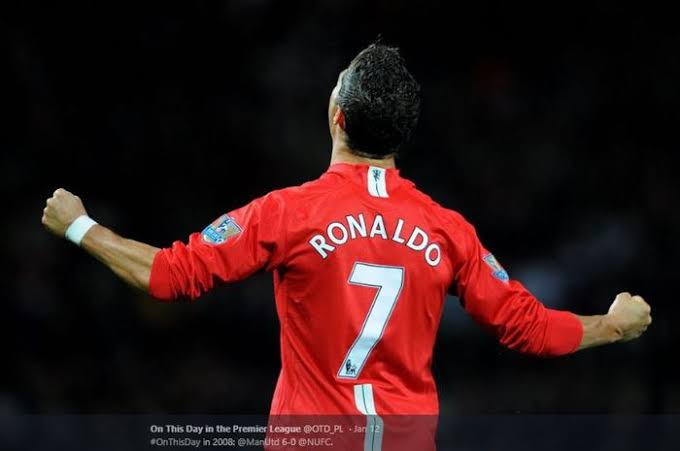 source
---
Cr7 made huge impact at Manchester United such that he became the fans' favourite and he scored many spectacular goals while many numerous medals and awards. However, after spending 6 years wearing the number 7 shirt, he departed for Real Madrid in 2009 at a record-signing fee. If you ask me, I'd say that United is yet to have a replacement for Cr7.
---
After Cr7 came Micheal Owen, Antonio Valencia, Angel Di Maria, Memphis Depay, Alexis Sanchez and currently Edison Cavani.
---
There's no gain saying that the glory behind the number 7 shirt in United's team as gone to extinction ever since Christiano Ronaldo left. This has made many ask whether the number has been cursed. The likes of Depay, Sanchez and Cavani are just playing average football; not extra spice maybe because they're in their old ages. I hope someone comes who will dignify the number 7 again at Manchester United club.
---
---